552Uploads
162k+Views
59k+Downloads

Worksheets and active games for a fantastic full session. A full and interesting lesson. Worksheets, active learning games, extension tasks, this resource has it all! Designed for use with KS3 groups.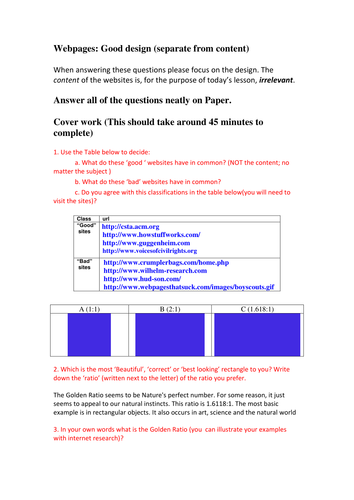 KS3 and KS4 computing cover lessons. Some require use of computers, some are specifically off-computer tasks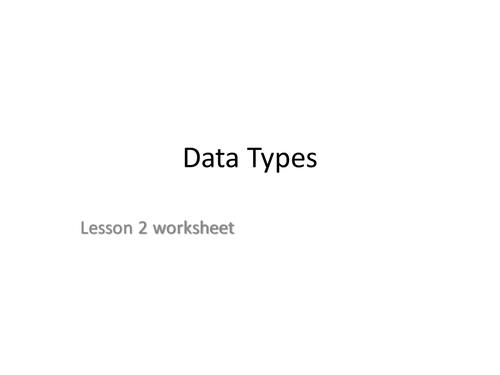 Teaches students about data types including integer, boolean, float and casting. The full lesson includes booklet and homework. Practical session based around a 60 minute lesson. This resource uses Python version 3.x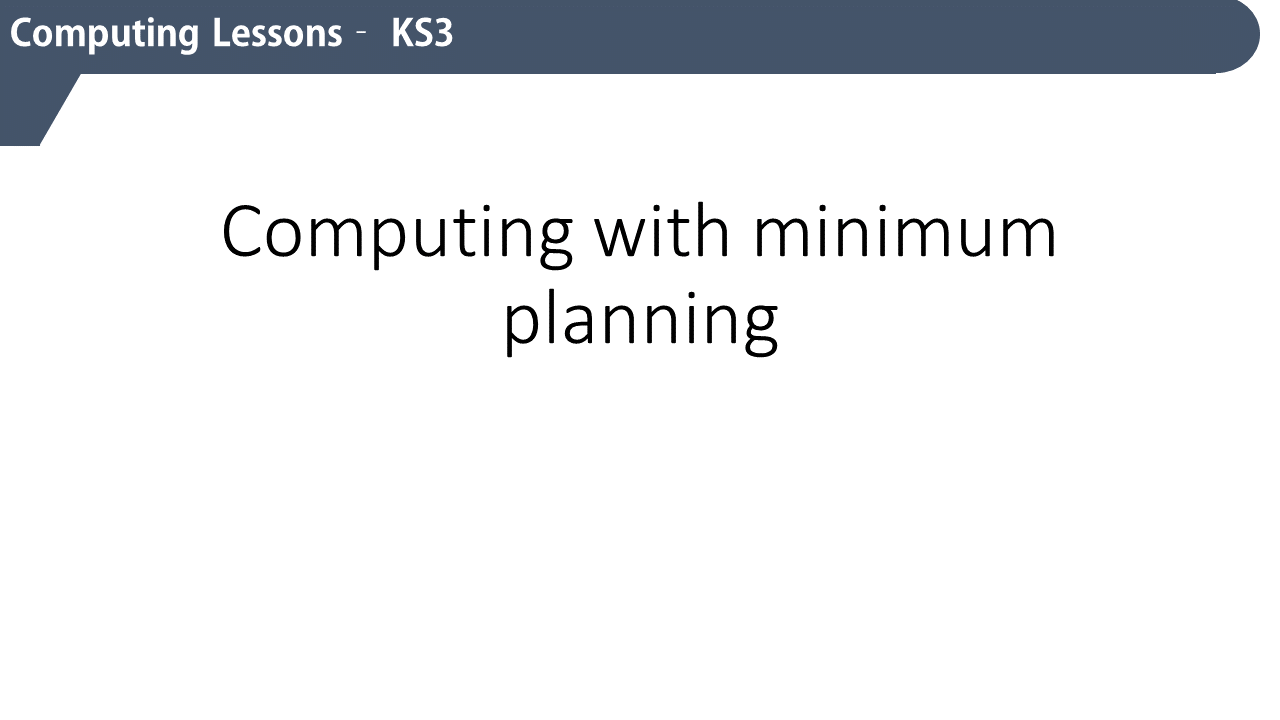 Some of our best-selling resources on tes, brought together in a fantastic value bundle: 15 complete KS3 computing lessons 35 lesson ideas for computing and ICT KS3 80 computing starters for KS3 20 computing plenaries for KS3 These resources will save you hours of planning. Better still - they are aligned to the KS3 Computing curriculum. Fantastic value bundle price.

A series of 12 challenges for your classes, can be used for GCSE students or KS3 classes. All are chosen as being applicable to beginner Python classes.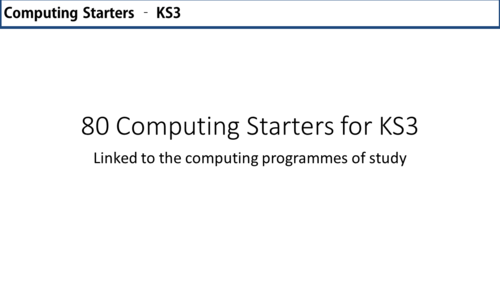 An incredible amount of generic starter ideas for KS3 computing lessons. They are aligned to the Computing programme of study for Key stage 3: offering you some ready-planned (no teacher time required) starters for your lessons. Generic starters are offered, as well as specialist starters covering the following topics: Computational abstractions Key algorithms Programming Boolean logic Hardware and software Instructions within a computer system Data storage Creative projects Digital artefacts E-Safety All designed to help you improve your practice, and are formatted for you and ready to go! This is also offered as part of the great value bundle KS3 Computing without the planning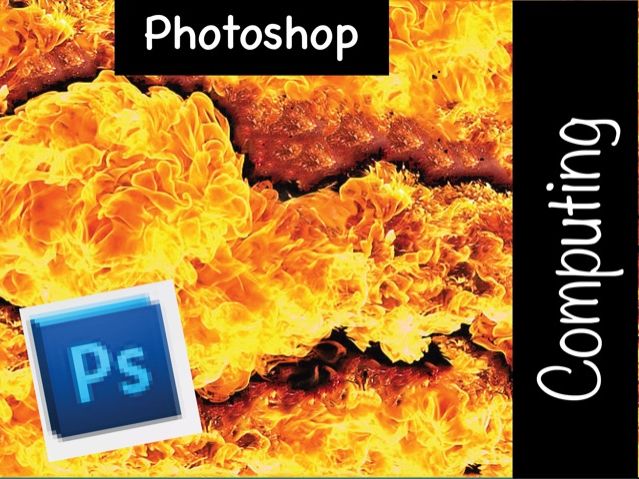 5 Lessons. 52 files. Tutorial sheets and worksheets to enable students to create DVD covers using Photoshop. Designed for Photoshop CS5 extended, intended for KS3 use. Includes worksheets, resources and video guides! The full package! Great work for your students!

Complete lesson for Systems Software. Designed for OCR Computer Science (9-1) J276 but is more than useful for Computer Science students studying AQA and other exam boards. Contains a PowerPoint presentation, and three worksheets to help you deliver the content. Contains everything the students need to know: the purpose and functionality of systems software - operating systems: - user interface - memory management / multitasking - peripheral management and drivers - user management - file management - utility system software: - encryption software - defragmentation - data compression - the role and methods of backup (full and incremental)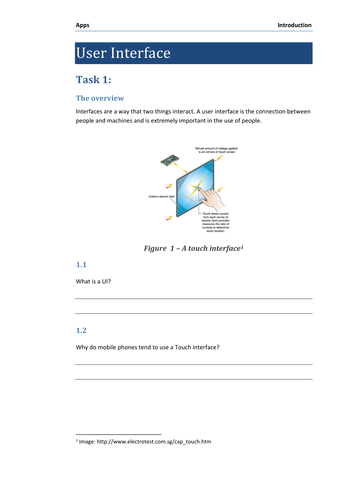 A session to teach students about user interfaces. Suitable for KS3 or KS4, and has an activity where they think about the features of a UI that will be suitable for a children's tablet.

Designed for KS3 or high ability KS2 in Citizenship, English or Tutor groups. Contains worksheet, presentation, quiz, activities, poster and quiz all within this wonderful bundler. Schools have become extremely interested in Fake news since the the OECD announcement instructing schools to teach students how to identify fake news. These lesson resources do just that, and more!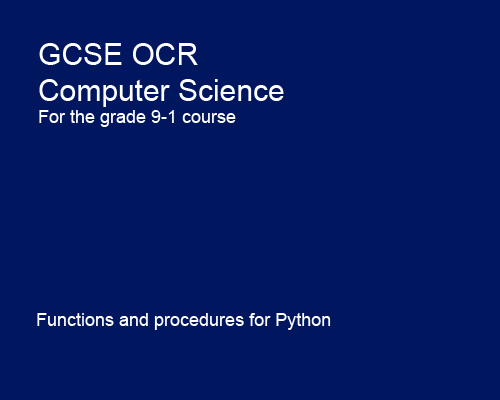 A complete bundle for OCR 9-1, introducing Python. Has both theory and practical lessons; could be spread over two, three or four lessons as suitable for your context.

A collection of HTML and CSS posters. Suitable for both KS3 and GCSE levels of ICT / Computing / Computer Science. Useful not only to have on classroom walls but also can be reproduced and handed to your students. Recommended to laminate and to reuse (to help save the environment). Includes poster covering the following topics: Basic html tags HTML colours (infographic) HTML and CSS Anatomy of an HTML page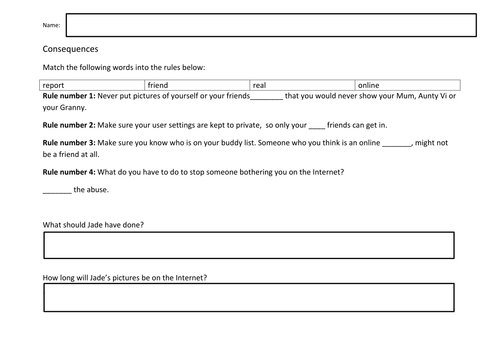 Full lesson including lesson plan for the dangers of social media (KS3). Fixed problem with first video.

19 different activities in this great pack! A selection of cover lessons and one off sessions. Suitable for non-subject specialists and experienced teachers alike. Some cover lessons are created for off the computer, some traditional computer room lessons and some a combination of the two! Contains classic puzzles, whole lessons, Excel lessons…the list goes on. Added resource for 2019 - Webquest. If you purchase this resource regularly check back for added resources and updates!

A PowerPoint presentation with over 100 ethical and legal debates for the Pearson Edexcel GCSE in Computer Science. Helps learners study the following specification reference: 1.8 Ethical, legal, cultural and environmental concerns. How to investigate and discuss Computer Science technologies while considering: - ethical issues - legal issues - cultural issues environmental issues. privacy issues. Written by subject specialists, with in depth debates that are relevant to students. Content covers AI, automation, gaming, privacy, hacking, security, cloud services, piracy, copyright, algorithms, emerging technology, wearable technology and more! The pack includes a voting card that you may choose to use for students to vote, or students can move from one side of the room to another. A great resource that can be used for starters or plenaries, and can also become the basis of an entire lesson.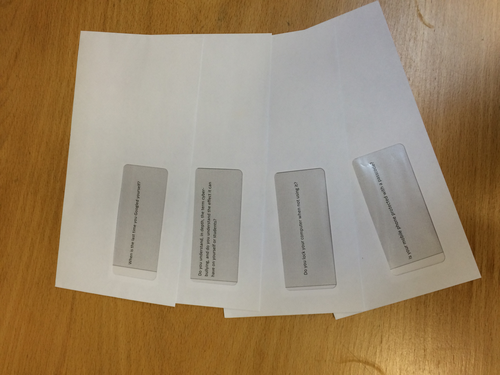 eSafety discussion task. Each comment has a surprising addition. To use this use envelopes with a clear window (as in the images Envelopes.jpg and Envelopessecond.jpg show). Students then follow the following instructions. We are going to order the questions in the envelopes from most to least important. Leave them in their envelopes for now 1. Do you think the question is relevant (in turn) 2. Why do you think that your question might be regarded as important (in turn) 3. Order 4. Remove from envelopes to see additional information. Does this change your mind?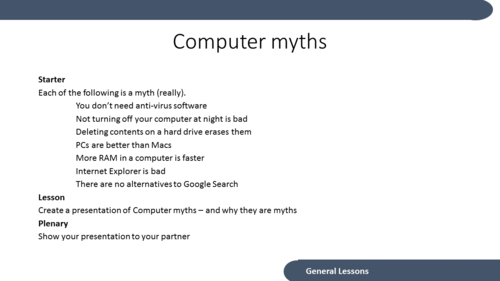 35 ideas (starter and plenary included) fully aligned to the KS3 curriculum. Sometimes we all need a little help with a lesson, or want something "out of the box" that can get going in seconds. These are outstanding ideas, and a full lesson can be built from them in minutes. Some are suitable for a few minutes, or can be used as mini-sessions within your lesson. The idea is to save you time with the least preparation time possible. Topics covered include: Computational abstractions Key algorithms Programming Boolean logic Hardware and software Instructions within a computer system Data storage Creative projects Digital artefacts E-Safety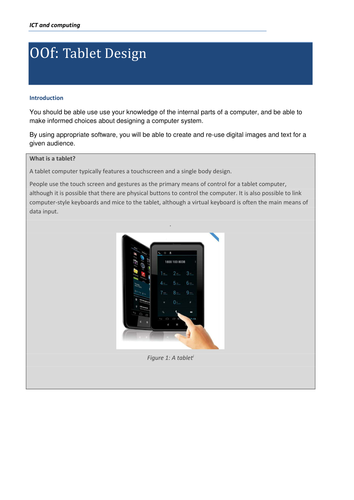 Tablet Design cover lesson - suitable for computing courses from KS3 to KS4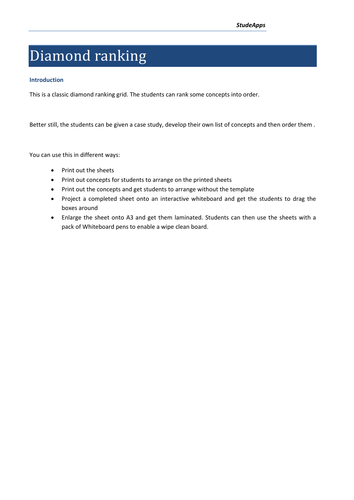 This is a classic diamond ranking grid. The students can rank some concepts into order. Better still, the students can be given a case study, develop their own list of concepts and then order them . You can use this in different ways: • Print out the sheets • Print out concepts for students to arrange on the printed sheets • Print out the concepts and get students to arrange without the template • Project a completed sheet onto an interactive whiteboard and get the students to drag the boxes around • Enlarge the sheet onto A3 and get them laminated. Students can then use the sheets with a pack of Whiteboard pens to enable a wipe clean board.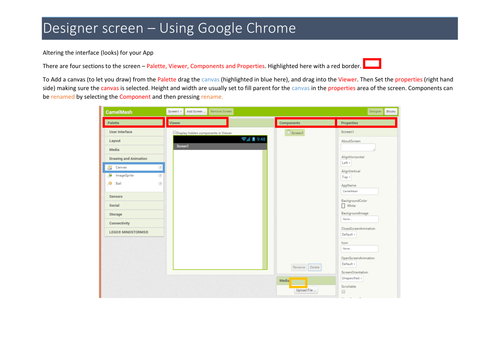 Simple guide for the blocks screen and the designer screen. Designed for App Inventor 2