551Uploads
145k+Views
51k+Downloads

19 different activities in this great pack! A selection of cover lessons and one off sessions. Suitable for non-subject specialists and experienced teachers alike. Some cover lessons are created for off the computer, some traditional computer room lessons and some a combination of the two! Contains classic puzzles, whole lessons, Excel lessons…the list goes on. Added resource for 2019 - Webquest. If you purchase this resource regularly check back for added resources and updates!

A collection of HTML and CSS posters. Suitable for both KS3 and GCSE levels of ICT / Computing / Computer Science. Useful not only to have on classroom walls but also can be reproduced and handed to your students. Recommended to laminate and to reuse (to help save the environment). Includes poster covering the following topics: Basic html tags HTML colours (infographic) HTML and CSS Anatomy of an HTML page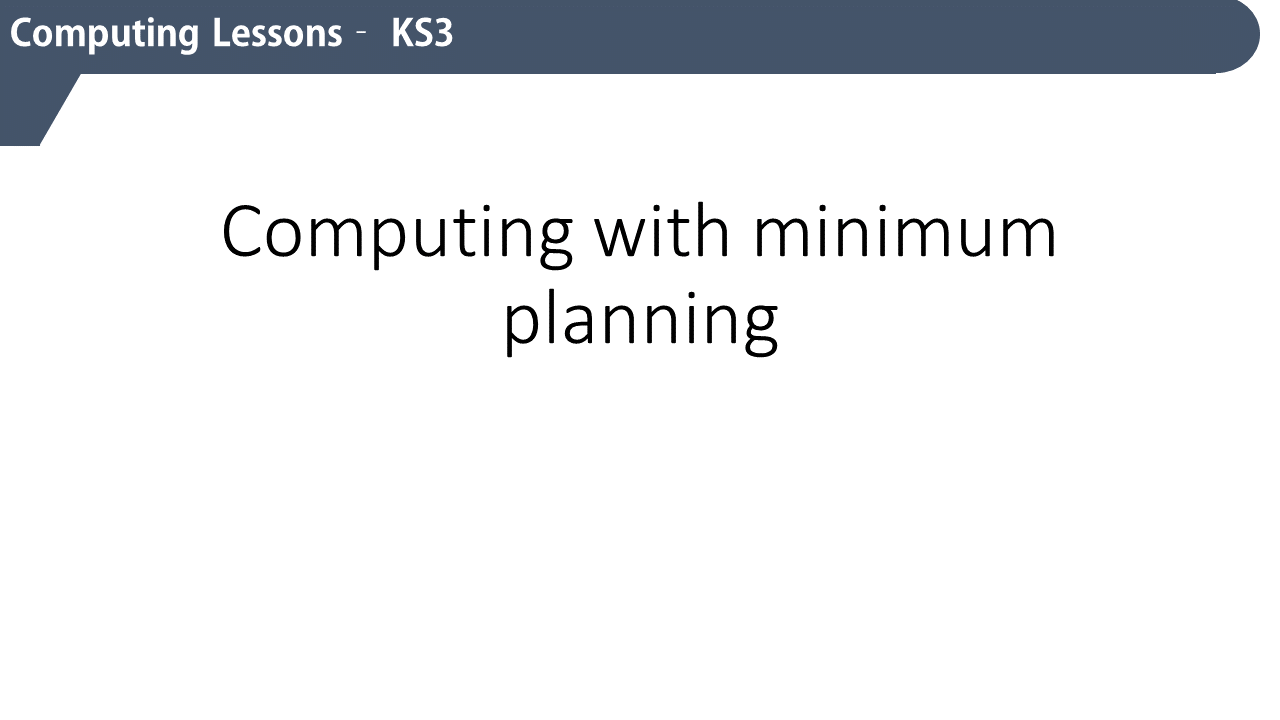 Some of our best-selling resources on tes, brought together in a fantastic value bundle: 15 complete KS3 computing lessons 35 lesson ideas for computing and ICT KS3 80 computing starters for KS3 20 computing plenaries for KS3 These resources will save you hours of planning. Better still - they are aligned to the KS3 Computing curriculum. Fantastic value bundle price.

Worksheets and active games for a fantastic full session. A full and interesting lesson. Worksheets, active learning games, extension tasks, this resource has it all! Designed for use with KS3 groups.

For the AQA GCSE 9-1 Specification, and also suitable for OCR J276. Contains a series of tasks for revision around ASCII and character sets for students to use in preparation for their exams.

For the AQA GCSE 9-1 OCR Specification. Contains tasks for revision around the computing legal requirements for businesses.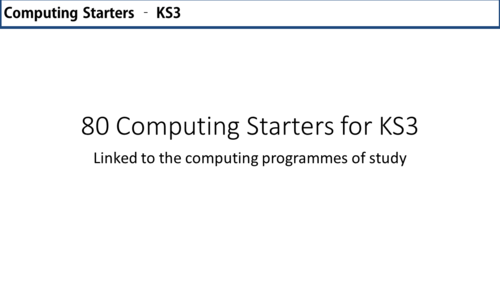 An incredible amount of generic starter ideas for KS3 computing lessons. They are aligned to the Computing programme of study for Key stage 3: offering you some ready-planned (no teacher time required) starters for your lessons. Generic starters are offered, as well as specialist starters covering the following topics: Computational abstractions Key algorithms Programming Boolean logic Hardware and software Instructions within a computer system Data storage Creative projects Digital artefacts E-Safety All designed to help you improve your practice, and are formatted for you and ready to go! This is also offered as part of the great value bundle KS3 Computing without the planning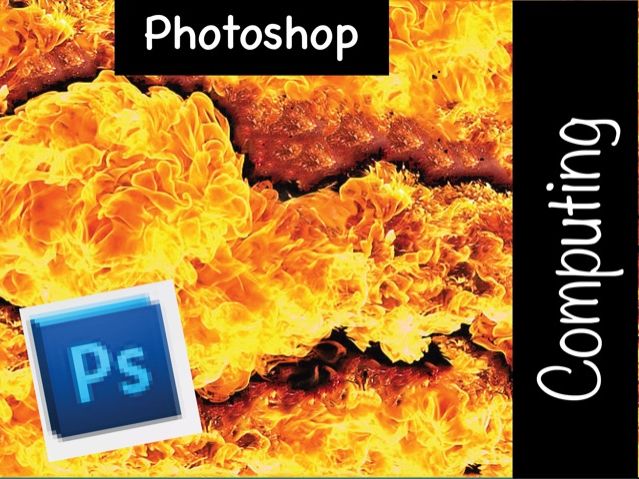 5 Lessons. 52 files. Tutorial sheets and worksheets to enable students to create DVD covers using Photoshop. Designed for Photoshop CS5 extended, intended for KS3 use. Includes worksheets, resources and video guides! The full package! Great work for your students!

Students can discover more about famous computer scientists in a fun and interactive way. Zero preparation for the teacher! From Steve Jobs to Tim Berners-Lee there are many famous computer scientists. But how many do your students know? Students respond to open-ended questions in this nicely presented resource. Two suggestions for delivery: 1. Give all of the students the same computer scientist. Maximum 10 minutes for each. Who can go through the set fastest? 2. Give different groups different computer scientists. Then present.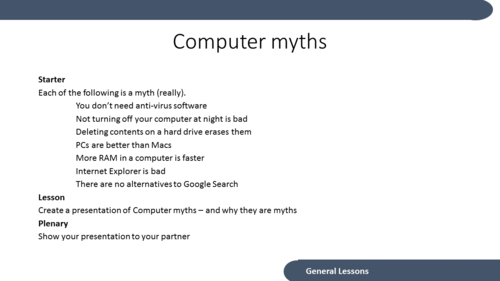 35 ideas (starter and plenary included) fully aligned to the KS3 curriculum. Sometimes we all need a little help with a lesson, or want something "out of the box" that can get going in seconds. These are outstanding ideas, and a full lesson can be built from them in minutes. Some are suitable for a few minutes, or can be used as mini-sessions within your lesson. The idea is to save you time with the least preparation time possible. Topics covered include: Computational abstractions Key algorithms Programming Boolean logic Hardware and software Instructions within a computer system Data storage Creative projects Digital artefacts E-Safety

HTML and CSS Computing KS3 Scheme of work + more! Full scheme of work plus end of term quiz

Great KS3 bundle with Schemes of work and displays.

Complete lesson for Systems Software. Designed for OCR Computer Science (9-1) J276 but is more than useful for Computer Science students studying AQA and other exam boards. Contains a PowerPoint presentation, and three worksheets to help you deliver the content. Contains everything the students need to know: the purpose and functionality of systems software - operating systems: - user interface - memory management / multitasking - peripheral management and drivers - user management - file management - utility system software: - encryption software - defragmentation - data compression - the role and methods of backup (full and incremental)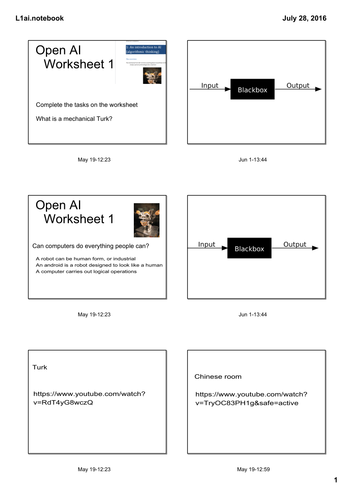 Covers Ai for Key Stage Three. Lesson 1 - What are the limits of computing? Lesson 2 - Why do we need humans to do work (how Captcha works) Lesson 3 - Plagiarism and your own work Complete with worksheets, presentations and answer sheets.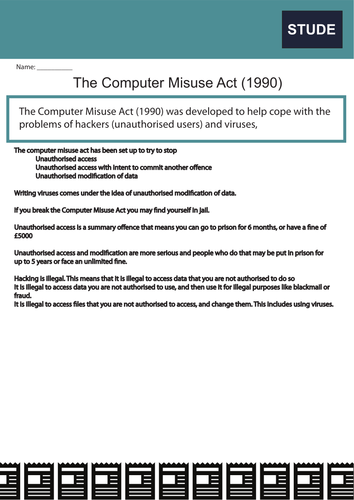 Legislation factsheets relevant to Computer Science (named in the specification for OCR GCSE 9-1 Computer Science J276, but applicable to other specifications): Computer Misuse Act Copyright Act Creative Commons Data Protection Act Freedom of Information Act Suitable for displays or for giving to students for lesson activities, or to help revision.

A PowerPoint presentation with over 100 ethical and legal debates for AQA Computer Science 9-1 (8520) Investigate and discuss Computer Science technologies while considering: ethical issues legal issues cultural issues environmental issues. privacy issues. Written by subject specialists, with in depth debates that are relevant to students. Content covers AI, automation, gaming, privacy, hacking, security, cloud services, piracy, copyright, algorithms, emerging technology, wearable technology and more! The pack includes a voting card that you may choose to use for students to vote, or students can move from one side of the room to another. A great resource that can be used for starters or plenaries, and can also become the basis of an entire lesson.

More than 500 GCSE ICT multiple choice questions. One copy has no answers, one copy has the correct answer highlighted in bold. Possible uses include for games, revision sessions and so on.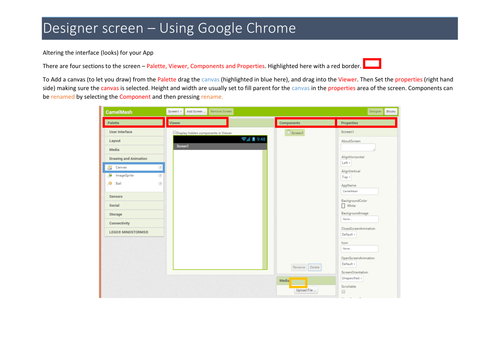 Simple guide for the blocks screen and the designer screen. Designed for App Inventor 2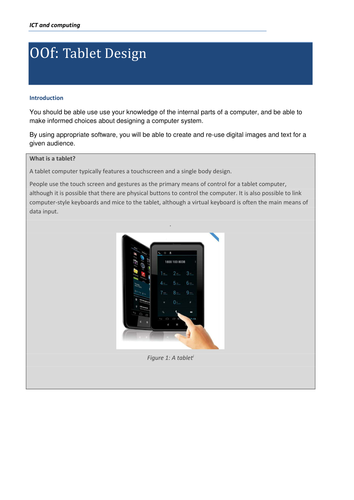 Tablet Design cover lesson - suitable for computing courses from KS3 to KS4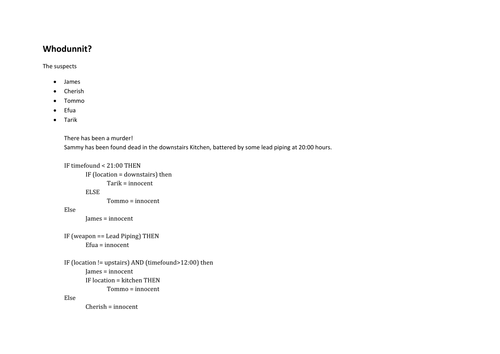 A programming task to teach about selection. I use this with Python, but it is not a language dependent task. Helpful for talking about indentation.