525Uploads
95k+Views
35k+Downloads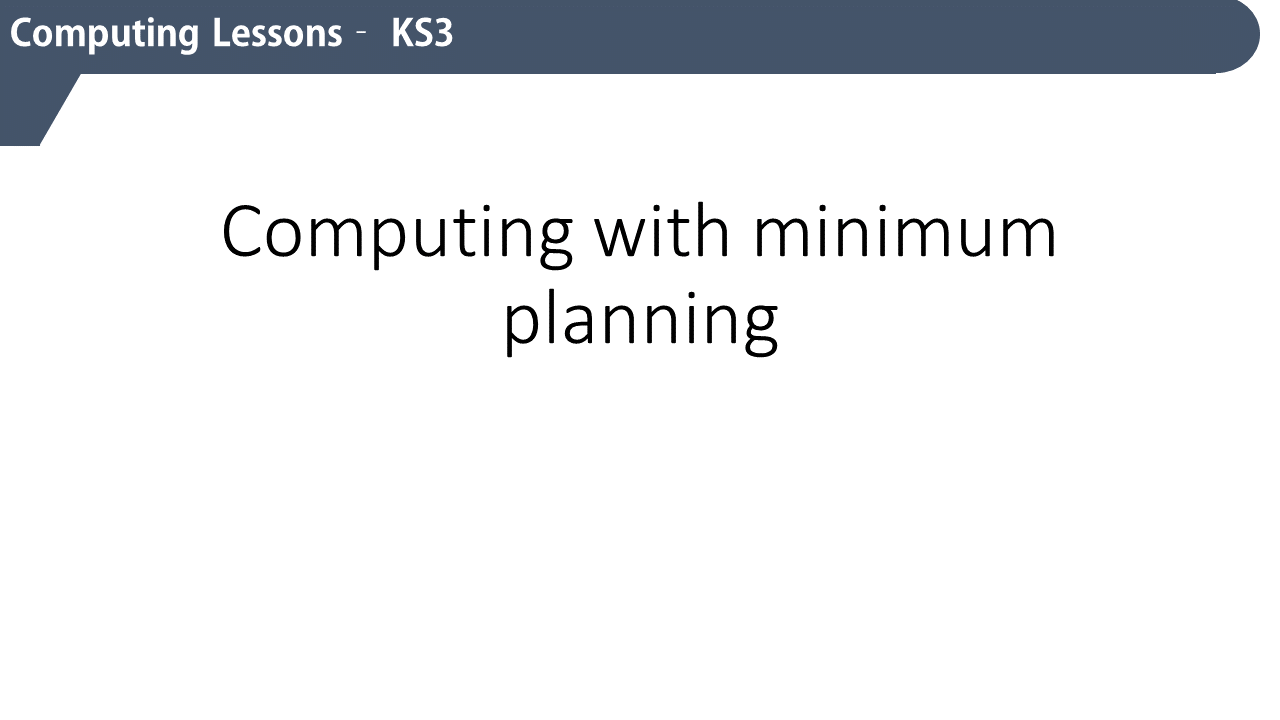 15 complete KS3 computing lessons 35 lesson ideas for computing and ICT KS3 80 computing starters for KS3 20 computing plenaries for KS3 These resources will save you hours of planning. Better still - they are aligned to the KS3 Computing curriculum. Fantastic value bundle price.

A Christmas bundle for Scratch. Wonderful resources with that festive feel for your classes! Resources suitable for KS2 and KS3, including extension activities (open-ended). Recommended that you pick an activity, and let their imagination run wild, while of course they are learning!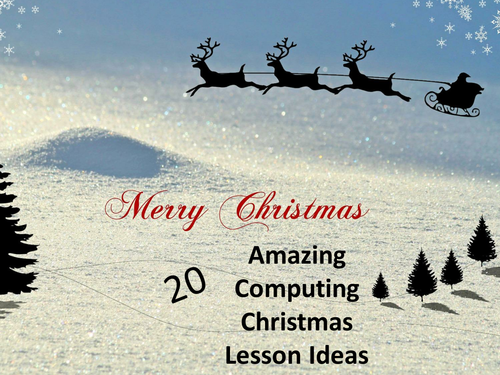 20 ideas that encompass the Computing Programmes of study for KS3. Some of these ideas are really great, and a full lesson can be built from them, some are suitable as starters or fun mini-sessions within your lesson. Headings: Decorate a Christmas Tree Christmas Myths Create a spreadsheet model A Christmas story in 2016 PowerPoint 12 days of Christmas Cost Create a poster Programming – 12 days of Christmas song 12 days of Christmas – presents programming Celebrations around the world Sorting Bitmaps Photoshop Programming Create Solving problems Naughty or nice Abstraction Reindeer Puzzle Just for fun…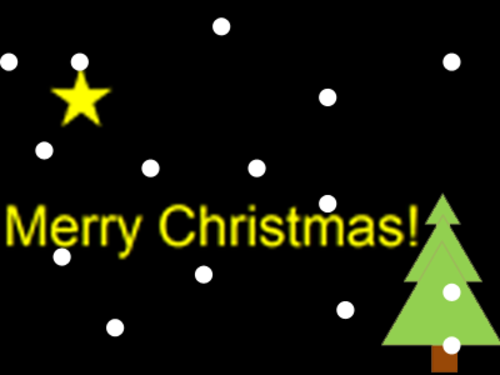 A selection of resources to bring a bit of Christmas cheer into your computing classroom. Designed for Python Suitable for all levels of students, particularly KS3 and KS4 although some resources may be suitable for KS2.

19 different activities in this great pack! A selection of cover lessons and one off sessions. Suitable for non-subject specialists and experienced teachers alike. Some cover lessons are created for off the computer, some traditional computer room lessons and some a combination of the two!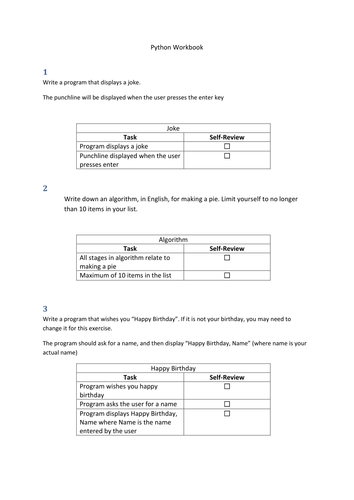 A series of 12 challenges for your classes. All are chosen as being applicable to beginner Python classes.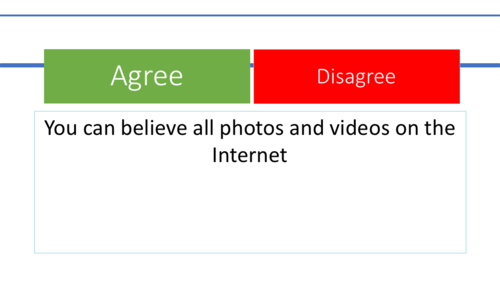 A PowerPoint presentation with over 100 ethical and legal debates for AQA Computer Science 9-1 (8520) Investigate and discuss Computer Science technologies while considering: ethical issues legal issues cultural issues environmental issues. privacy issues. Written by subject specialists, with in depth debates that are relevant to students. Content covers AI, automation, gaming, privacy, hacking, security, cloud services, piracy, copyright, algorithms, emerging technology, wearable technology and more! The pack includes a voting card that you may choose to use for students to vote, or students can move from one side of the room to another. A great resource that can be used for starters or plenaries, and can also become the basis of an entire lesson.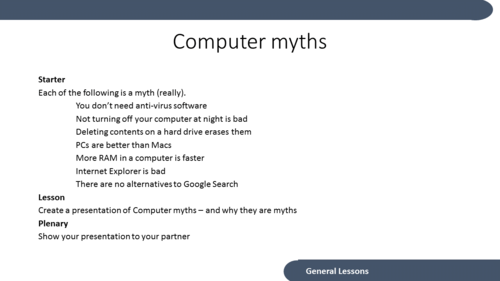 35 ideas (starter and plenary included) fully aligned to the KS3 curriculum. Some ideas are really great, and a full lesson can be built from them in minutes. Some are suitable for a few minutes, or can be used as mini-sessions within your lesson. The idea is to save you time with the least preparation time possible. Topics covered: Computational abstractions Key algorithms Programming Boolean logic Hardware and software Instructions within a computer system Data storage Creative projects Digital artefacts E-Safety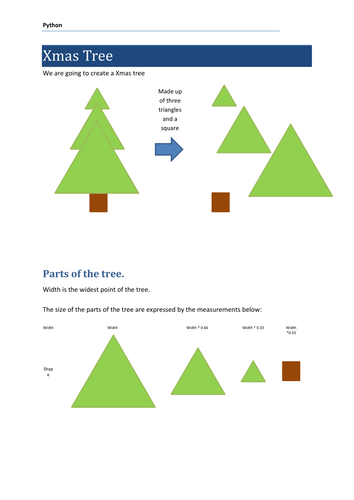 Create a Christmas tree using python 3.x No presentation, give the students the worksheet and see how they can progress!

More than 500 GCSE ICT multiple choice questions. One copy has no answers, one copy has the correct answer highlighted in bold. Possible uses include for games, revision sessions and so on.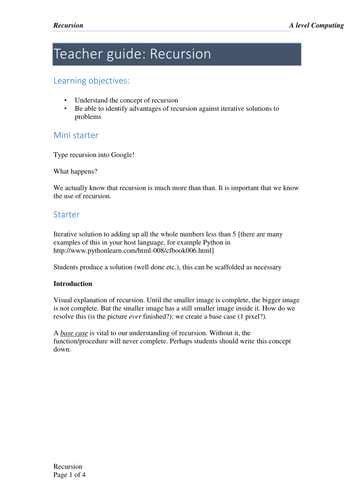 A great lesson around how to teach recursion away from the computer. Based around a flood fill recursive technique, and also includes an exercise to teach shortest network path. This could be used for an A level class, GCSE or would be understandable by a high ability KS3 class.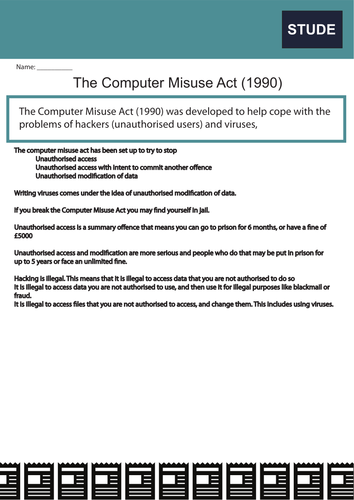 Legislation factsheets relevant to Computer Science (named in the specification for OCR GCSE 9-1 Computer Science J276, but applicable to other specifications): Computer Misuse Act Copyright Act Creative Commons Data Protection Act Freedom of Information Act Suitable for displays or for giving to students for lesson activities, or to help revision.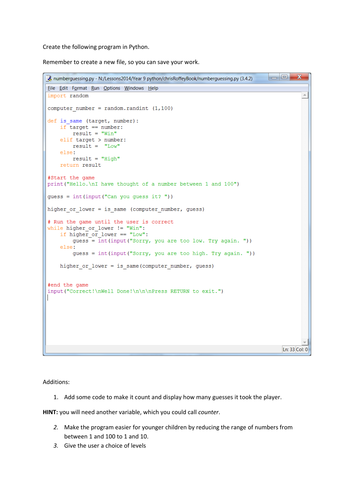 Simple number guessing game for Python 3. The starter code is in the Word document, giving support to all learners.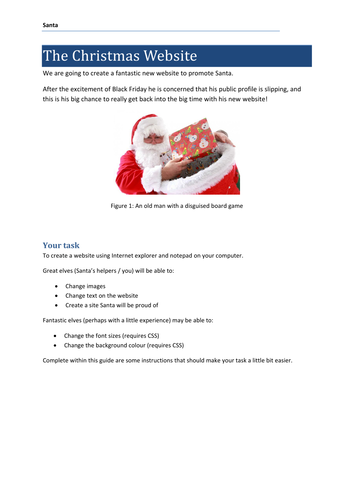 A complete session (could be a lesson, could be longer if you wanted) to get students to create a website. Full instructions provided - give them the files and the booklet and go. They love changing the text and images and it's all related the the computing curriculum! No special software required, uses notepad and Internet Explorer (all Windows computers have these installed)

Python Pair Programming activity for AQA GCSE Computer Science Based around the game "rock paper scissors", and students develop solutions in pairs, share their results and criteria against the exam board requirements. This lesson can also be run with a high ability Key stage 3 group.

Designed for KS3 or high ability KS2 in Citizenship, English or Tutor groups. Contains worksheet, presentation, quiz, activities, poster and quiz all within this wonderful bundler. Schools have become extremely interested in Fake news since the the OECD announcement instructing schools to teach students how to identify fake news. These lesson resources do just that, and more!

A quiz for the class for the end of autumn term 2016. Can be used from year 7 to 11, but loosely aligns with the KS3 national curriculum (it's Christmas themed!). Either run with one answer sheet per pupil or put the students into teams and let them choose a scribe. Happy Christmas to everyone who downloads this.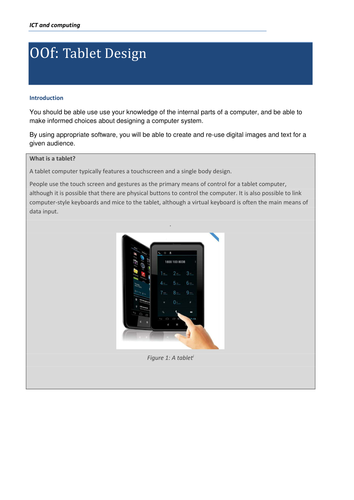 Tablet Design cover lesson - suitable for computing courses from KS3 to KS4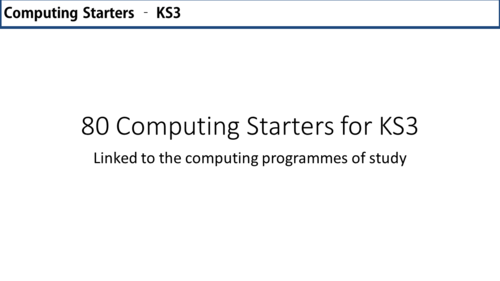 An incredible amount of generic starter ideas for KS3 computing lessons. They are aligned to the Computing programme of study for Key stage 3: offering you some ready-planned (no teacher time required) starters for your lessons. Generic starters are offered, as well as specialist starters covering the following topics: Computational abstractions Key algorithms Programming Boolean logic Hardware and software Instructions within a computer system Data storage Creative projects Digital artefacts E-Safety All designed to help you improve your practice, and are formatted for you and ready to go! This is also offered in the great value bundle KS3 Computing without the planning