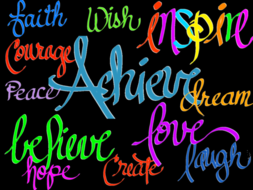 Inspirational Words - Clipart
Bright, colorful typography for digital designs. Set of 12 hand-illustrated inspirational words in .png format (with transparent backgrounds).

I've stored the images in a powerpoint slideshow. To insert them into your own project, simply click on the image/s you want, then copy/paste them into your doc. Works like a charm! Shoot me an email if you'd like them delivered in a different format after purchase - thanks!

Happy Designing!
Read more