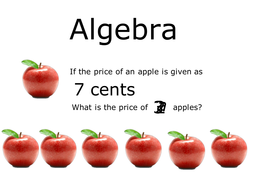 Introduction to Algebra
This power point presentation is an introduction to Algebra. By the end of the one or two lessons students should have gained a basic understanding for the use of letters and be able to collect together like terms.
The structure of the lesson allows the teacher to discuss answers and write them down as the power point in flow.
Read more
About this resource
Info
Created: Sep 29, 2016
Updated: Feb 22, 2018