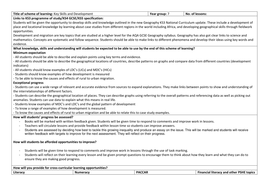 KS3 Geography - Introduction and Development
This scheme of learning was created for Y7 geography.

The SOL includes:

1) Introduction to Geography
2) Geography Skills
3) Development Indicators
4) Methods of improving the development of LICS
5) Population density, pyramids and the DTM
6) Migration
7) Revision

All lessons include WALTs (LOs), WILFs (success criteria) and formative assessment. Home learning tasks and opportunities for extended writing, peer and self assessment are indicated.
Read more