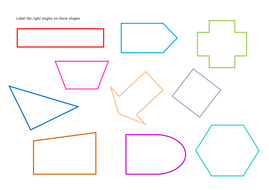 Labelling Right Angles
A sheet of various shapes on which children must label the right angles.
About this resource
Info
Created: Feb 3, 2013
Updated: Apr 10, 2017
Other resources by this author
Differentiated worksheets for children to complete. Each worksheet contains photographs of shapes that the children must construct then answer ques...
juliannebritton
A set of 12 cards for children to choose from, each with a different word problem containing doubling and halving problems.
juliannebritton
Differentiated word problem booklets involving doubling and halving.
juliannebritton
Popular paid resources
I have created this for a year 5 top set maths group. It is differentiated 3 ways, yellow being the less able, green able and pink more able. This ...
lauraexplorer
Adventure game in which students answer KS3 circle questions in order to rescue a princess. Teacher notes and answers are provided. There are 5 sec...
kmbheck
Investigation and problem solving activity in which students identify all the different pentominoes, then fit them into shapes (50 different shapes...
kmbheck
Updated resources
This activity gives students good practice at using the angle properties of parallelograms, kites etc., to work out the unknown angle in many diffe...
Maths4Everyone
This planning contains Block 1: Position & Direction and Block 3: Time. They both follow the small steps guidance from White Rose Maths. They m...
kristyg