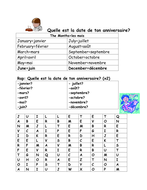 Mon Anniversaire
<p>Months and birthdays-can be used with the old Un kilo de chansons favorite-Quelle est la date de ton anniversaire?-although I have made up a rap to modernize it.</p>
About this resource
Info
Created: Dec 4, 2007
Updated: Aug 19, 2015
This resource is designed for US teachers. View UK version .
Other resources by this author
A set of worksheets introducing the vocabulary for the topic of travel and tourism. Any feedback would be appreciated!
ciara5
A powerpoint activity based on Prévert's short comic children's poem with suggestions for children to write their own version,
ciara5
A reviewing aid with slightly more extended vocabulary with a possible survey to be sent to a French school.
ciara5
Popular paid resources
PowerPoint and accompanying workpack designed to encourage pupils to use a variety of complex structures in their spoken and written French. An ext...
maryjane1969
This is a lesson I produced for my Lower Sixth to introduce the subjunctive. There is a worksheet to accompany the presentation with a fairly compr...
maryjane1969
Print out the cards and laminate them. Pupils work in pairs or small groups and race against each other to form the perfect tense with the cards af...
maryjane1969
New resources
Quiz sur Noel : multiple choice exercise on the topic of Christmas
Zoe2007
Powerpoint slides and worksheets introducing and practising language to discuss helping marginalised people in society. There are links to five rel...
lucyday73
Quick printable to cut out, laminate and label: Rooms in a primary school Items in a classroom Raise the profile of French in your school by making...
naomifrench
Updated resources
This resource is meant for pre-school children who might be showing an interest in singing and rhyming words. It's quite normal for everyone growin...
maryb777
Starter- Jouer v/s faire and partitive articles and sport- challenge for MA in starter GCSE style reading activity- CHALLENGE FOR MA NEW GCSE style...
reena09
Starter on the comparative and answers Whiteboard activity on the comparative Listening activity- differentiated Running translations activity Diff...
reena09