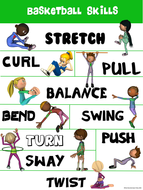 PE Poster: Non-Locomotor Movement
MOVING YOUR BODY WITHOUT TRAVELLING

This colorful "Non-Locomotor Movement" poster identifies 10 different non-locomotor movements that are typically performed in a physical education class. The poster includes a corresponding "action-based" non-locomotor image for each movement that will help your students easily relate. The PDF file includes 4 different header colors to match your school's gym colors.

Read more