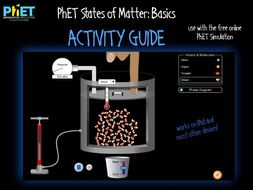 PhET States of Matter: Basics Activity Guide
The PhET States of Matter: Basics activity guide is used along with the new HTML5 PhET Simulation "States of Matter: Basics". Students learn the relationship between temperature and pressure as matter exists as solids, liquids, and gasses. Students go on to explore effects of variations in temperature and pressure of various substances and how that effects phase change.

PhET simulations are fun, interactive, research-based simulations of physical phenomena. All PhET simulations are freely available from the PhET website (phet.colorado.edu) and are easy to use and incorporate into the classroom. All HTML5 simulations will work on Mac and PC desktops and notebook computers as well as Chromebook and iPads.
Read more