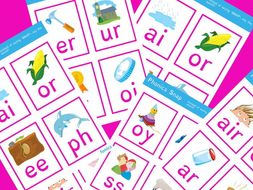 TES PICKS
Phonics sound snap - digraphs and trigraphs
Phonics sound snap! Instead of saying snap when the student have two cards the same they have to say the sound. To extend they have to think of a word that has that sound in or use the picture on the snap card.

Graphemes included:
ai
or
ee
ph
er
ur
ir
oi
ar
ie
ear
air
ay
oy
ss
mb
gn
qu

For more phonics resources, videos and phonics online play www.readwithfonics.com

Don't forget to rate the resource!
Read more