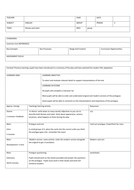 Prologue of R&J
This resource is designed for US teachers. View UK version .
Other resources by this author
powerpoint focusing on act 3 scene 5- looking at Juliet in more detail
soxy14
A simple Powerpoint showing how pupils can vary sentences for effect. Originally used within an interview lesson, but can be adapted to suit a rang...
soxy14
a simple sheet listing evidence you can use for each standard. I followed this advice and completed my folder by Feb half term- collect little and ...
soxy14
Popular paid resources
This is a hugely popular revision tool for the Y6 Reading SATS test! Get ready for the 2018 KS2 reading assessments with this SATS Question Generat...
KS2History
A fully differentiated and resourced lesson that analyses the use of language within Maura Dooley's classic poem Letters From Yorkshire. Throughout...
Lead_Practitioner
This detailed and visually-appealing resource offers a complete reference point for students learning or revising Percy Bysshe Shelley's love and r...
TandLGuru
Updated resources
This resource contains a 108 question paper-based quiz on a variety of literature and genres -books, poems and authors. It is an ideal resource for...
Krazikas
This resource contains 45 illustrated posters with powerful images of some of William Shakespeare's quotes – some poignant, some comedic, some trag...
Krazikas
This resource contains 3 sets of worksheets on figurative language and the literary devices of alliteration, personification, similes and metaphors...
Krazikas