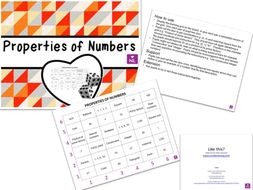 Properties of Numbers (Learning Grids)
The Learning Grid activity helps to link in literacy by encouraging pupils to communicate and articulate their knowledge by connecting two different elements of a topic. Each learning grid comes complete with instructions on how to use and ideas for support and stretch.
This learning grid requires pupils to state the given properties of the numbers connecting the two coordinate cells. This resource is available as part of the Learning Grid Bundle, check it out.
Read more