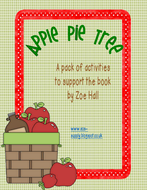 Reading KS1 and KS2 SAT Preparation - The Apple Pie Tree Unit of Work (Guided reading)
Make SATs and National Test preparation fun for you and your pupils with this unit of work packed full of exciting resources.

The unit is designed to test pupils' understanding of what they have read and stretch their comprehension skills in preparation for SATs/National Tests. It is also a great pack for use at any time during the year for guided reading.

Contents (44 pages)

1. Pre-reading activities to extend prediction skills
2. Post reading activities to extend cause and effect, inference and deeper examination of the text
3. Discussion cards with thought-provoking questions for group work
4. Reading comprehension - three separate sequencing activities
5. Grammar exercises - editing sentences and alphabetical order
6. Phonics and reading strategies - find the phonemes and syllable search
7. Writing fiction - create a comic strip and an apple sensory poem
8. Art - create a collage

The unit comes complete with all of the resources you will need to deliver it, as well as teacher answer keys where applicable.
Read more