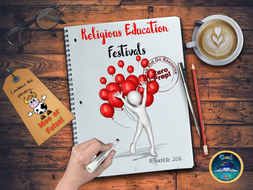 TES PICKS
Religious Festivals.
This is a ZERO PREP, Grab & Go Lesson!

This resource is the sixth and seventh lesson in the series of eight into an 'Introduction to Religion'. This series of lessons is designed to introduce pupils to the six of the major world religions.

In this lesson pupils discuss the importance of festivals and under take a numeracy task based on this (there are differentiated worksheets provided in the pack). Pupils have to create an acrostic poem on the importance of festivals.

There are information cards included on religious festivals that are placed at the front of the class for pupils to 'run' up to collect and repeat the process once they have completed that section of the worksheet. There is a peer teaching section for pupils to teach each other the festivals in the religion they have researched and a peer assessment section.

This resource consists of: PowerPoint ( 33 slides) with a bell task, starter and plenary. Work Booklet (10 pages).
About this resource
Info
Created: May 30, 2017
Updated: Feb 22, 2018
Get this resource as part of a bundle and save up to 22%
Other resources by this author
Plenary Generator / Plenaries Great for AFL!! View our Starter Generator too. The perfect pair of resources to have in ANY Lesson! OR If you're fee...
TeachElite
Easter : Easter Bundle Included in this pack is a selection of our Easter activities, timers and lessons. We hope that you enjoy this resource! If ...
TeachElite
Easter : The Death of Jesus CSI ( This is designed in the style of a Murder Mystery Investigation ) Could be used with KS3, 4 & 5 Our Death of ...
TeachElite
Popular paid resources
First 4 lessons in the 4th section of Catholic Christianity paper EDEXCEL GCSE
joanna_lee700
A series of Lessons aimed at aged 12+ The bundle includes Worksheets and Teacher Guides for the following films. Hairspray The Circle Hunger Games ...
steph_calderwood11
A worksheet and Teacher guide that can be used with the film Hairspray. The course is designed in a way that the film can be periodically stopped a...
steph_calderwood11
New resources
Changing roles of men and women, numerous resources to work through. Please review!
ffionthomas1
Created due to the lack of resources for the new spec, please review.
ffionthomas1
AQA Specification - Students should study religious teachings, and religious, philosophical and ethical arguments, relating to the issues that foll...
GwenThomas1994
Updated resources
Lesson including starter, plenary and differentiated activities on Christian Funerals, based on Church of England Funeral service. Ideal for GCSE s...
FollyFairy
Work for a few lessons on Inspirational People, both historical and contemporary and male and female. Ideal for RS and/or PHSE work. Suitable for Y...
dmcockerill
11 PowerPoints to revise all 6 chapters for AQA GCSE Religious Education for Judaism Ethics
hulahoop1000