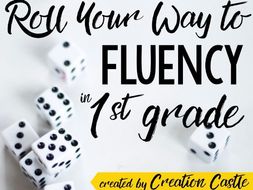 Roll Your Way to Fluency in 1st Grade
Fluency is the ability to read a text accurately, quickly, and with expression. Fluency develops gradually over time, so hopefully your students have had some practice with these skills. In kindergarten your students should have developed fluency with the alphabet, nonsense words, CVC words, sight words, CVCe words, and simple sentences.

First grade fluency is a little more fluid than kindergarten. Since you are constructing a foundation in kindergarten everything is taught in a particular order. Many of the first grade skills blur together. For instance, the word "cheese" is both a digraph (ch) and vowel team (ee) word. You will find that many of the words fit into several categories. It is important to look over each fluency mat before working with your students to make sure they can read all the words.

With these fluency mats, students will simply roll a dice and read the line that aligns with that number.

In this pack you will find roll and read fluency mats for:
L blends (bl, cl, fl, gl, pl, sl)
R Blends (br, cr, fr, gr, pr)
S Blends (sc, sk, sm, sn, sp, st, sw)
Digraphs (ch, ph, sh, th, wh)
Ending Consonant Blends (ex. –ack)
Trigraphs (ex. scr-)
Vowel Teams (ai, ea, ee, ie, oa, oe)
R-Controlled Vowels (ar, er, ir, or, ur)
Diphthongs (au, aw, ew, oi, oo, ou, ow, oy)
adjectives
nouns
verbs
compound words
two syllable words
inflectional endings (ed, ing, s/es)
sight words
sight word phrases - 24 phrases/mat
sentences - 24 sentences/mat

If these skills are too hard for your students, try the kindergarten fluency mats!

Print these fluency mats on colored paper and slip them into sheet protectors for a ready to use resource during guided reading, centers, partner work, tutoring, and more!

This resource was created with U.S. spelling.
Read more