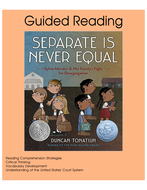 Separate is Never Equal - Guided Reading
Sylvia Mendez and her brothers were denied an equal education in Orange County, California. They were sent to an inferior Mexican school for Mexican-American children. Sylvia's father fought against an unjust system and won an equal and just education for all children. The schools became desegregated, but only after a long and tireless fight. Here is a stellar example of Social Justice combined with a Growth Mindset.

This packet contains Reading Comprehension strategies and critical thinking, including new vocabulary important for all children to learn. Students will also learn what it takes for the court system to change unfair laws.
Read more