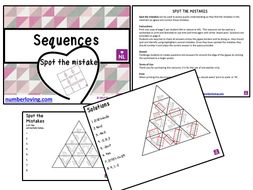 Sequences (Spot the Mistake)
Spot the mistakes can be used to assess pupils understanding as they find the mistakes in the matched up jigsaw and correct those mistakes.
This spot the mistake involves sequences for GCSE maths; finding the nth term, finding the next term and determining if a number is in the sequence. It comes complete with instructions and solutions.
Read more