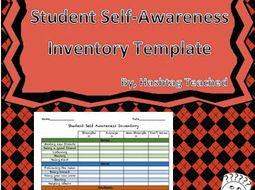 Student Self Awareness Inventory Template
Check out this awesome self assessment that students can use to reflect on their day, week or month. This simple and user friendly template transfers the ownership and metacognitive skills to the student. It can serve as great documentation for parent teacher conferences or drive conversations with students and counselors.

The worksheet is coded with multiple sections including morial, social, academic and potential with multiple questions that can answered with a smiley face, straight face, or sad face with a simple check.
Read more