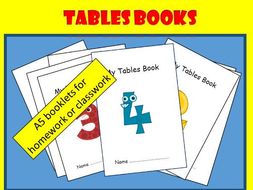 Tables Practice for KS1/2 Maths : set of booklets
A set of A5 booklets each containing 13 exercises for practising tables from 2-12. Devised for homework, but could equally be used as a short starter activity in maths lessons. Books can be issued to pupils according to their existing knowledge of tables, working from the easier ones (10, 5, 2, 11) through to the more difficult ones (3, 4, 6, 7, 8, 9, 12). Stickers/team points can be awarded for completing a book and moving up to the next level. Good for getting parents involved!

The booklets need to be printed double-sided onto A4 paper (4 sheets needed) . Pupils could be given the task of assembling them as booklets.
About this resource
Info
Created: May 24, 2017
Updated: Apr 8, 2018