Reall Languages
Publishing maths, English, languages and art resources.
369Uploads
231k+Views
153k+Downloads
Publishing maths, English, languages and art resources.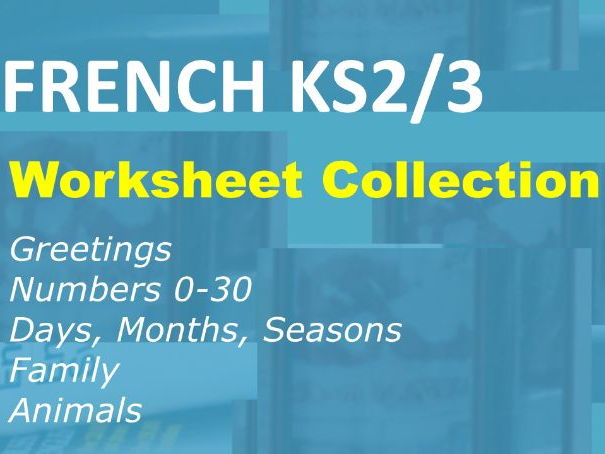 5 topic folders each containing 12 worksheets: 3 each of crosswords, multiple choice, word searches and matching activities. A word list for home study is included in each folder. Answer sheets supplied.

The resource addresses the Y6 NC requirement to use 'the perfect form of verbs to mark relationships of time and cause'. It is a challenging unit of work, and would be appropriate for KS3 as well as KS2. Originally, it was written as a single lesson, but given the scope of the vocabulary and concepts covered, It is probably better to extend it over two sessions. The colourful presentation has teacher-operated conceal/reveal animation, and ends with a paired pupil exercise to be completed in the first lesson and reviewed in the second one. There is a KWL (know/wonder/learnt) chart to encourage self-assessment by pupils and give teachers insight into achievements and difficulties. The unit ends with a pupil worksheet at two levels to allow for differentiation. Weaker pupils can be set just exercise A, where the auxiliary verb and past participle appear consecutively in the sentence, and more able ones can be set the additional challenge of exercise B, where the auxiliary and past participle are split by other elements (eg adverbs, negatives) in almost all sentences. Two of the slides have been saved in png format so that they can be printed out for classroom display.

This resource provides enough material for a week or more. At the end of the unit, pupils should have a good knowledge of the text, and the more able should know it by heart. It consists of a copy of the spell from the witches' scene from Act IV of Macbeth with a glossary, a comprehension exercise with suggested mark scheme, a poetry analysis exercise, and a group activity where pupils are challenged to stage the scene. The outcome could make a worthwhile and entertaining contribution to a class or whole school assembly.

For Upper KS2 and KS3, a text about Burns, his poetry, and his place in Scottish life. The reading comprehension comprises 15 questions, with mark allocation indicated. The question type ranges from simple retrieval to inference and interpretation of language. Mark scheme is provided.

KS2 maths resource. 3 levels of worksheet. Differentiation achieved by selective use of denominator (e.g. L1 denominators are 2, 5; L3 are 2-12). Each zip file contains a worksheet and answer sheet. Task is to supply the missing numerator in an equivalent fraction.

5 worksheets with 30 calculations using all 4 operations. whole numbers only good starter or homework activity answer sheets included Lots more maths resources here: https://www.tes.com/teaching-resources/shop/ReallLanguages/Mathematics

A 10 question multiple choice comprehension exercise. The text is the Door Knocker passage from Stave 1 of A Christmas Carol. A good starter or plenary activity for Y6 and up.

There is material here for several days' work for year 6 and above on Dickens' A Christmas Carol. The starting point is a guided reading session to allow pupils to get to grips with the meaning of the texts. The pack contains annotated teacher copies of the two texts to be used for comparison . In a second file are notes for a follow-up drama session where pupils explore the contrasting characters of Scrooge and his nephew. The PowerPoint presentation is a step by step guide on how to write a comparison of contrasting characters. A follow-up pupil worksheet is provided.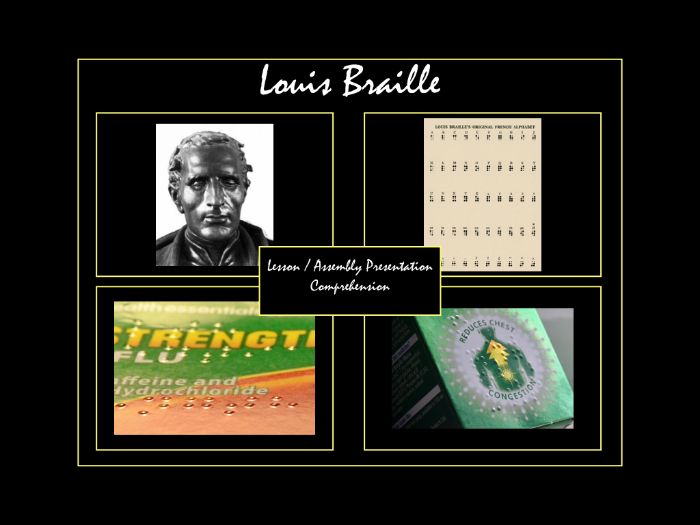 A 15 slide presentation in both PowerPoint and PDF format which could be used either for an assembly or for an introduction to a lesson or project on Louis Braille. It is accompanied by a comprehension exercise with 10 questions (20 marks) along with a mark scheme. Content and language appropriate for upper KS2 and above.

These four texts are retellings in modern English of traditional Chinese folk tales. One - the story of the Nian - is specifically about the origins of Chinese New Year traditions. The other three could be used at any time of the year. These have several common themes (money, religion, magic, kindness, and more which could be suggested by pupils themselves), and would make a good starting point for textual comparison or cross-curricular work (eg RE, citizenship). The texts all come with a set of 10 questions which could be used for discussion in assembly, or for formal written comprehension in the classroom. The folk tale format makes the texts accessible to a wide age range, including KS1, whereas the themes broached in many of the questions make them more suitable for able KS2 or KS3 classes.

60 worksheets aligned to Y5 National Curriculum Objectives. There's enough here to last for the whole school year, plus extras that can be used for homework or revision. The worksheets have been sorted into 4 folders corresponding to National Curriculum areas of study, and the last section of every worksheet focusses on this. The first sections all consist of number work: place value, arithmetic and fraction/decimal/percentage exercises, which need to be practised throughout the year. In addition to these 4 folders, there is a number lines folder with work on fractions, decimals and positive/negative numbers. There is also a set of worksheets providing further practice on fractions/decimals/percentages, which is an area of difficulty for many pupils. The standard of the exercises is intentionally challenging, and weaker pupils may need to work with adult support. Answer sheets are included in each folder. They provide useful teacher support during introductions when working through problems with children.

Quick spelling starter focussing on the doubling rule. Pupils are challenged in 10 slides to find words which are misspelt. Answers provided.

The text is the scene where the Ghost of Christmas Past takes Scrooge to view the episode when his fiancee, Belle, tells him the relationship has to end. The comprehension exercise is accompanied by a mark scheme.

PDF file containing a set of five worksheets, each with fifteen questions. Pupils calculate area of simple rectangles by multiplying width and length. Answer sheets supplied.

This is the second Bingo activity based on the spelling list for Year 5/6) It consists of a teacher card with 50 spellings and their meanings plus 30 different pupil cards ( 10 sheets of 3). The teacher has the choice of simply reading out the words from the caller card, or - for higher ability groups - the meanings. Great as a starter or plenary activity.

This is a 13 page pdf file containing 5 separate activities suitable for KS3 or upper KS2 English. The unit begins with a 500 word comprehension about the origin of Christmas crackers. The comprehension contains 15 questions, with available marks indicated. A mark scheme is supplied. It is followed by differentiated dictation: 3 versions of the same 100 word text based on the reading passage. Teacher notes are supplied. The third activity is a speed dictation (Dictagloss). Another 100 word text is read at speed and pupils are tasked with re-assembling it collaboratively. This activity should generate a lot of talk. Full teacher notes accompany the text. After that there is a worksheet on root words and word families, with teacher notes. Finally, the writing activity is an acrostic poem entitled CRACKERS. 2 examples of teacher-generated acrostic poems are included in the teaching notes.

3 sets of 5 worksheets with answers. Each worksheet has 10 questions where the pupil has to provide the first 5 multiples of a given number. Each set has a different number range (1-12, 1-20, 1-99), which allows for easy differentiation.

These differentiated sets of worksheets are written to meet the objectives for Year 6 Number. Each of the five topics (addition, subtraction, long multiplication, short division, long division) is split into three levels, indicated on the worksheets by 1, 2 or 3 stars. There are 3 versions of each worksheet. There are 45 worksheets in all, plus answer sheets. The material could be used in several ways: * work through all the levels with the whole class * use the levels to target varying abilities within the class * use extra versions of tasks to set as follow-up homework * where pupils are inclined to copy, use different versions of worksheets to ensure independent working * extra versions of tasks can be set as assessment at the end of a unit Learning objectives are given at the beginning of each sheet. A simple 'thumbs up' style of self-assessment is printed at the bottom of each task.

Bright interactive PowerPoint game. There are 5 categories (all four operations plus Roman numerals). Four questions, increasing in difficulty in each category. Pupils should be divided into mixed ability teams, and scores kept on a flipchart or whiteboard. Questions answered correctly score the number of points indicated on the home screen. Wrong answers lose that number of points. It is not possible to revisit questions.

This resource has been updated and extended. There is now a 20 slide presentation (with teacher directed animation) which covers the various permutations of the basic Subject/Verb/Object sentence. It is constructed so that the teacher can work through the slides one by one while the pupils write down answers before they are displayed . The word 'transitive' is introduced and explained at the beginning of the presentation. The display slide consists of simple sentences demonstrating how to colour code words and phrases into Subject - Verb - Object. On the accompanying worksheet, the task is to colour code sentences. There is also an extension activity for early finishers - adding subordinate clauses to sentences.