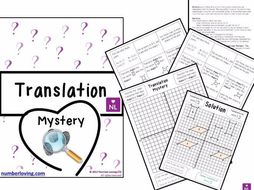 Translation (Mystery)
Mysteries are a thinking skills activity, they promote collaboration and independence from the teacher. They are perfect to use at the end of a topic, requiring pupils to use the skills in a problem solving and often real life problem.

This Translation mystery is differentiated to two levels in which pupils use the clues to plot and translate shapes; level 1 uses words e.g. "left right" where as the second level uses vectors. It comes complete with instructions, solutions and ideas for extension and support. Check out our free translation starter here which you could use along with this resource.
Tweet us @numberloving and let us know how the resource works for you.
About this resource
Info
Created: Feb 22, 2017
Updated: Feb 22, 2018
By adding a School licence it allows you to share this resource with colleagues at your school. Without it, this resource is licensed for use only by you. Read licence details