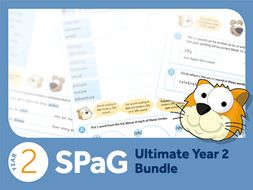 TES PICKS
Ultimate Year 2 SPaG Bundle
This bundle of 12 interactive teaching packs contains everything you need to make teaching Spag both engaging and fun! Each pack offers a range of different materials, which can include everything from a curriculum-aligned scheme of work, interactive exercises, worksheets and lesson plans, to practice games and homework tasks.

This pack includes:


• Sentence Punctuation
• Apostrophes
• Nouns
• High Frequency Words
• Commas
• Sentence Types
• Adverbs
• Word Work
• Phonic Spelling
• Noun Phrases
• Adjectives
• Conjunctions

You'll save over 70% by purchasing these resources as a bundle but if you're looking for even more value for money, why not check out our Tes Elements subscription? For just £35 a year, you'll get access to the entire suite of resources covering SPaG, Phonics, Maths and more for the entire Key Stage! Find out more here
here
Read more
About this resource
Info
Created: Nov 23, 2017
Updated: Feb 22, 2018
Other resources by this author
This TES SPaG pack covers key grammar concepts for KS1 relating to sentences and how their grammatical pattern indicates their type as a statement,...
tesSPaG-resources
This TES SPaG pack covers key grammar concepts for KS1 relating to noun phases, and how to expand them. It is one of a series of packs aimed at yea...
tesSPaG-resources
A complete set of SPaG spelling and short answer practice tests (not the actual tests) by TES SPaG for Level 3-5 and Level 6. The level of question...
tesSPaG-resources
Popular paid resources
10 fully resourced lessons to prepare students for the AQA English Language Paper 2, Section A exam: 'Writer's Viewpoints and Perspectives'. This r...
RojoResources
Children loved making pizzas at our Italian pizza class. Resources have been exported from an Activ-primary flip-chart. (Which also includes Italia...
jreadshaw
A fully differentiated and resourced lesson that analyses the use of language within Percy Shelley's classic poem Love's Philosophy. Throughout the...
Lead_Practitioner
Updated resources
This resource contains a fully editable 30-slide PowerPoint lesson and a set of 10 worksheets on using commas to clarify meaning and avoid ambiguit...
Krazikas
This is the perfect resource to prepare for your English language exams. The resource includes everything from specific points to how to structure ...
kapurkunj01
About the set : Building Sentences Cards are designed for struggling learners, speech therapy, special education, 1st grade, 2nd grade, 3rd grade a...
Miss_Jelena