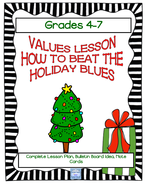 Values Lesson, How to Help Beat the Holiday Blues (Grades 5-8)
Teachers this values lesson is part of a bundle that I'm in the process of creating. I'd love feedback after you've downloaded this. Your input is very important to me. Thanks very much…..

The holidays are upon us and though they can be a joyful time for many of us, there are large numbers of people who are alone, and unhappy. Others may feel alienated from their families leading to depression and in extreme cases, suicide. Our students are not immune. Perhaps their parents are separated, or just come from negative environments..
********************************************************************************
Copyright© 2015 Deann Marin (Socrates Lantern) All rights reserved by author. Permission for downloads to copy for single classroom use only. Electronic distribution limited to single classroom use only. Not for public display.
Read more