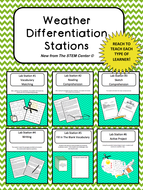 Weather Differentiation Stations
Weather Differentiation Stations consists of six different stations for students to learn about storms and meteorology. The student will learn about temperature, wind, cold fronts, warm fronts, thunderstorms, tornadoes, hurricanes and much more! The students will enjoy a vocabulary matching game, multiple choice questions, sketching, constructed responses, card matching, and a hands on activity!

........................................................................................................

How It Works

Station 1- Vocabulary matching game allows students to match key vocabulary terms with definitions.
Station 2- This station allows students to read an article focusing on weather, temperature, wind precipitation, and fronts. The students then answer multiple-choice questions.
Station 3- Students are given the opportunity to sketch major concepts within weather (water cycle & hurricane).
Station 4- The student reads a passage and then writes constructed responses.
Station 5- Students read provided fact cards and writes down the correct vocabulary term.
Station 6 – Students use a meteorological report to construct a weather map.

Read more
About this resource
Info
Created: May 21, 2016
Updated: Feb 22, 2018
Get this resource as part of a bundle and save up to 36%