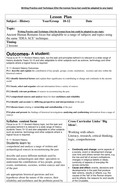 TES PICKS
Writing Technique Practice and Improvement -Otzi the Iceman Topic (but adaptable to many subjects)
Writing activity with analysis, scaffolds and samples to teach effective writing technique and improve student written responses. Writing Technique Practice and Improvement -Otzi the Iceman Topic (but the technique shown is adaptable to many subjects to create stronger answers). Use of this technique as shown WILL raise student results with applied properly to 'bump up' virtually all students to a higher mark level. Use of additional steps plus as pre-marking review and feedback by peers and or teacher will also aid this.

Learning Objectives
-students learn about, practice and develop their writing technique to help them build stronger written responses to improve their written communication and earn stronger marks by learning a few simple techniques.

Highly effective and well resourced using 'IDEA ACE' model.

full and detailed lesson plan provided with clear instructions
highly detailed resources included
fully adaptable to a range of subjects but using 'Otzi the Iceman' as a model
fully editable so you can adapt to your needs
sample responses included with analysis model
a great time-save for you, more importantly, use of this easy approach WILL help your students improve their written response and therefore improve their academic performance.
Read more