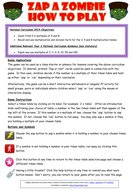 Zap a Zombie Multiples
An interactive game that can be played as a full class (using zombie zap cards), as a group or as an individual. The game comes with instructions which include suggestions for use in the classroom.

Description of the game:
Numbers appear on the screen and are identified on a number grid. Choose the times table you want to visit and work individually, in pairs, groups or as a whole class to zap the zombies who are holding multiples of your chosen times table.

Use the zap / run cards to add a fun element to whole class learning.

**As previews of .ppsx (Powerpoint show) cannot be viewed in TES, I have included some sample photos.
Read more