Find everything you need to give your best performance
Meeting your new class resources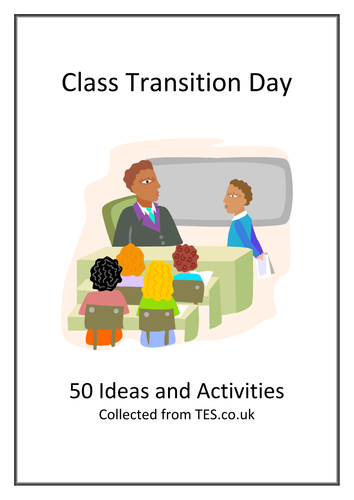 Collated from various threads on the TES forums, this booklet gives 50 suggestions for activities to do when meeting your new class either on a transition day, or for the first day of term.
By
tafkam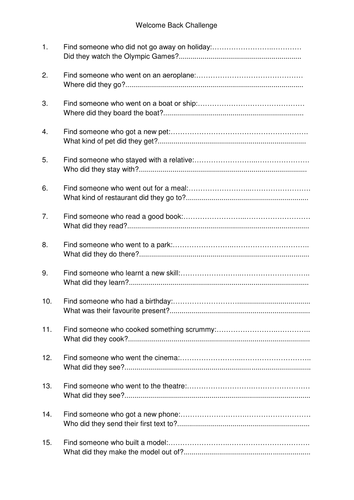 This is an ice-breaker activity that I put together for my new Year 8 form. The format is: Find someone who.... with a follow up question. E.g. Find someone who read a good book:........... What did they read?....
By
Bette Noire
This is a great end of term activity!
There are a few different puzzle sheets to choose from in this resource. Print your choice out in A3 paper and hand a puzzle piece out to each pupil.
This resource can be used for any subject and any age group. You can use any topic!
Pupils will each have to draw (and colour) your interpretation of this topic onto the puzzle piece.
Depending on age group, pupils can also write a sentence or two about it on the back of the puzzle to explain your artwork.
At the end of the lesson you will be required to stick your puzzle piece on the board to create one big puzzle.
We hope that you enjoy this resource! If you review this resource we will give you another resource of the same value for FREE.
We would love your feedback, if you like what you see, please follow us: on Tes <a href="https://www.tes.com/teaching-resources/shop/TeachElite">TeachElite's Shop</a> click the'Follow this Author button' . We will keep you updated on any sales we throw or FREEBIES we upload. <br />
By
TeachElite
PRIMARY transition day activities for meeting a new class.
This is a great one-off literacy activity and a wonderful teamwork project to help your class work together to make a class poem. In this transition day activity pupils work together to create a new class poem using the letters in the name of their class.
The pack contains a Powerpoint lesson, teacher instructions and pupil resources - everything you need for this fun poetry lesson, including icebreaker games and a mini class performance at the end.
The activity allows pupils to bond as they make a class poem that spells out the name of their new class. The session is based around Edward Lear's 'Alphabet Poem' and the activities include suggestions for adapting the lesson for different ages and abilities across KS1 or KS2.
This resource is structured in the following way:
Fun teamwork activities and games including name games, a classroom hunt activity, a paper-chain race and 'Find Someone Who' bingo.
A poetry time activity following the lesson Powerpoint to help the class to become familiar with Edward Lear's 'Alphabet Poem'. There are different options to adapt this for different age groups.
A group activity in which pupils create their own stanzas for the alphabet poem, using the letters that spell out your class name or their new teacher's name.
A whole class performance of the new poem.
Ideal for transition days!
Check out our other popular resource packs:
All About Me Time Capsule
Recipe for a Greatr School Year!
All About Me Fidget Spinner Pack
The resource contains 2 PDF files and 1 PPT. Please note that due to terms of use in the images, the Powerpoint file is not editable.
By
KS2History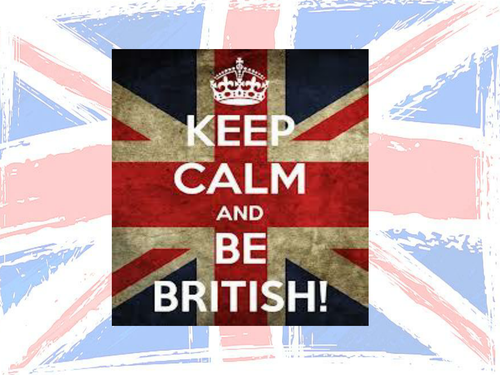 This assembly is meant as an introduction to teaching about British values
By
janineb
Cut your workload with this Back to school assembly Powerpoint. 20 fully editable slides welcoming students back to school. Each slide has an eye catching image and emphasises the important points that children should consider as they set off on what will hopefully be another successful year.
Slides highlight the following areas.
The need for balance in life
Friendship
Hard work
Being kind
Engaging in lessons
Supporting each other
Asking for help … and more.
This resource is fully editable because, let's be honest, the chances of designing an assembly Powerpoint that absolutely hits everything you want to say are quite remote. We hope that this really reduces your workload though so that you can enjoy that last few days of the holiday. Good luck for the new academic year.
By
Start Education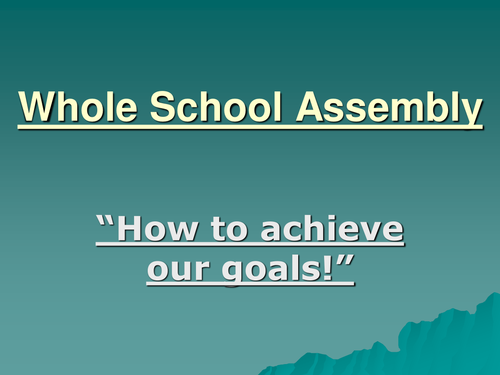 This is an assembly that I produced for the whole school on Target Setting and Achieving Our Goals.
My audience was a Secondary Learning Disability School, but I feel the presentation could be adapted for Primary or even some Secondary (KS3) Assemblies.
Its a "fun" assembly but has a strong emphasis on how we can achieve goals in life.
By
marc_bernard77
This Assembly explores the idea that if we view New Beginnings with a positive attitude things are likely to turn out well no matter how old you are. It provides an opportunity to discuss how new things can be exciting and that it is normal to be a little bit worried. You can discuss how your own school makes it easy for new people to feel welcome and how everyone can help in this.
The Music, "With a Little Smile", is specially chosen to support this.

Mirror Assemblies provide ready-made assemblies including scripts presentations and linked music in the form of a presentation which encourages thought and reflection as a warm up for the main part of the assembly.

IMPORTANT
The licence for using this assembly in your own class is £2, but if you wish to use this resource for a whole school assembly you will need to purchase the school licence.

The music licence for this assembly only allows you to use this assembly or parts of it, in your own school as many times as you wish, and if you change school you cannot take this resources with you.

If you like this assembly you will find it more economical to purchase themes from Mirrorassemblies.co.uk where your school can subscribe to any number of themes for periods from one term to 5 years. This will allow you access to all new assembly materials added to that theme or those themes instantly.
By
MirrorAssemblies
Back-to-school icebreakers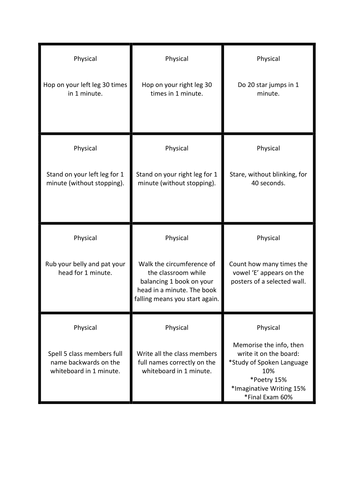 A fun icebreaker for induction week.
This is an English themed take on one of my family's Christmas games. It aims at encouraging the students to work together, recall names and details of each other.

Divide students into teams, decide the order of play and explain the following:

The tutor picks a task card at random and reads it to the team.

The team must decide which of its members is going to complete the task on the card. That team member cannot play again until everyone in the team has completed a task (this is to encourage involvement and to add a tactical element to to game).

The class as a whole will ensure that the task is performed correctly.

Where the team member completes the task the team earns a point.

You can easily increase the difficulty of the task by simply increasing or decreasing the numbers given. Likewise, you can easily add your own, or change the subject theme.
By
Rhyland15
As you know, the first few days of school set the tone for the rest of the year. Start out right with this set of ❄️11 FUN ICEBREAKERS.❄️ NO PREP REQUIRED! Just pop these up on your screen, or print them out and let the fun begin!

This super versatile collection of icebreakers works with any group, anywhere. Whether you have a room full of wild EIGHT YEAR OLDS, rows of nervous JUNIOR HIGH KIDS, or an audience of ADULT PROFESSIONALS, this bundle will get people up collaborating, talking, and building positive relationships with each other in no time. If you want to leave your students fresh, energized, and ready to work together, this is for you.

The bundle includes a FULLY EDITABLE PowerPoint so your audience can easily follow each activity, and also comes with a landscape PDF booklet if you prefer to hand out hard copies. This will save you valuable time on your first day: everything here is no prep and ready to roll.

These are also great activities all year round when you need to break down the barriers holding your group back from becoming a team. TEAM BUILDING MADE EASY AND FUN!

The bundle includes a fully-editable PowerPoint so your audience can easily follow each activity, and also comes with a landscape PDF booklet if you prefer to hand out hard copies. This will save you valuable time on your first day: everything here is no prep and ready to roll.

***************************************************************************
Other Popular Products From Innovative Teaching Ideas - Search for these items on TES

Year Long Visual Writing Prompts
Fable Power Pack
Teaching Digital Technologies and STEM

*****************************************************************************
YOUR REVIEWS ARE ESSENTIAL IN KEEPING OUR PRODUCTS LOW PRICED AND REGULARLY UPDATED!!! IT MAKES A HUGE DIFFERENCE TO US!!! PLEASE LEAVE A REVIEW

About Innovative Teaching Ideas

Terms
Copyright © Innovative Teaching Ideas. All rights reserved by author. This product is to be used by the original downloader only. Copying for more than one teacher, classroom, department, school, or school system is prohibited. This product may not be distributed or displayed digitally for public view. Failure to comply is a copyright infringement and a violation of the Digital Millennium Copyright Act (DMCA). Clipart and elements found in this PDF are copyrighted and cannot be extracted and used outside of this file without permission or license. Intended for classroom and personal use ONLY. See product file for clipart and font credits.
By
Innovativeteachingideas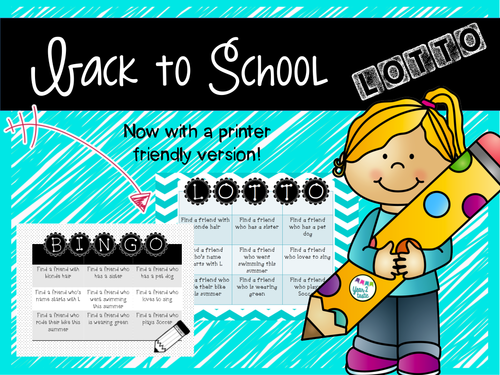 Getting children to chat to each other on the first day back is easy with 'Find a friend who..'

I love watching my little ones play this on their first morning. Who is shy? Who can't stay on task? It stamps 'we are interested in one another and like to communicate' on my class from the very first moment.

Top Tip
Laminate and use again the next year.

Find a problem? Contact me and let me work out the kinks for you!

Many thanks
Laura Xx
By
laurajharris
Using reward systems in the classroom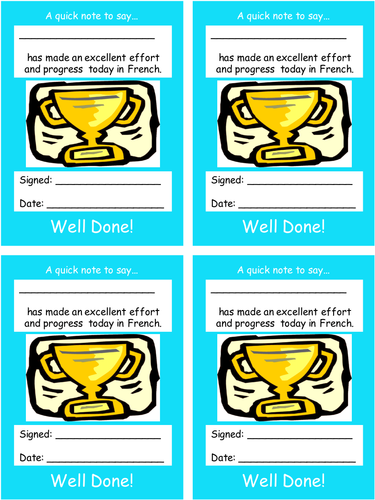 No need to buy them! I have produced these templates, simply change the subject in the text box! My students love these and I hope yours do too! Simply print them in colour, trim them down with a guillotine, write a childs name on, sign and date and put them into an exercise book when you mark a piece of work! Feedback please via the comments section on here! Bryan Hackett
By
bryan hackett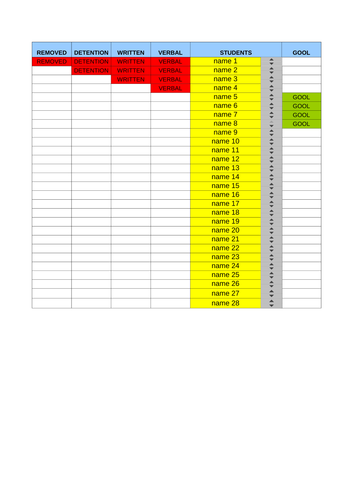 Teachers can use this as a visual aide when rewarding and sanctioning good and bad behaviour. Advantages Teacher can quickly assess how much praise v warnings they are given and who they have not said anything to, thus ensruing you are doing enough positive reinforcement. Students respond positively to a fair PBS. Easy to use and customise. Disadvantages Teachers must be willing to follow through with rewards and sanctions.
By
rnilaweera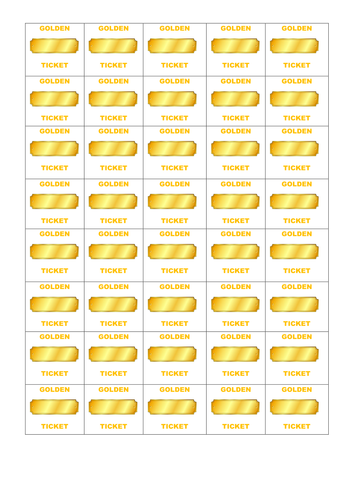 For use in a raffle style reward system. The children earn golden tickets throughout the week then on Friday two tickets are drawn and those two children win a prize.
By
Charltrufit24