Elsasupport's Shop
I have a passion for Emotional literacy and create resources to support teachers, teaching assistants, learning mentors and ELSAs
265Uploads
254k+Views
146k+Downloads
I have a passion for Emotional literacy and create resources to support teachers, teaching assistants, learning mentors and ELSAs

Resource from ELSA SUPPORT Print out the skin tone that you require. This resource has three different skin tones to suit all children. There are also 12 different sets of eyes and mouths and a set of emotions vocabulary flash cards. Laminate all the pieces and keep in a zipped bag for convenience. The aim of this resource is for children to begin to recognise facial expressions and talk about their feelings. It is excellent for children on the autistic spectrum. This resource is also very good for early years settings and can be put into an area of provision, allowing children to experiment and make different faces. Can they match the eyes to the mouth? Can they tell you what the expression is that they have made? Parents would also find this resource helpful for their preschool children. Questions you could ask – can you make me a 'angry face'? What would 'angry' eyes look like? What would 'sad' eyes look like? Can you make me a 'sad face'? Also use other vocabulary such as 'miserable, frustrated, terrified, proud'. There are so many possibilities for working with this resource. The cards could be used as a matching pairs game. Lay out all the cards and ask a child to choose a mouth and eyes that match – name the emotion. Use the face (laminated) for drawing emotion faces. Put it alongside a mirror so children can make faces themselves. Use the angry eyes and mouth to discuss anger and how to recognise when they are becoming angry. What makes them angry? What could they do when they are angry? Pick an emotions flashcard(included with the pack) and make the appropriate face.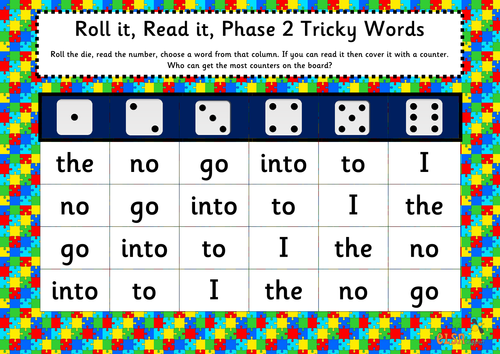 Each player has a different set of coloured counters. Each person throws the die and chooses a word from that column. They read the word and cover it with their counter. At the end of the game the person who has the most of their coloured counter on the board is the winner.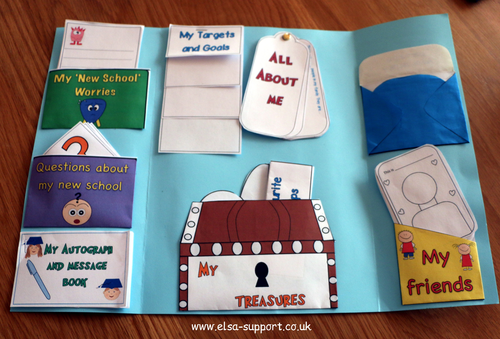 Transition to another school or class – My idea for this is that this can be built with a child, combining lessons and creativity and craft. Each component can be a lesson or part of a lesson. It is something for the child to take away at the end of your sessions. You could easily fill 4 to 6 lessons with what is in this lapbook. There are two versions, one in black and white so the child can colour the lettering etc and one in colour where they can just cut and stick. There are two alternative back covers which you can choose to add to the lapbook. One is a game about 'Changes' and the other is a weekly feelings diary. Of course you could add one of those to the back cover and just use the other separately. This resource could be a fantastic end of term project for a Year 6 teacher. The children will love all the little pockets and will be making something to be proud of. Included in the transition lapbook is: Name – child writes their name in a colourful way – they could write in bubble writing or decorate it anyway they wish. Picture– either take a photo of the child to stick here or ask them to draw themselves. Front cover title – Moving on My new school or new class worries – What sort of things are they worried about? Use the little monster writing sheets for children to write down their worries to put in the little pocket. Discuss these at each session and help to reassure the child about the changes that will happen when they move class or school. Questions about my new school or class – This is a perfect opportunity to answer all those questions about the new school or class. My autograph and message book – Let them collect autographs and messages from friends to take on with them to the next school or class. My goals and targets – This is a little layered book. The child has to come up with a target for the rest of the term, a target for the summer holidays and a target for the new school or class. All about me tag book – Lots of questions to answer in this little tag book. Treasure chest – Includes concertina books with some prompts but also includes a blank so you can ask different questions. The treasure box could contain anything that the child wants to keep safe. They could pop some little photos in there too. A letter to my future self – What do they hope for in the future? How can they see themselves when they are in the next class or in their new school. What will they be doing? What will they have achieved? Will they have new friends? A letter could also be written telling their future self of what they are doing now, any of their concerns or worries etc. Friends – The child can write their friend's name and finish the image to look like their friend. All their friends can fit into the little pocket. Changes game (back cover) Feelings diary (alternative back cover)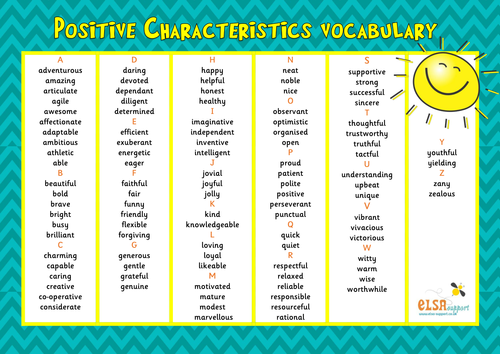 Two word mats - one aimed at positive characteristics (great for self esteem) and the other at emotions vocabulary.

I have literally bundled all my phonics resources together to give you a massive amount for your money. Perfect for the Phonics Screening. Enjoy! Kids learn best when having fun and these are tried and tested! Don't forget to check out my free phonics resources too!

All the resources you would need to run a therapy group plus some added extras.

This feel the feels worksheet set contains a worksheet for 20 different feelings/emotions. Suitable for Key stage 2, 3 and 4.

This resource is ideal for working one to one with a child. The red light is the negative emotion such as anger, frustration, fear, worry, sad and upset. The green light is the positive emotion such as happy, chilled, content, ok, calm, and confident. The amber/yellow light is all the things the child can do to help get from the red light to the green light. These are the tools. Make sure you go through the resource with the child and decide which 'tools' they need to use or try. Print and laminate this resource, Cut out the cards and keep in a little zip folder, Use either velcro or blu tak to stick the cards onto the base board. If you need the cards to be bigger just print all of it onto A3 paper and laminate.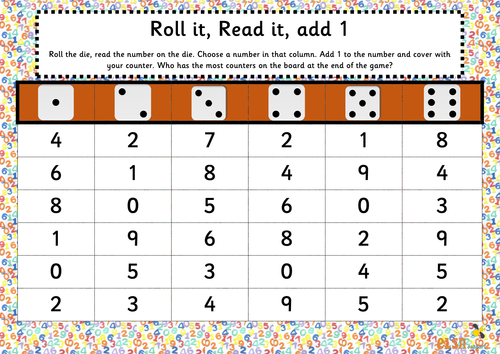 A series of maths games working on numbers up to 10. Children have a set of coloured counters each. They take turns to roll a die, read the die, find the column and work out one of the number sentences or add or subtract 1 from the number. If correct and both players must agree then they cover the number or number sentence with their coloured counter. Who can get the most counters on the board. Depending on the size of your counters you may need to print onto A3 so the counters fit properly.

This resource is a fun way of working with emotions. Each emoji represents a letter of the alphabet and pupils need to break the code and work out what all the words are. The words in this pack are all emotion/feeling words. Their are 16 base emotions/feelings with synonyms of that emotion or feelings. This is perfect for year 6s who are returning to school in June. Also great for KS2 children who are still at home. The puzzles are enjoyable to do. Pupils will feel a sense of achievement breaking the codes which will help raise self esteem. Getting involved with puzzles is great for relaxation and mindfulness. You can work on synonyms of emotions by using these puzzles. Pupils will learn new vocabulary for expressing their feelings. Brilliant for home learning. The pack contains: 16 code breaker sheets The alphabetic code A sheet for making their own code A sheet for making their own messages Answer sheets

This gratitude jar will help children look for the positives in their lives. Gratitude according to Positive psychology is strongly linked to being happy. I have done lots of jar activities but think that gratitude is such an important one so deserves its own post. This resources has a jar with and without lines. It also has a long list of suggestions/prompts to encourage children to reflect on things they are grateful or thankful for. The jar without lines can be decorated with pictures, photographs and words. Make it colourful. It could also be used each day and the child adds just one thing for that day they are grateful or thankful for. Of course you could make an actual jar with a lovely label and ask the child to fill it each day with things they are grateful for.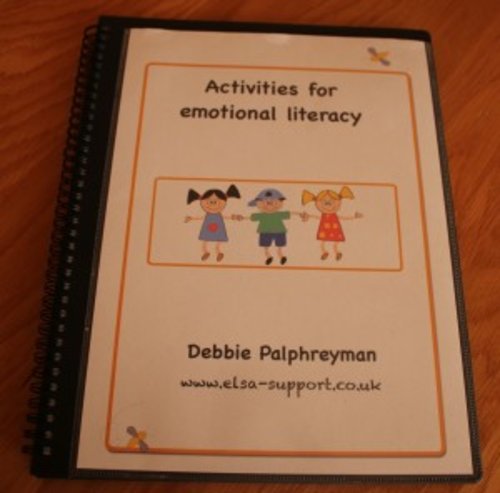 Children relax when they are working on a craft and to be honest I do not know of a child who does not enjoy crafts especially when it is with someone who is interested in them and interested in what they say. They will open up to you and talk freely whilst enjoying themselves. These activities are also perfect for an ELSA or Teaching assistant who has to do a one off session with a child or who has to work reactively to a situation. When children succeed in an activity then their self efficacy increases. They begin to believe in themselves. Along with your encouragement and praise they will begin to have a 'can do' attitude. It takes time but if anyone ever says to you that what you are doing is just 'crafting and having fun' WHAT are they learning? You can tell them. The resource includes: Card crafts (20 activities) Templates (13 templates or resources) Front cover, contents sheet

There are: 40 different Mandalas, one to a page with a lovely quote to discuss. Print these as posters, individual worksheets or as a booklet. 20 Postcards -A5 Size – I thought doing them any smaller would make colouring in a bit too difficult.

The Emotions game - is a game to help teach emotional awareness. It will help with emotions vocabulary, recognising facial expressions and give an understanding of how the child may feel in certain situations. The game could be played on a one to one basis or a group basis. My suggestion is no more than four children. To make the game Photocopy or print the game board onto A3 paper then laminate Print all the cards, laminate and cut into separate cards The game consists of: 'How would you feel if' cards 'Act it' cards A game board A bingo board You will also need counters and a die How to play Choose the person to go first by each throwing the die and the highest number thrown goes first. Go clockwise from that person. The first person throws the die and moves their counter that number of spaces. If they land on an emotion face then they must say what that emotion is. If they land on a 'How would you feel if' space then they must pick a card and answer the question. If they land on an 'Act it' space then they must pick a card and act out the emotion with facial expression and gestures. You could even encourage them to say a sentence or phrase which someone who feels that emotion might say. If they answer the questions or act out the emotion then they get a counter to fill in their bingo board. The first person to fill their board is the winner so you may need to continue going around the board again. Each person must name two facial expressions, two 'act it' cards and two 'how would you feel if' cards to win the game.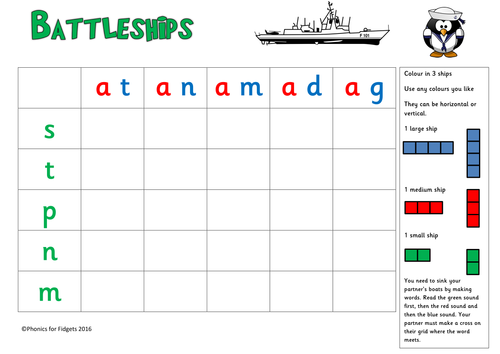 Children love to play Battleships, such a classic game and this resource uses the Battleships game to help children to practise their blending skills. Children will make lots of nonsense words with this game so it is purely on the blending and segmenting. There are 17 games altogether covering Phases 2, 3 and 4 of Letters and Sounds. There is also an instruction sheet. Great way to practise alien words for the Year 1 Phonics screening.

These game cover most of the Phase 3 sounds. The maths just wouldn't work out to make all the sounds. All you need is a die and some counters (2 colours, each person has a different colour). Take in turns to throw the die, read the corresponding sound and then find a word with that sound. Read the word and then cover with your counter. If all the words are gone then you miss a turn. At the end of the game the person with the most counters on their board wins. Perfect for phonics screening practice.

This resource would be very useful if you are setting up a building brick therapy group. To read more about running a therapy group then it is advisable to buy the book Lego® -based therapy. Children need to know their roles within the group, know the group rules and be rewarded for their participation and adhering to the rules. This download consists of: Certificates in A4 and A5 size Points chart for the whole group and for individual children Punch card behaviour/reward chart (could also be used to add stickers to) Rules poster and also individual rules to display Job badges Job description posters

Stick the label onto a container or box. Pop the cookies into the container and invite children to pick a cookie and answer the question. This resource will help raise children's self-esteem. Could be used whole class, groups or individually.

Written last night to hopefully help children who struggle with change. This is a BIG change. Clear, simple and hopefully reassuring.

This is a resource for Good Mental Health week which starts on the May 18 through to 24th May This is a 5 day challenge on being kind to yourself. This is suitable for anyone to do whether you are 5 years old or 15 years old.