Inspirational ideas for National Literacy and Numeracy Week
Take the time to celebrate the importance of literacy, numeracy and digital literacy with these imaginative lessons
National Literacy and Numeracy Week, this year taking place on 4-10 September, is an opportunity to focus in on key skills that are essential for life in and outside of the classroom. As these skills are being taught on a daily basis, why not use this week to add an element of discovery and enjoyment to your lessons? We've gathered a handful of resources for each section to get you started.
Literacy resources
Give every student the tools they need to explore the world of literature by sharing these supportive reading strategies posters, while also being ideal for brightening up the walls of your classroom. Once pupils have found their favourite book, make sure they share it with their peers with help from these easy-to-use templates.
Challenge budding writers to pen their own stories about Australia and its wildlife using this collection of writing prompts, complete with illustrative border to colour in. For older learners, this short creative writing unit will give them the confidence to write their own murder mystery plot.
Numeracy resources
Promote problem solving in a competitive environment using this maths relay races lesson, packed full of number puzzles for teams of students to complete against the clock. Why not task students with this thought-provoking pancake problem? Getting all the pancakes the right way up sounds simple but this challenge will definitely get brain cells whirring as they try to uncover the right formula.
Avoid the groans that come with learning times tables by getting pupils to play this version of snakes and ladders or this matching pairs memory game, proving once and for all that maths can be fun.
Times tables can be a tricky maths skill to teach because of the understanding required of the relationships between the numbers and the amount of maths number facts students are required to recall in learning their 2x to x12 times tables. Rote learning can mean children recall their times table facts but have no idea what the relationships mean between the numbers. We have found that the best strategy is continued practise through game-play. Our students really enjoy this snakes and ladders multiplication game and ask to play it again. We have included division facts also on the game boards to help students understand the relationship between multiplication and division. We have included instructions on how to play in the pack and colour and black and white versions of the game boards, so you can print the version you prefer.

We hope you and your students enjoy this pack and please let us know if you have any queries on eeducationhelp@gmail.com.
By
Engaging Education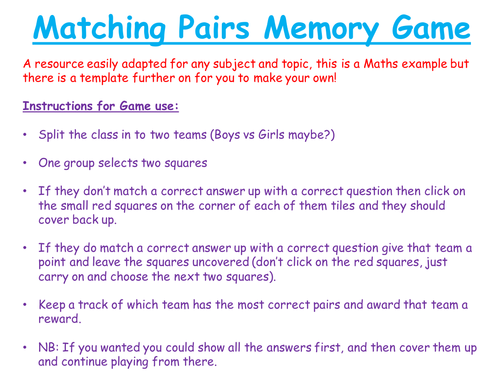 A Matching Pairs memory game where students have to match up questions with relevant answers and use their memory skills to assist them. There is a template with instructions which should enable you to adapt it for your own subject and needs. The example provided is a basic Maths Multiplication Game. Let me know any problems or improvements that could be made and how it worked for you.
By
tomalley4
Digital literacy resources
Last year, digital literacy became an integral part of this week's focus so don't forget to spend some time nurturing these essential 21st century skills. Tackle coding and algorithms head on with these engaging activity cards and support explorations into Python using this programming cheat sheet. For a more in-depth approach, this collection of puzzles, complete with answers, will test learners' ability to use computational thinking to solve problems.  
Regardless of which activities you use to explore digital literacy, ensure that your students are using the internet appropriately with this informative e-safety lesson.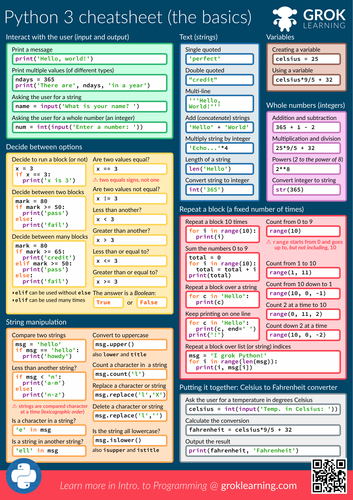 This handout summarises all the key programming concepts in the Python 3 programming language. It is useful for students who are learning to code, or to have on hand when they are revising their skills.
By
Grok Learning
Within this unit of work, students will learn how to apply the concepts of computational thinking to a range of different problem solving puzzles. The resource is split into four sections;
1. Computational thinking puzzles - a range of different types of puzzles which encourage students to apply the concepts of computational thinking to solve them. Puzzles include mazes, word ladders and even a game of draughts (or checkers)!
2. Logic Gates - students will need to solve the logic gate puzzles to identify if the output is on (1) or off (0) dependent on the gate sequences. This also helps develop Boolean decision making through the use of AND, OR & NOT gates which produce a TRUE (1) or FALSE (0) output.
3. Flowchart puzzles - students need to work out the correct answers to the questions asked dependent on the input information and the flowchart conditions set. Flowcharts include the use of algebra variables which can help support mathematics students.
4. Pseudo code puzzles - students need to read through the pseudo code algorithms and demonstrate their understanding by answering the questions asked. Pseudo code sequences include the use of algebra variables which can help support mathematics students.

Each puzzle is given a score. Once complete students check their answers and work out their overall scores and place them in the grid provided. They then compare this with the overall levels to find their overall level: Rookie, Pro or Beast! This can then be used within assessment to see if students are performing at, below or above expected levels.

Pack includes a student PowerPoint resource to complete and answers for each puzzle.

***Please Leave a Review!***
By
RobbotResources
Play Like Share is a new education resource for teachers and professionals who work with children.

Developed by CEOP and the National Crime Agency, the pack aims to help eight to ten year olds learn how to stay safe from sexual abuse, exploitation and other risks they might encounter online.

There are two alternative sets of lesson plans allowing you to tailor the content to the children you work with based on their maturity, development and online engagement.

Lesson plans, videos and other materials are available on the ThinkUKnow website:
http://www.thinkuknow.co.uk/teachers
By
DfE