Early years German resources: festivals
Keeping your class engaged with new and interesting classroom resources is vital in helping them reach their potential. With Tes Resources you'll never be short of teaching ideas. We have a range of tried and tested materials created by teachers for teachers, from early years through to A level.

Breathe new life into your lesson plans with our primary and secondary classroom resources. Whether you're looking for fun maths worksheets or brand new guided reading activities, we have thousands of free and premium resources for you to download. From early years to primary, you'll find phonics worksheets and numeracy games and all you need to revise for Sats. From secondary to post-16, we have everything from French lessons to algebra activities, as well as GCSE revision guides and more.
Read more
These resources teach students how to describe and discuss different festivals and celebrations in the German-speaking countries.
Resources to develop Ab Initio / Standard / Higher German exam skills in the Reading / Writing and Speaking exams. Included: Cultural starters to develop pupils intercultural competence and knowledge. Paper 2 Writing help, frames and guides Paper 1 Reading guide and practice questions Speaking activity to develop picture description
Here are 12 cultural starters to teach elements of culture at KS3 and 4. This is an easy way to get your pupils thinking about German culture for their GCSE. Topics: Places in Germany/Austria/Switzerland Music Food Traditions Clothing History Buildings Enjoy!
Are you learning German? Are you looking for a fun way to learn German? I have developed a way to learn different languages based on my experience as an ESL teacher. This pack has 57 different settings for students to talk about in German. The worksheets themselves are in English and the students do need to translate the places and objects they see into German. At the end of the session, the students can play a fun game of word bingo to show they have mastered that day's vocabulary. Try it, it is a lot of fun for everyone!
Here is a fun, multicultural, cross curricular set of resources for Halloween. There are maths resources, different language resources, photos about how people celebrate Halloween and even a phonics sheet about Halloween.
Everything you need to get a Halloween week of lessons moving! Lots of different language lessons, fun photos and songs. Something for everyone!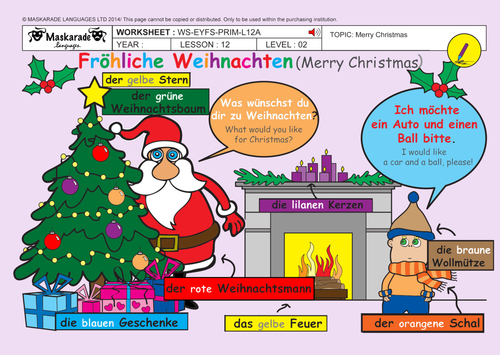 UNIT 3: ALL ABOUT CHRISTMAS!!! COMPLETE UNIT OF WORK FOR YEAR 1 and YEAR 2 Fun German activities to celebrate Christmas! INCLUDES : topic and practice worksheets with audio/song/Christmas decorations/ poster for display/ certificate of merit/ SET UP: It's the Christmas season and everybody at Cosmoville is celebrating: Father Christmas wishes Merry Christmas to everyone. Colourful PDF files from the COSMOVILLE book series, testing pupils about the lessons from unit 3: ALL ABOUT CHRISTMAS. The PDF files have the SOUND embedded (PDF's require ADOBE READER to access the audio content) and can be used on whiteboards. The folder also includes printable students' activity worksheets and CUT-OUT characters' masks for practising role-playing. SUBJECTS FOR YEAR 1 TO YEAR 2 Topic and practice worksheets include: o Was wünschst du dir zu Weihnachten? o Ich spiele mit meinen Spielsachen o Was ist dein Lieblingsspielzeug? SONG LYRICS • O TANNENBAUM Folder includes: • 1 Puppet Theatre: Was wünschst du dir zu Weihnachten? • 3 cut-out puppets • 2 classroom posters with sound embedded for display • 1 song lyrics • 5 printable practice and topic worksheets Also available in French, Spanish and English.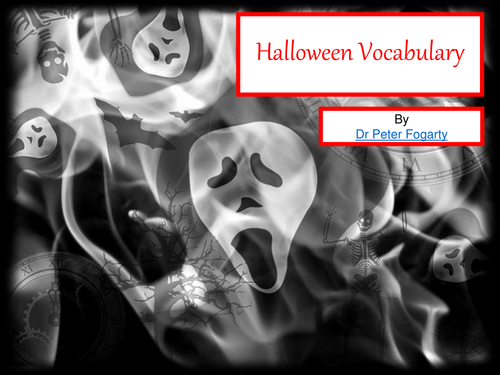 A fun way to practice German numbers during Halloween. You could look at it directly as a presentation and discuss the different skeletons being shown in each of the photos. You could print off and laminate the photos to make an interesting, eye-catching display about the Halloween Skeleton Counting Song. The students could also take the laminated photos and sort them into different groups of skeletons. The students can then discuss what they think each skeleton was saying or thinking. The photos could also be used as prompts for creative writing, factual writing or descriptive writing.