Early years medicine resources
Keeping your class engaged with new and interesting classroom resources is vital in helping them reach their potential. With Tes Resources you'll never be short of teaching ideas. We have a range of tried and tested materials created by teachers for teachers, from early years through to A level.

Breathe new life into your lesson plans with our primary and secondary classroom resources. Whether you're looking for fun maths worksheets or brand new guided reading activities, we have thousands of free and premium resources for you to download. From early years to primary, you'll find phonics worksheets and numeracy games and all you need to revise for Sats. From secondary to post-16, we have everything from French lessons to algebra activities, as well as GCSE revision guides and more.
Read more
Save time this revision season with our handy bundle of AS-Level OCR Islam Revision Tools
Get two free resources when you buy our new revision board game. This pack includes selection of discounted GCSE Islam revision tools for 2017 and onwards!
Get two free resources when you buy our new revision board game. This pack includes selection of discounted GCSE Christianity revision tools for 2017 and onwards!
Perfect for new RE teachers, new HODs and those entering a new RE post. This bundle is a massive collection of files. This bundle is designed for Religious Education, Philosophy & Ethics teachers; It includes: 5 x KS3 Units 5 x GCSE Units or themes A massive KS5 file collection An AQA Philosophy section P4C Tools Other goodies! Feel free to email me about the resource if you have any questions: godwin86@gmail.com Adam
sInclude: Pupil Workbook, Debate Place Mat, Mock Exam Answer Book. Model Answers (6 mark questions), Revision Guide, and a Walking, Talking Mock Presentation
A selection of 20 presentations on 20 different inspirational women. The slideshows are designed to be used as part of Women's History Month or for a thematic study in History. They are suitable for use with KS1, KS2 and KS3 and can be used for assemblies, as an introduction to History or topic lessons or just as a filler during Women's History Month in March. The women included are: Elizabeth Garrett-Anderson Mother Teresa Rosa Parks Serena Williams Amelia Earhart Coco Chanel Emmeline Pankhurst Indira Gandhi Joan of Arc Marie Curie Elizabeth I Edith Cavell Florence Nightingale Mary Seacole Michelle Obama JK Rowling Aung San Suu Kyi Boudicca Margaret Thatcher Queen Victoria
Contains all debate generators for GCSE Religious Studies (specific to 6 different religions, 50 debates each [linked to exam specs]) as well as the more substantial Philosophy, Ethics and Politics debate generators (each with 200 slides each, and four different debate formats).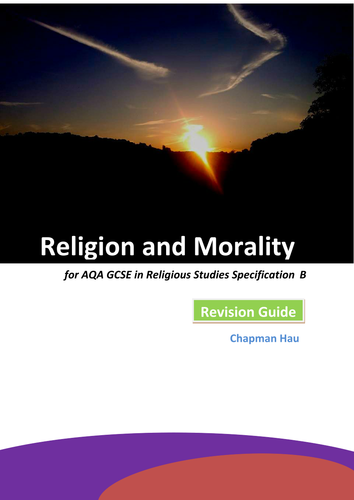 This is a revision book for the AQA B Unit 3 Religion and Morality topic at GCSE. This detailed book contains all that is required in the specification, including religious teachings and beliefs on all aspects. Information is laid out in a clear manner, so revision is optimized. This revision book can also be used for other exam broads such as EdExcel, OCR and WJEC as it contains overlapping topics.