30Uploads
3k+Views
235Downloads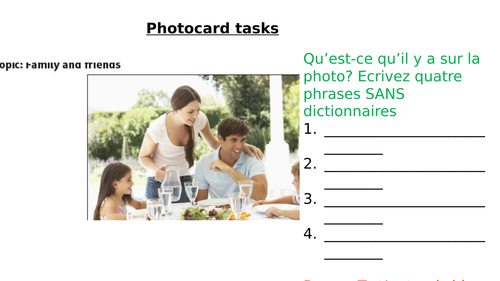 This lesson aims to build students' confidence tackling photo card tasks in both writing and speaking. It introduces them to the PALM structure- People, Action, Location and Mood. This way students aren't stuck with what to say about the photo. It also briefly recaps the present tense for -er verbs as I often find my students write "ils sont manger" or "il est regarder" when describing photos, when the present progressive does not exist in French.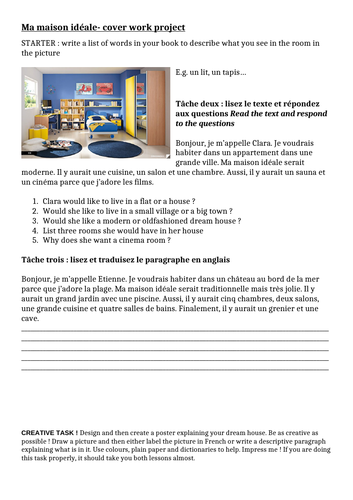 This worksheet is ideal for setting as a cover lesson or homework project. There are a range of tasks such as a photo task, reading comprehension and translation from French to English. The worksheet culminates in an extended project where students describe their ideal house using the conditional tense- support given.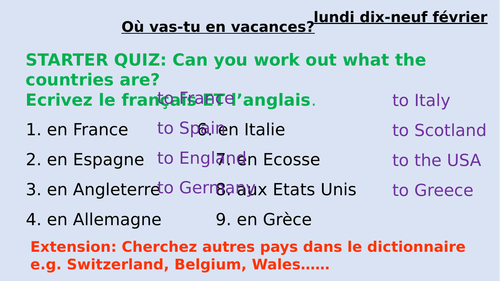 This lesson is designed for year 8/9. The objective of the lesson is for students to be able to say where they go on holiday- recapping countries, places (e.g. seaside/countrside/mountains) and also the present tense of aller. Skills focus is speaking so a game of battleships and noughts and crosses is included.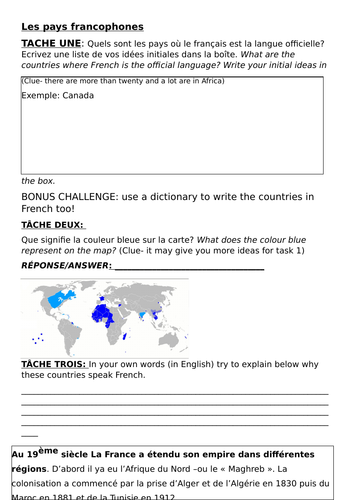 This worksheet is a mixture of cultural and reading comprehension tasks which explores Francophone countries and Algeria in more detail. Ideal for a cover lesson or homework task. Aimed at year 8/9 but can be easily adapted.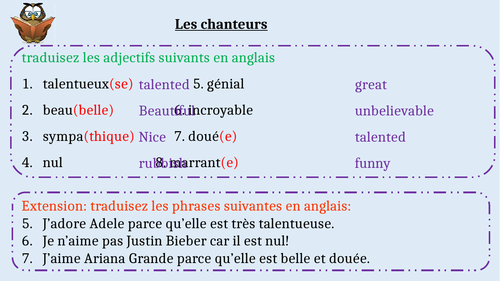 Ideal for year 8/9 French. The objective of the lesson is for students to be able to give a variety of opinions on different singers, say why they like/dislike them and compare them using comparatives/superlatives. A mixture of different skill areas are targeted with a supported writing task, some translation into the target language and a speaking game of snakes and ladders. The board game is also included in the price! All you need extra is dice and counters. Feedback welcome!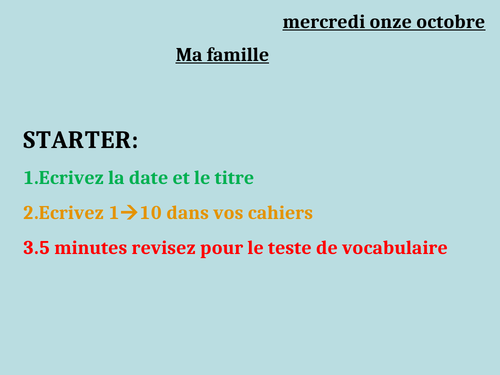 A lesson to introduce the family vocabulary to year 7 and introduce the grammar point of possessive adjectives; mon/ma/mes. The main activity; a writing task either drawing/labelling a family tree or writing a paragraph about their family An ideal lesson for year 8 French as part of a SOW on music/free time. The lesson objective is to learn music genres and be able to give opinions and reasons on these different genres in French. Activities include an adjective matchup task, a listening task with authentic French songs (links to youtube attached) and a speaking survey task.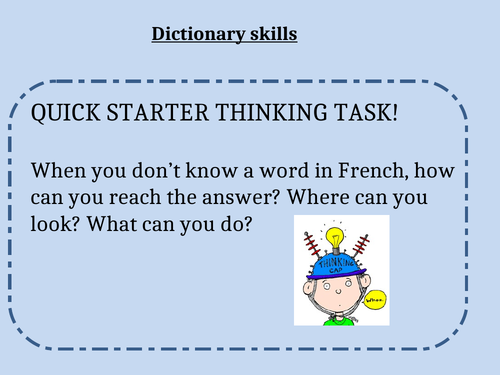 This lesson aims to teach students to be confident and competent with a French dictionary in order to become independent learners. Ideal for the first half term in year 7 but can also serve as a recap when necessary for any year group.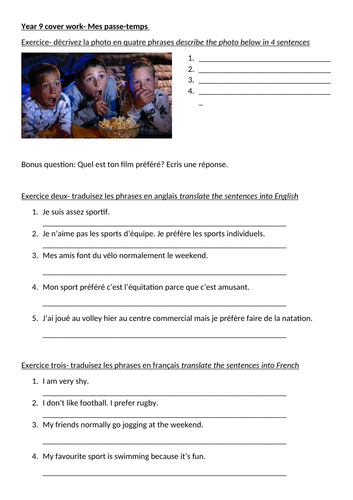 This worksheet is ideal for a homework to supplement learning in class or as a simple, straightforward cover worksheet. The tasks increase in difficulty. Contains lots of GCSE style questions to develop exam skills. Ideal for year 9-11.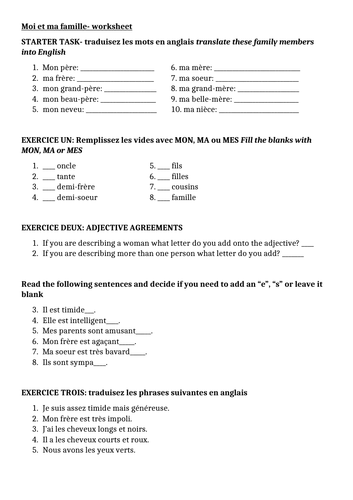 This worksheet is ideal for a homework to supplement learning in class or as a simple, straightforward cover worksheet. The tasks increase in difficulty. Could be used with a year 9 or 10 class.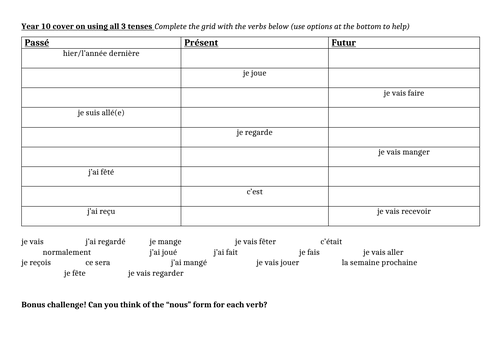 This worksheet is the ideal revision tool for a foundation or higher GCSE French class. It could be used for a one-off cover lesson or as a homework task to supplemement in class learning. The worksheet was created very much with the GCSE specification in mind and builds up to a 90 word question. The tasks are differentiated and gradually increase in difficulty.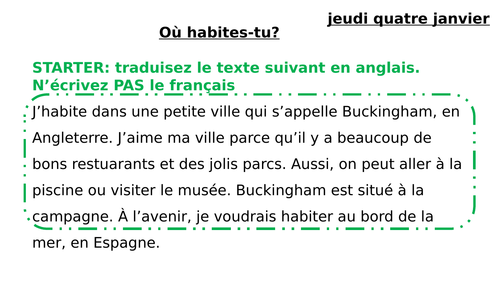 A complete GCSE lesson to practise describing where you live and the different prepositions for "in". The skill area practised is translating into target language with a great game kids love! I take no credit for creating the game- saw it elsewhere on TES- butadapted the idea for this topic. Feedback welcome.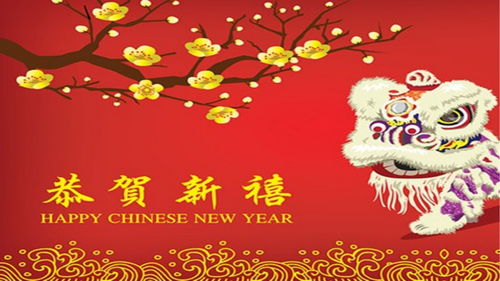 This power point serves as an introduction to Chinese New Year with a quiz at the end to test students' knowledge.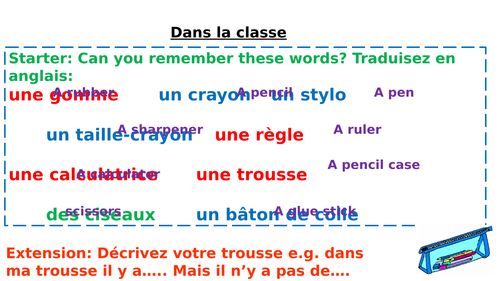 This is a lesson used for year 7 (or 8) French to learn objects around the classroom. Mainly oral practice, some AfL and an accompanying worksheet for students to label the words on.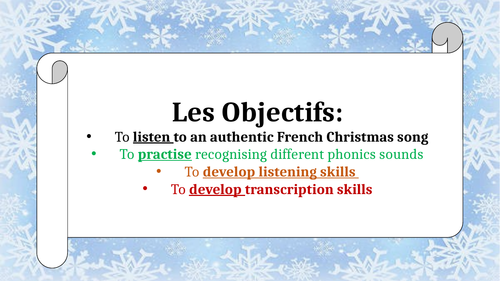 This lesson uses the traditional French song "Vive le vent" to focus on listening and transcription skills as well as a focus on phonics. A perfect lesson to end the term that still has an important skills focus.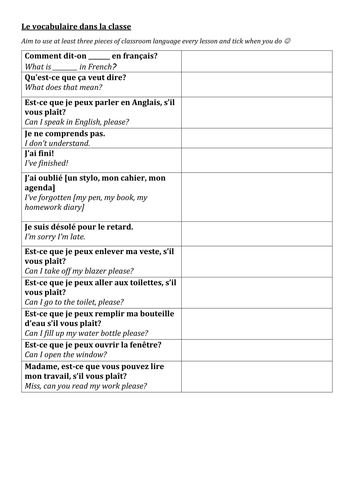 This worksheet can be given to students to help encourage them to speak in French during the lesson. It includes a whole variety of sentences that when students say one they can tick the sheet. This can be made into a competition between who ticks the most phrases.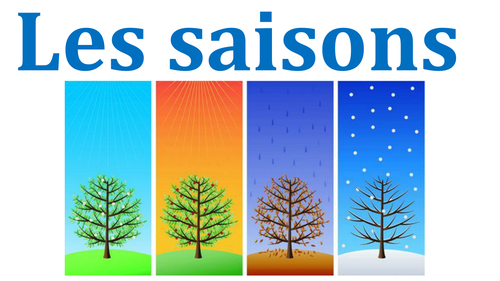 These power point slides print out as the perfect classroom displays for French- including weather, months, seasons and days of the week. Feedback welcome.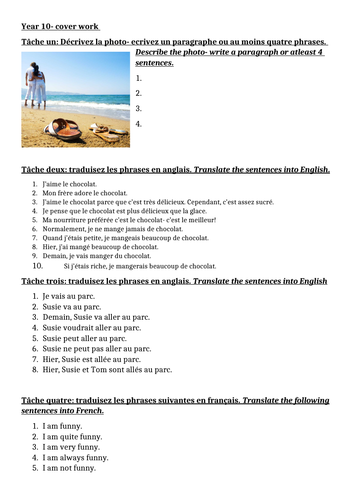 A simple independent cover worksheet for KS4 French that can be for any occasion. Ideal for last minute cover lessons! Practises a range of exam skills such as describing a photo, description into both English and French and also an authentic reading task. Readily differentiated by outcome.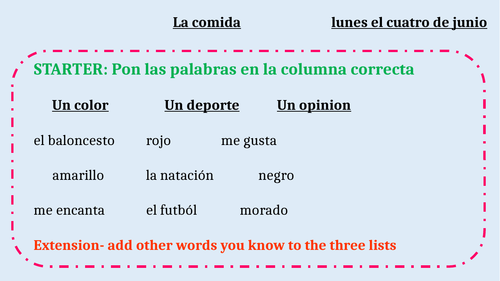 The aim of the lesson is to introduce vocabulary for food and drink, recap noun genders and work towards creating full sentences using como/bebo in a speaking activity. The skills focus of this lesson is speaking- please find attached an accompanying board game (snakes and ladders).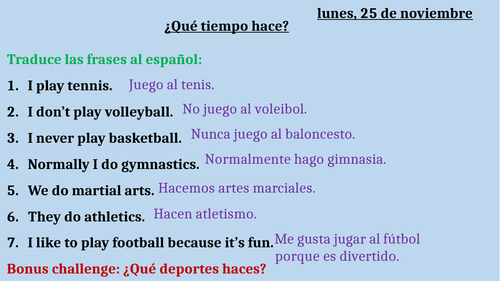 This Spanish lesson accompanies Viva 1 module 2- Que haces cuando llueve? It is ideal for either a year 7 or 8 class. First students learn the key weather vocabulary, then a drawing/copying exercise of the vocabulary followed by translation and writing their own answers. By the end of the lesson, students will be able to write their own sentences about what activities they do depending on the weather.