A Level Student 20
I am a student studying for my A level exams
17Uploads
263Views
16Downloads
I am a student studying for my A level exams These notes are about Germany from the years 1925-55. They include the: Weimar Republic, rise of Nazi regime, Great Depression, Hitler consolidating his power, Nazi Police state and actions, Propaganda, media and culture, treatment towards women, young people and minorities, WWII, Nazi opposition, Germany after WWII. These notes outline the causes of the Cold War and the conferences which took place in good detail and clearly.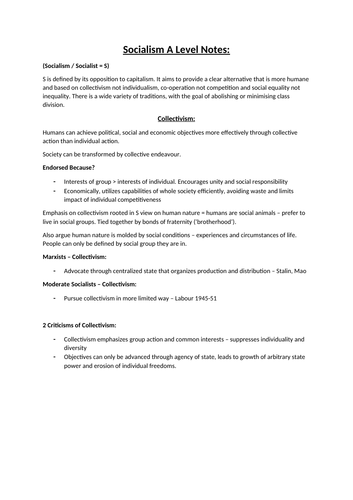 This document has full and detailed notes on Socialism from the Edexcel specification This bundle contains all 3 topics in A level History - England, USSR and China, with quality notes Document contains notes on origins, reforms and key terminology of the UK Constitution and also fully addresses the Parliament topic in A level Politics This pack contains notes on key topics in History GCSE - Germany This resource is notes on the League of Nations for revising GCSE history. It includes: the big three, successes and failures, aims, organisation, strengths and weaknesses, its relevance, Manchuria and Abysinnia etc. Read through these and you will know everything key there is to know about the League of Nations! This document contains all depth notes from 1399-1509 covering all aspects of their reigns for A Level History Analyses each electoral system in the UK showing their advantages and disadvantages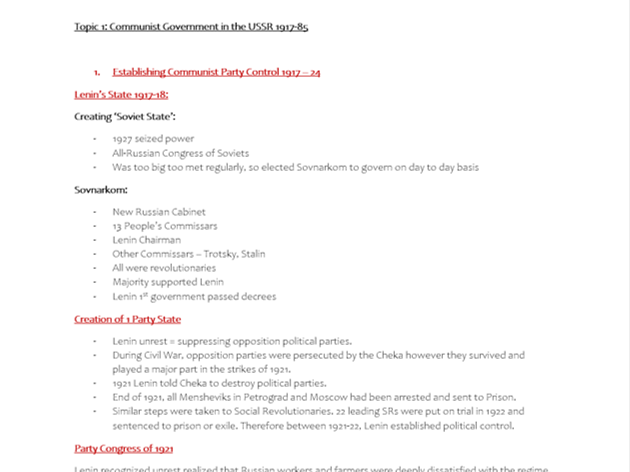 This document contains all notes on USSR from the years 1917-85 covering all leaders and topics in History A level This document contains clearly set out notes on the years 1949-76 in China for A level history covering all topics. This document contains notes on the key ideas and topics in the ideology of Socialism. Also includes crucial background knowledge. This resource contains information about the Great Depression and how it effects the Nazi Party as well as the rest of the world.