AnaDescalzo's Shop
Fun and engaging French and Spanish lessons
51Uploads
5k+Views
2k+Downloads
Fun and engaging French and Spanish lessons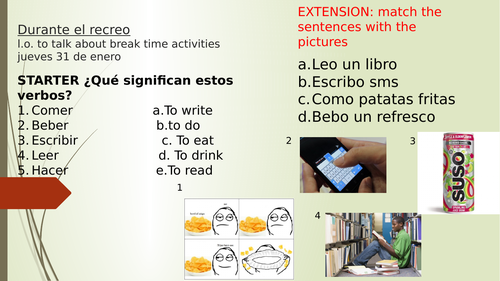 This is a fantastic resource for a high ability year 7 class or even a year 8. It is full of differentiated activities, fun pictures, grammar including present tense and time connectives and activities pupils can do in groups. This lesson was previously created for an observation and it is thoroughly checked.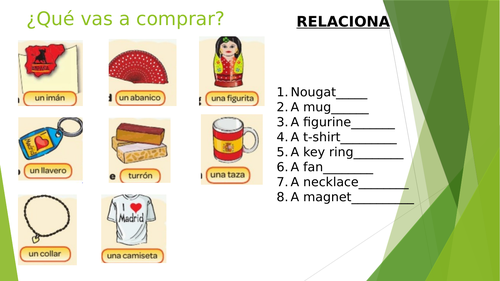 The lesson introduces the vocabulary about souvenirs in Spanish. Set phrase of "voy a comprar" speaking practice with roll on the dice reading task with comprehension activity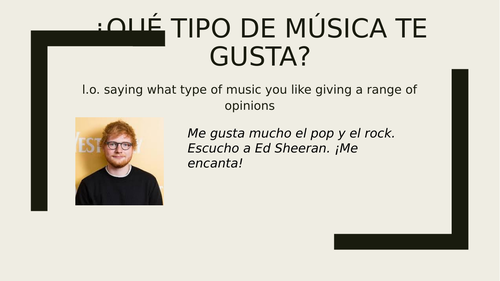 This lesson introduces the vocabulary of different music genres using the opinion phrases but also including the verb "escuchar" It has engaging images about famous artists the students will know and also there are different interactive activities for practice. The main activities are a speaking and a writing task.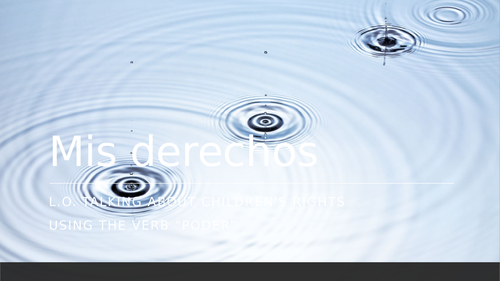 This lesson introduces vocabulary about human rights in Spanish including the verb "poder". This lesson is for higher ability groups, however; it can be modified to fit other groups. This lesson includes reading, translating and grammar activities. But it can also be used as a debate lesson to talk about human rights.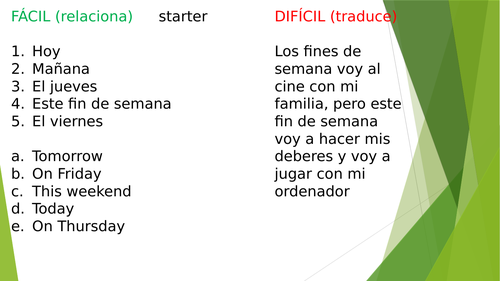 Introduction of sports in Spanish Differentiated starter Introduction to the sports with pictures Match up for consolidation reading activity with extension .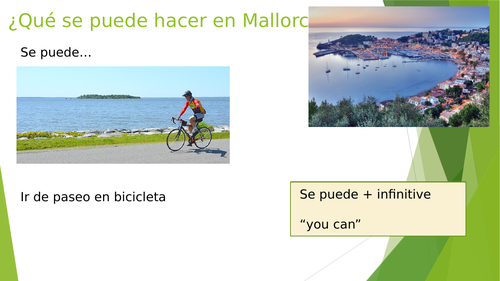 This lesson is focused on the use of "se puede" plus infinitive It introduces the vocabulary of activities you can do on holidays Then there is a macth up activity to consolidate and then there is a translation activity. The last part of the lesson there is a writing and a speaking task that pupils can independently.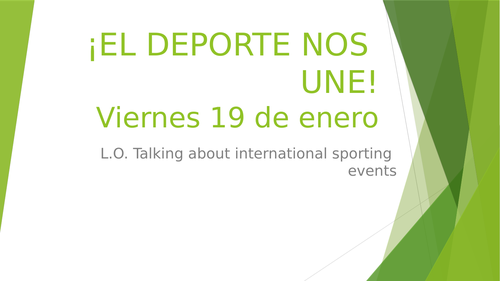 Year 11 lesson on sports. Different verbs and phrases about sport for year 11. Main task is a differentiated by outcome writing task.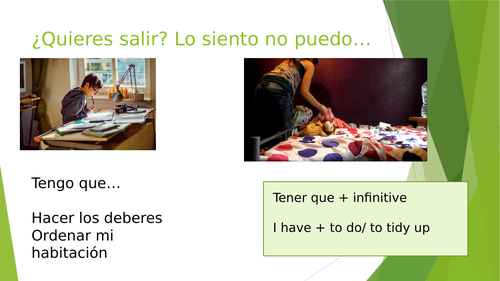 This lesson is design to use the verbs "poder" and " gustar" to propose different plans and also adding excuses to decline them. There are different tasks including: grammar reading writing Some tasks include extensions and challenges for more able students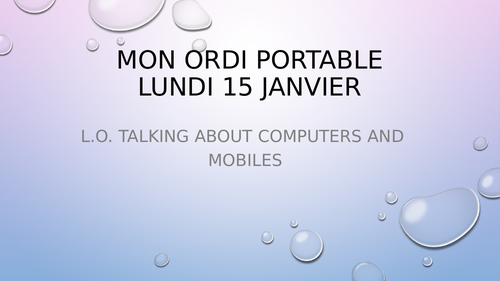 Lesson on tehnology (phone and computer) for year 7 and 8 French Starter (vocabulary bingo) introduction of the vocabulary. Pupils need to unjumble the words with mini whiteboards Reading and writing task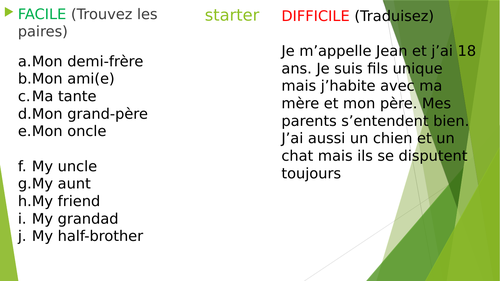 year 9 class on family and friends relationships Differentiated starter (match up and translation) reading task (questions in French and extension) speaking task (picture task description) Pupils have two pictures and they have to choose one to describe it using previous knowledge writing task using different bullet points (family relationships topic) They will see the different criteria in order to achieve different levels in French writing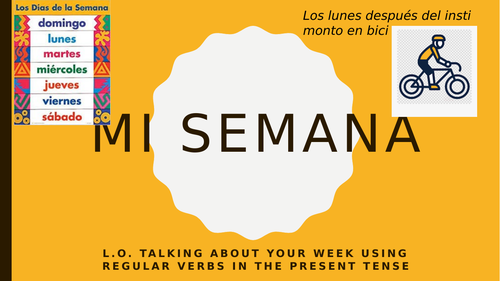 This lesson is an amazing resource for ks3 higher ability groups or maybe ks4 lower ability. It reviews vocabulary on the days of the week, activities, linking words…but most importantly it reviews the difference between infinitives and conjugated verbs in the present tense. The students should already have some knowledge about it. Every slide contains an activity and there are lots of opportunities for discussion and students working in pairs.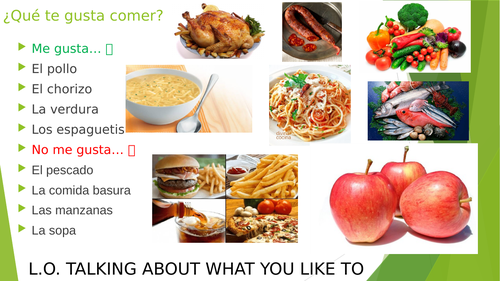 Starter match up using "me gusta" and " no me gusta" including the vocabulary on food Introduction to opinions for both singular and plural nouns. me gusta(n) no me gusta(n) Using full sentences with what you like eating. Translation extension writing task. Use different voabulary, connectives and opinions on what you like eating. plenary with mini whiteboards using the meaning of the words

The lesson is about using adjectives about school subjects and opinions about teachers. It uses different structures pupils will need for their writing and speaking in their GCSE foundation.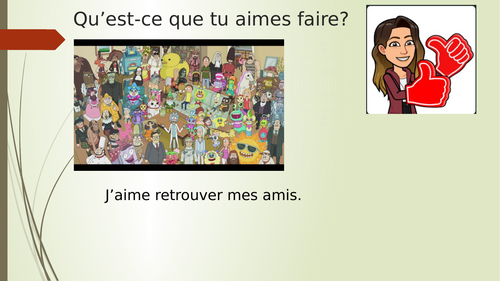 Different sentences using the verb "aimer" followed bu different infinitives. pronounciation activity to practice Main activity (differentiated sentences)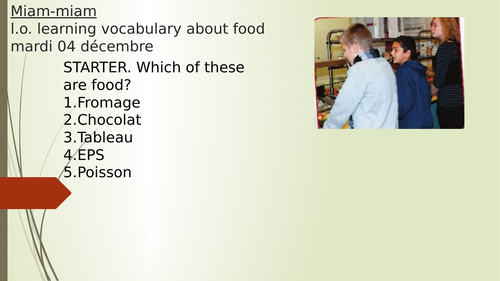 Introduction of different foods in French using pictures memory activity on food pupils can play with mini whiteboards building up a dialogue to practice the verb to eat and different foods in a speaking task main activity: building up the menu for their school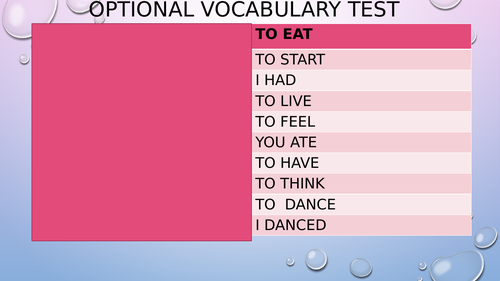 introduction on the weather in spanish Reading task on the weather in a spanish city. Writing task on which pupils have to choose a picture of a place and describe the weather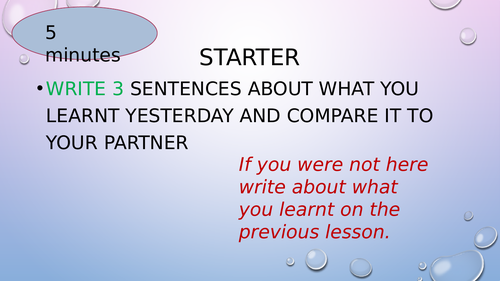 Two consecuitve lessons about how to describe where you live. Use of conditional "je voudrais" reading and writing tasks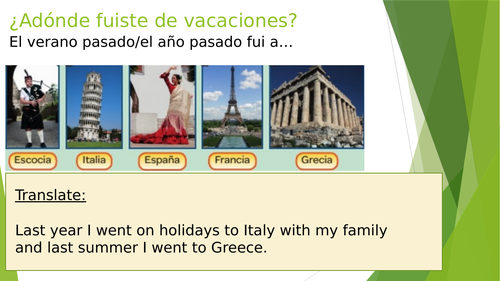 Lesson which uses the preterite to talk about past holidays. Including vocabulary, verb (to go) in past tense and different activities with different challenges. Speaking, reading and listening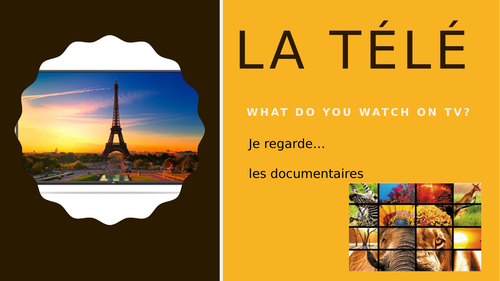 This lesson introduces the different types of TV programs in French and also how to give opinions about them. They will use the structure "je regarde" and "je ne regarde pas" There is some use on linking words.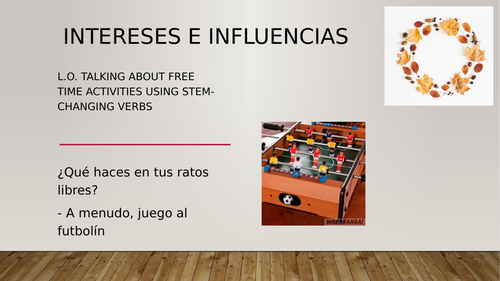 This lesson is for a high ability year 10 or year 11 class. It can also be used for a year 11 foundation class but it may need some differentiation or printed resources. This lesson is about interests and things kids do on the weekend. It includes a variety of verbs, time phrases and vocabulary. it focuses on the present tense. There are different activities such as reading, writing and speaking.