100Uploads
32k+Views
16k+Downloads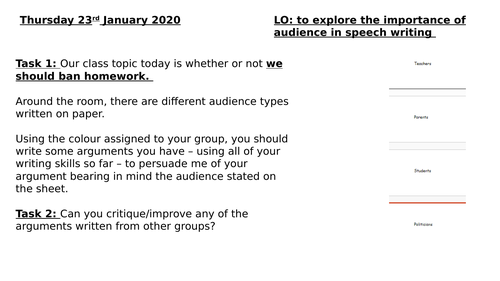 A lesson analysing Churchill's Beaches speech - to show students to use other techniques rather than just DAFOREST. Extended writing task included as well as group work. Some resources taken from TES - reflected in price.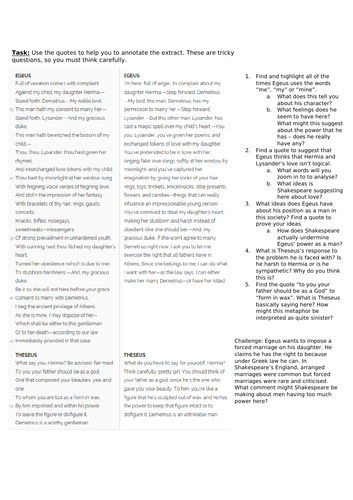 The third lesson in a year 8 scheme (adaptable for other years) which explores the initial interaction between Egeus and Theseus. Continues with looking at ideas to do with the patriarchy and gender.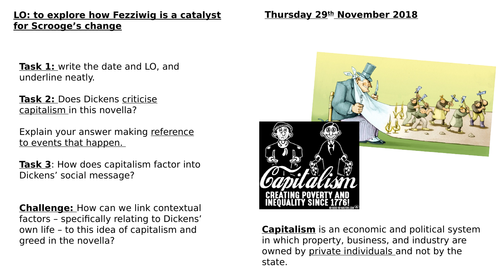 A lesson designed for high ability GCSE studying AQA A Christmas Carol - explores purpose and function of Fezziwig, as well as language analysis and links to context.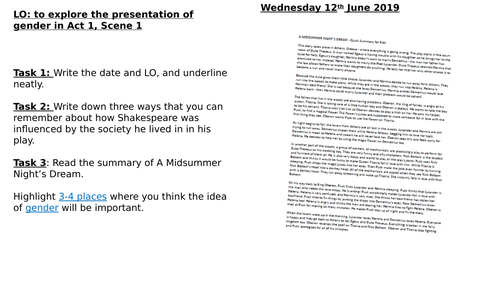 The second lesson in a year 8 scheme of A Midsummer Night's Dream which explores the introductory passage where Hippolyta and Theseus are discussing their wedding - ideas explored in lesson are to include the introduction to ideas about love and rationality.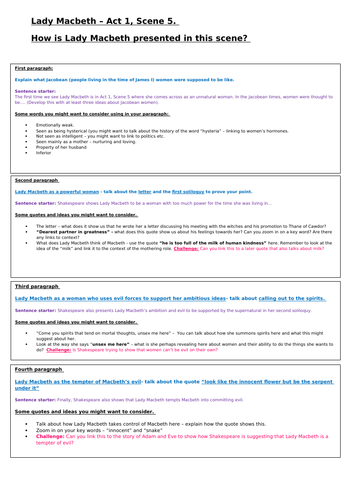 An assessment sheet to support a very weak low ability year 9 class to answer a question on Lady Macbeth in Act 1, Scene 5. One sheet has slightly less support on than the other - but I found this to be really useful for weak students still not comfortable with writing confidently about literature.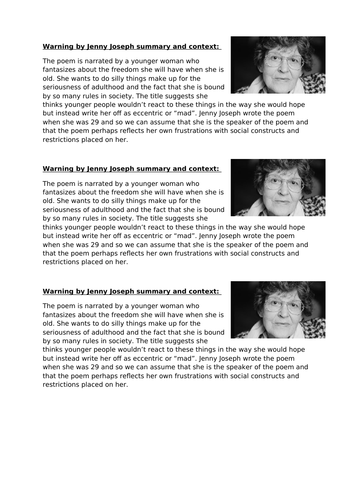 A lesson exploring and analysing Warning by Jenny Joseph - also includes is the comparison lesson to Mirror. Included: Lesson and model answers.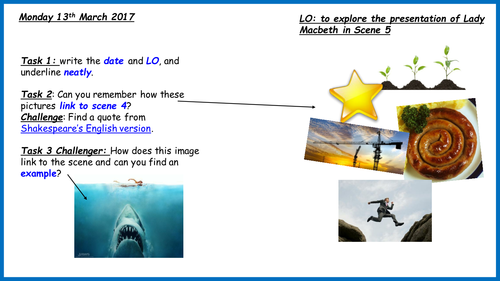 Lesson plan notes. Start off lesson recapping previous one where we had looked at scene 4 and learnt what dramatic irony was. Use of images to recap and check understanding. (answer notes beneath slide) Information sheet on women in Jacobean England - read and consider references to where LM is different (knowledge from having watched film). Read scene with context activity. Students put in differentiated groups - with one HAP in each group to support - to look at quotes. Group one have easiest quotes - HAP to help develop. Groups 3 and 4 - same quotes but opposite way round - this means if they only get one done, the other group have analysed the other in detail. LSA works with group 2, teacher to work with group 1 and circulate with 3 and 4 from time to time to check progress and understanding. Students to present their quotes - other groups to make notes around their text.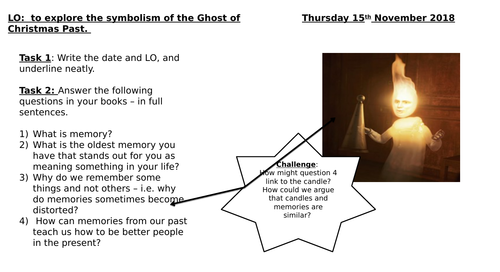 Top set year 10 -exploring the presentation of The Ghost of Christmas Past. Model essay, with worksheets to foster independent analysis. Some resources taken from other TES users.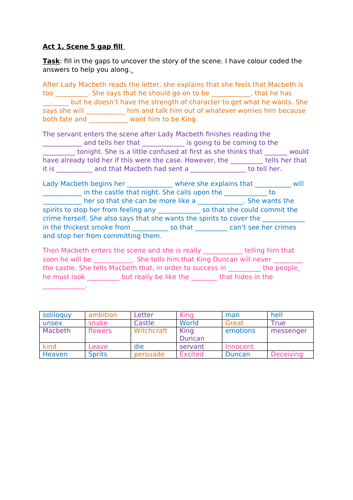 A lesson exploring and analysing key ideas in Act 1, Scene 5. This lesson really supports low ability students in grasping the key concepts of this character. I have also included a version of the grid with my teaching notes to help. Starter is a gap fill after reading the scene - with a differentiated version for really weak students. Prior to this lesson, I did a whole lesson on women in Tudor/Jacobean England - really helped with understanding this character in this lesson.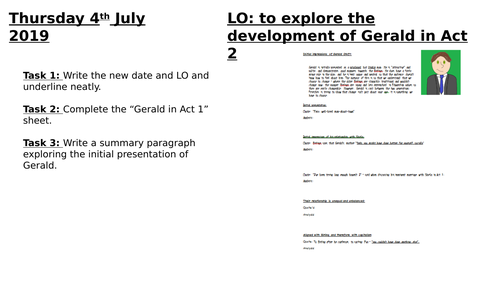 A lesson I used to help year 10 explore and analyse the development of Gerald in Act 2. I had previously done an initial impressions of him in Act 1 which this developed from. That sheet is also attached to this.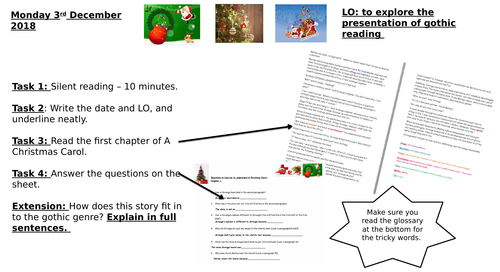 A lesson beginning to look at indepedent inference with low ability year 7 - using A Christmas Carol as a stimulus. A model essay I have written to demonstrate how to write about the Inspector - refers lots to ideas about capitalism and socialism; develops ideas about the final speech and Priestley's message; also looks at Inspector Goole as a regent of God.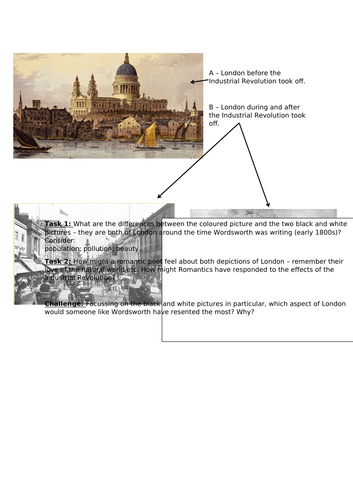 A lesson exploring how to analyse a difficult poem - I used this with top ability year 9 - but could be adapted for poetry unseen skills for GCSE. This is 2 lessons worth - all resources are clearly shown on powerpoints so it's clear where different ones are needed.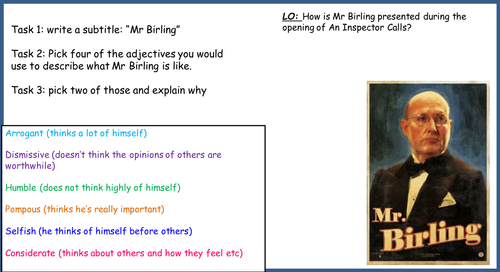 A lesson about Mr Birling during the beginning of Act 1. They are a very weak year 10 and so I showed them the film first in order then to simply teach key extracts. This lesson looks at the engagement extract and the dramatic irony extract.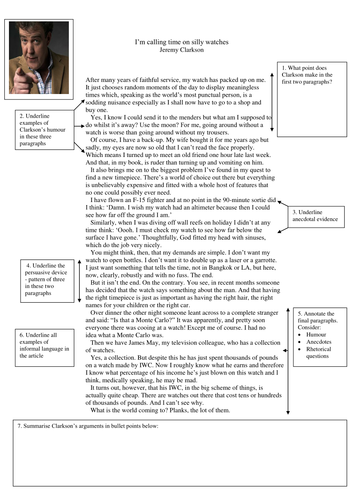 A lesson looking at how to use DAFORREST in a speech. Using method: explore, model, try, apply.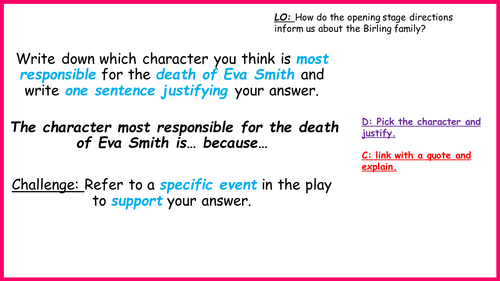 exploring the opening stage directions - very weak class.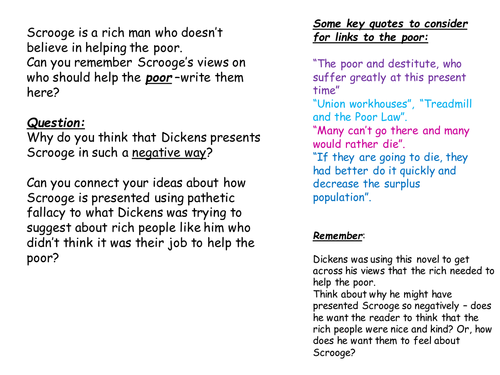 A lesson exploring how PF is used in opening . Extracts used are Scrooge sitting counting money in his counting house, and Scrooge going home at the end of the day. differentiated and an opportunity for extended writing.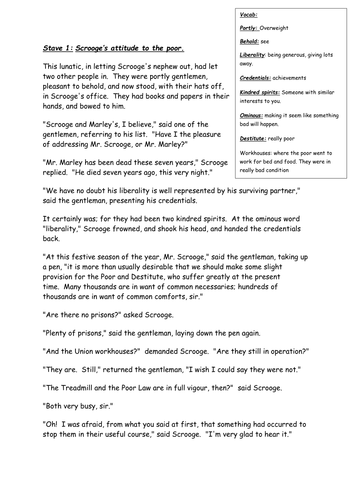 A lesson exploring the context of the poor in Victorian England, and how Scrooge represents this. starts with differentiated cloze taken from tes and adapted.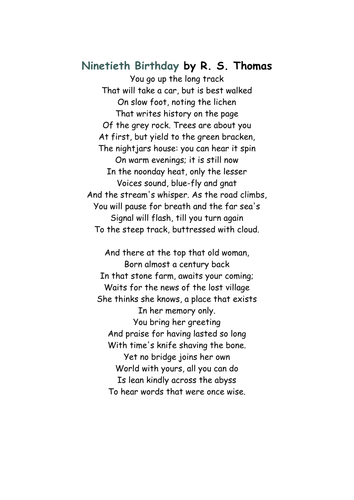 adapted from resources on tes. lesson looking at how to approach an unseen poem. Worked really well at getting them to think about implicit meaning.