74Uploads
14k+Views
7k+Downloads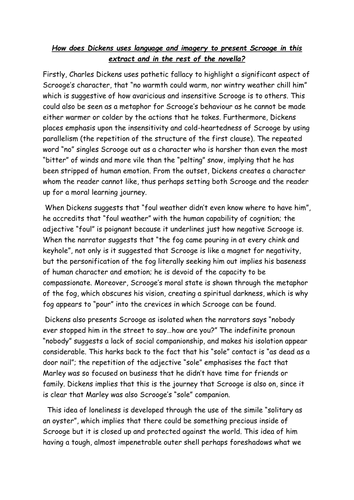 A model essay looking at how Scrooge is presented in staves 1 and 2. Aimed at high ability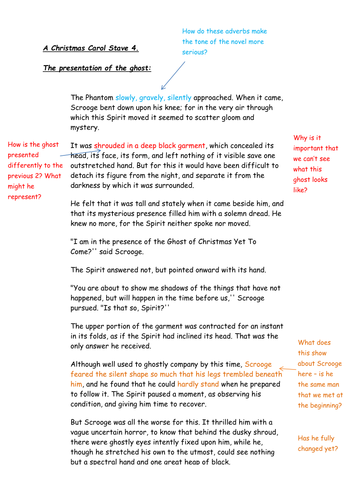 A booklet to enable teacher to lead students through stave 4 of ACC, with references to key context and focus questions. Very chalk and talk, but necessary at this point.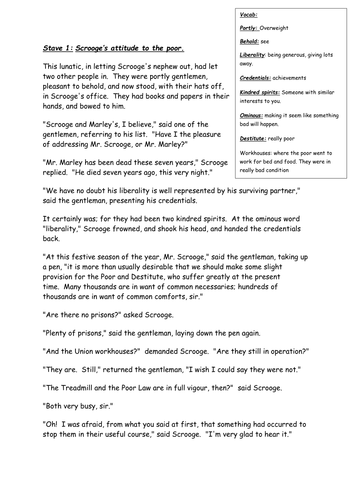 A lesson exploring the context of the poor in Victorian England, and how Scrooge represents this. starts with differentiated cloze taken from tes and adapted.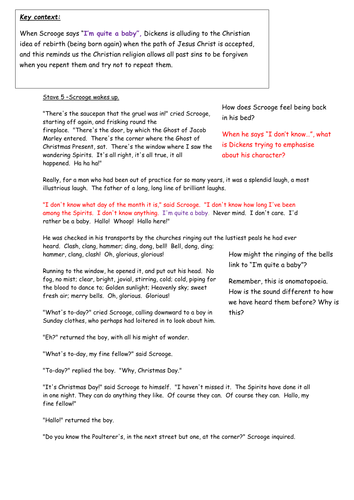 A booklet to enable teacher to lead students through stave 5 of ACC, with references to key context and focus questions. Very chalk and talk, but necessary at this point.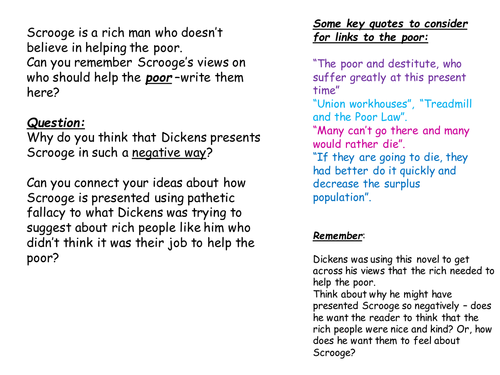 A lesson exploring how PF is used in opening . Extracts used are Scrooge sitting counting money in his counting house, and Scrooge going home at the end of the day. differentiated and an opportunity for extended writing.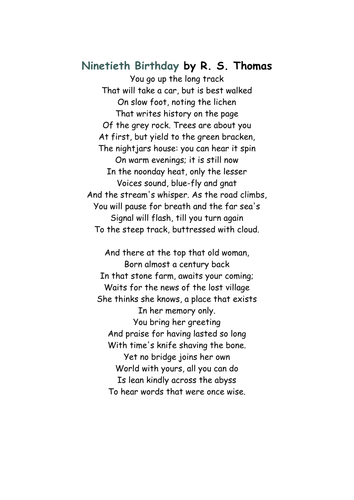 adapted from resources on tes. lesson looking at how to approach an unseen poem. Worked really well at getting them to think about implicit meaning.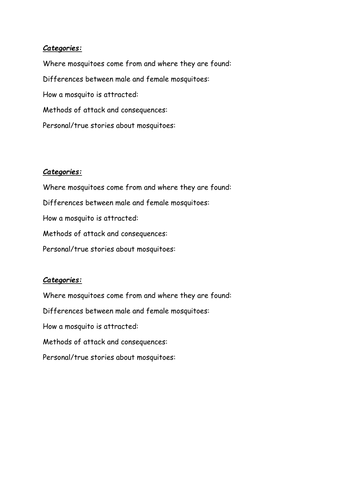 A lesson based on connecting and sequencing ideas in a logical order, using connectives and "useful phrases". the lesson is themed around mosquitoes.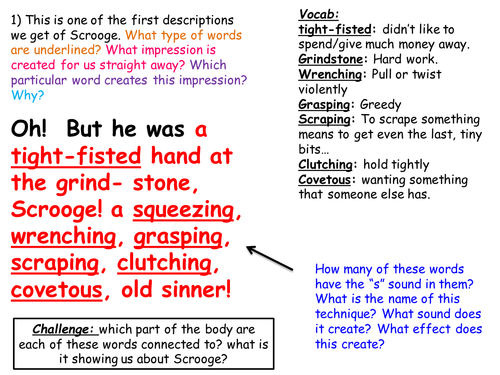 I started off by showing the group the Jim Carrey 2009 version of the film, and getting them to write notes about the plot. This lesson, I put them into groups and they had to analyse the presentation of Scrooge, and then write about it.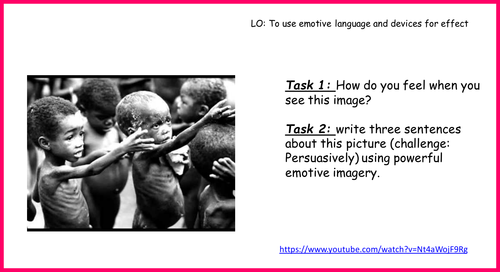 Here are a series of lessons and resources for the year 7 unit.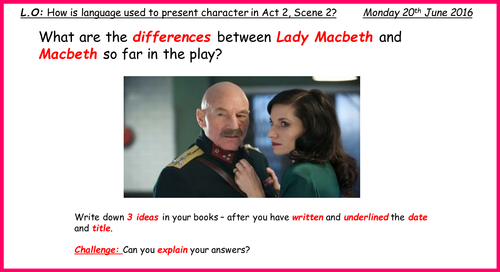 A lesson learning , and completing extended writing, about Act 2, Scene 2.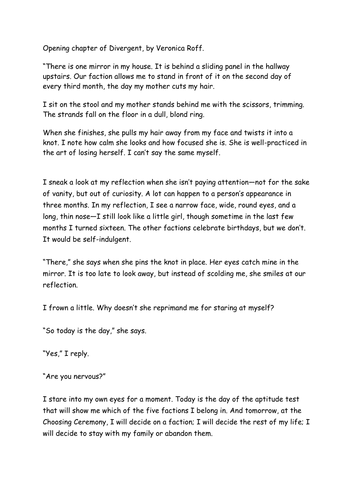 A lesson focussing on question 3 of the AQA 2017 Explorations in Creative Reading and Writing unit. I used Divergent as a stimulus - and put stills of the opening of the film on a sheet - they then thought about what they were focussed on as an audience. We then read the extract and highlighted where our focus was changed. With a model answer. Using Diverget.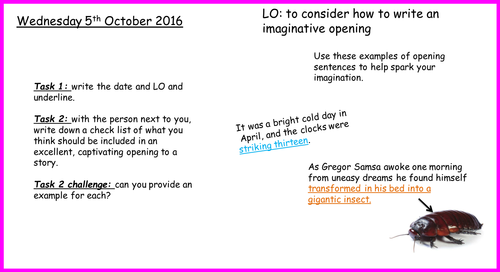 A lesson following the explore - model - try - apply method. Effective openings - exploring different ways to open a story, and then having a go. Followed by 20 mins of focused writing of their own opening. differentiation included.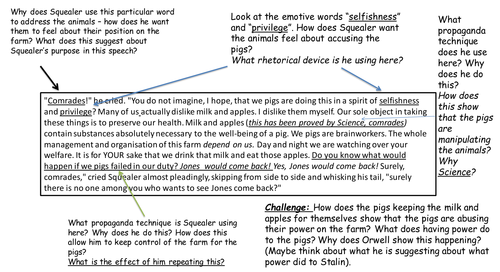 Lesson 9 of a scheme of learning about Animal Farm for new AQA. Low ability year 9. In this lesson, students used a scaffolded and differentiated sheet to analyse Squealer's speech, and they then completed a 20 minute writing assessment answering the question: How does Squealer uses propaganda in chapter 3 and how is this similar to Russian propaganda? Peer assessment at the end. This was an observed lesson graded outstanding.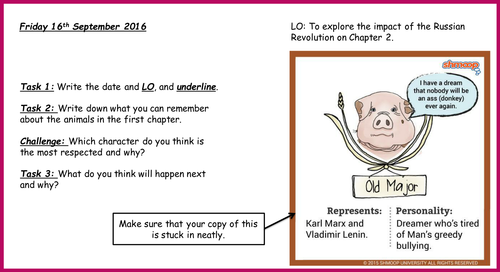 Fourth lesson in a scheme. We explored what the revolution was, and then spent the rest of the lesson reading chapter 2. Students were asked to find connections in the text. Might take 2 lessons to get through this, as it is worth reading the chapter first so that then you can explore the chapter in more detail. A lesson exploring the presentation of Macbeth. I try to drip feed them the context so that they know where to link. I also introduce them to new vocab each lesson too - and recap the next. With this lesson, I annotated my own copy of the text. I looked at how he is presented as an "eagle" and "lion" - like an apex predator- unbeatable. Also, "cannons overcharged" - like a lethal weapon, ruthlessly attacking. I also explored idea of a tragic flaw - character has to appear noble so that the downfall is even more shocking. Challenge part of the lesson - how does Shakespeare perhaps subtly suggest that Macbeth has ability to be evil? "bathe in reeking wounds" and "Golgotha" quotes - suggest that he actually enjoys death, and takes pleasure in it. Killing the traitor was not just a task, but something he enjoyed - sadistic? Those were the notes I used for the lesson.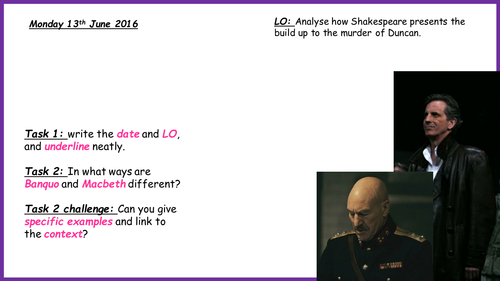 Lesson for High Ability KS4 - analysis of language in 2:1. Independent work with support. I suggest mixed ability groups so that the HAPs can guide the LAPs.