BeckyKirk26's Shop
English KS3 Lead providing resources for both KS3 and KS4.
10Uploads
1k+Views
793Downloads
English KS3 Lead providing resources for both KS3 and KS4.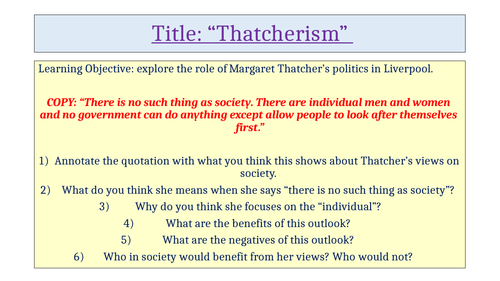 A lesson exploring Thatcher's policies and the impact she had upon Liverpool in the 1980s. This lesson is intended to teach students the knowledge of Thatcher's politics ahead of their study of Blood Brothers. English Language skills are also interwoven as students are asked to produce an answer to a Language Paper 1 Question 2 focused on Thatcher's speech. Resources included: Full lesson on Thatcher's policies Margaret Thatcher's speech from the Conservative Party Conference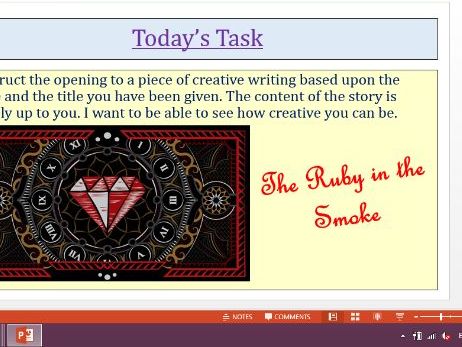 PPTs to take KS3 students through the novel study of Phillip Pullman's, The Ruby in the Smoke. PPTs include covering: Language analysis skills Character tracking Creative writing An end of unit assessment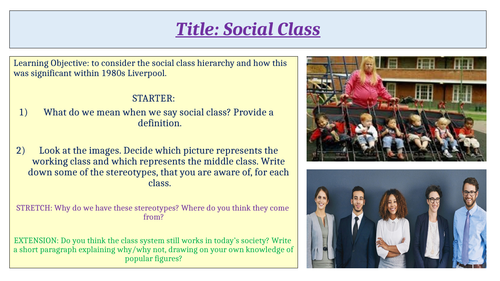 A full lesson aimed at high ability students and used to introduce the idea of social class ahead of the study of Blood Brothers. Lesson explores the different classes and looks at an excerpt from Owen Jones "Chavs". Resources included: Full lesson on social class Excerpt from "Chavs" by Owen Jones Mini unit on taking KS3 students through the study of the Sherlock Holmes story, The Silver Blaze. Resource includes: 8 PPTs which will take students through the story. Thee include two lessons on the context of Sherlock Holmes and policing in Victorian England. A lesson taking Year 11 students through the skills needed to perform successfully on Language Paper 1, Question 5. Includes: Notes from the examiner report. Model answer. Shadows of the wind extract to annotate. Support to help with the writing of their own pieces. A sociology based context lesson on the nature vs nurture debate, in order to prepare a high ability class for the study of Blood Brothers. Includes an exploration of the debate and an opportunity to discuss the theory in relation to a real life case (James Bulger). Resources include: Full PPT Information sheet on the nature vs. nurture debate James Bulger news report Full PPT taking a mid-ability GCSE class through AQA Language Paper 2, Question 4. Designed to be delivered alongside the study of A Christmas Carol. The two resources are focused on the working conditions of Charles Dickens, compared to the workers in an Amazon warehouse.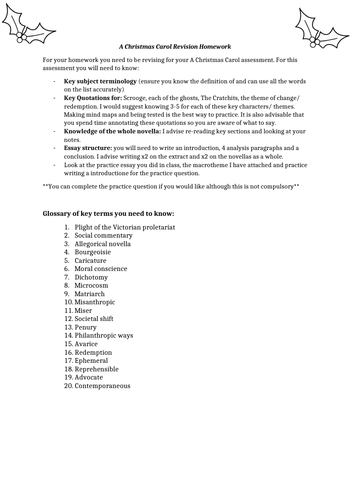 A resource to help students revise key terminology, quotations and essay structure for A Christmas Carol. The resource includes: Suggested revision activities Vocabulary for students to learn Quotations to memorise An example introduction An essay question Full lesson to take students through Question 5 on AQA Language Paper 2. PPT Includes: Language starter task Analysis of the mark scheme Model article to analyse Guide to writing Full lesson that takes students through the AQA Language Paper 2, Question 4 comparison question. This lesson uses two resources which discuss the writer's views on arming teachers in America with guns. The PPT takes students through: Reading the source Analysing key quotatoins Writing an answer