CC's Maths Shop
A variety of maths resources for use in lessons. All tried and tested!
9Uploads
2k+Views
1k+Downloads
A variety of maths resources for use in lessons. All tried and tested!
Revision sheet/guide for the February half term ideal for foundation level. Including maths watch clip numbers. Directed at AQA but could be used for any exam board.
Practice number papers for Entry 3, Level 1 and Level 2 on number topics for the new reformed functional skills specification with pearson edexcel. Each one is tailored for the level with non calculator and calculator papers including mark schemes. Good for assessing student progress. E3 is out of 27. Level 1 is out of 34 and the Level 2 is out of 36. For a pass mark I would aim for students to gain 60% of marks for L1 and L2. 66% of marks on E3. I would advise, 20 minutes for non calc and 45 minutes for calculator paper. This has been made alongside the specification and practice papers however it is completely my own work and I would use this as an assessment tool rather than an indication of these being similar to the real exams.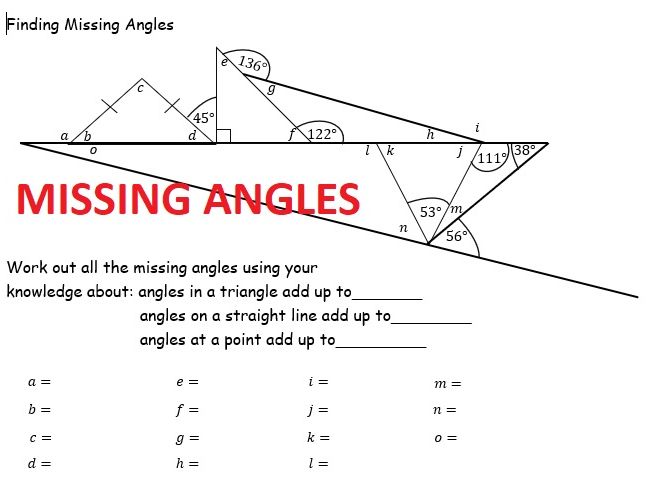 A fun little puzzle for practicing, finding missing angles on a straight line and in a triangle. Answers included
Number revision booklet aimed at the reformed functional skill for pearson edexcel but could also be used for GCSE. Includes: Adding and Subtracting, Multiplying and dividing, rounding, Fraction and percentage of an amount, Decimals, negatives, BIDMAS, FDP, ratio and best buys. Clear and easy to use with example questions for each topic. Perfect for non calculator fs revision.
For the teaching and/or revision of mathematical constructions for GCSE maths including: Perpendicular Bisector (Including through a point), Angle bisector, constructing triangles and simple loci. Clear and easy to follow for students independently or working through as a class with the teacher.
A series of 8 GCSE non-calculator revision quizzes can be used as a starter, part of a lesson or as a form of assessment in lessons. Each quiz has 15 questions all with answers. All key skills are covered at the basic level for recall of GCSE foundation knowledge. Excellent for recall and knowledge and students enjoy taking part in the quizzes both individually and as teams.
Resource can either be used as a treasure hunt around the room or as a group activity on desks for consolidating best buys in maths. All answers correspond to a letter in the bottom corners of each of the 8 offers. Students work out the best deal for the 8 offers and write down the correct letter. The anagram when unscrambled spells 'D I S C O U N T' makes it very easy for marking as each letter only appears once.
A series of worksheets focused on various areas of maths vocationalised towards Animals and Animal Management course. Suitable for GCSE and GCSE resit groups or anyone with an interest in animals and how maths can be applied in a variety of different ways. Includes an Initial Assessment and a topic test for each maths topic included so assessment can be done over a number of lessons to show progress and improvement. Contextualised maths may help learners visualise and understand maths concepts better with a topic that they can relate to. Included are: Initial Assessment Algebra Data Collection Presenting Data Probability Ratio and Proportion Speed Weight
The task is designed to be an open lesson were students have freedom to choose where they want to go from the destinations. Both if you have time. It is a chance for students to discuss the fundamentals of booking a holiday as well as incorporating maths. Students will feel like they have achieved something even if they do not finish the whole task as each smaller task is designed individually and only impacting the final holiday cost at the end. Tasks included: TASK AND MATHS TOPIC Flights and Accommodation- Reading from a table Vouchers- Percentages Weather- Mean and Range from bar charts Luggage and Weather conversion- Function Machines New York Day trip- Time Planning Florida Day trip- Route Planning Filling in booking form- General Number. (Adding/Dividing/Multiplying) SUITABLE FOR high school lower and higher maths ability. functionals skills.