Carina Bone's Shop
Full of assessment and science-y type stuff!
3Uploads
29k+Views
14k+Downloads
Full of assessment and science-y type stuff!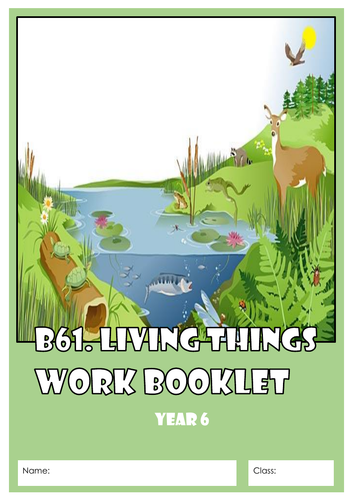 One fully developed lesson for Year 6 Biology; Living things and their habitats. A workbook which runs alongside the presentation to give ease of marking and proof of assessment and feedback. Once complete, pupils can use this as a revision tool as it will be fully self, and teacher assessed. All ready to download, print and go! Lessons included: • Lesson 1: Classification. What is MRS GREN? How do we classify animals and plants? What is a classification route? All other lessons, complete workbook, resources and SOW are avaliable here: https://www.tes.com/teaching-resource/bundle-year-6-biology-living-things-and-their-habitats-12348305 Each lesson incorporates: • A starter task • A main task(s) • A plenary • A PIT STOP activity (where pupils can check their progress in the lesson so far) • Paper resources and practical activity ideas • Assessment opportunities (we use a purple pen to show progress throughout using self-assessment, this is what the purple pen icon represents throughout the presentations) • Feedback and self-reflection • Extension opportunities • Prep tasks (homework) I don't own any of the images in any document.

Year 6. B61. Living things and their habitats Six fully developed lessons for Year 6 Biology; Living things and their habitats. A workbook which runs alongside the presentation to give ease of marking and proof of assessment and feedback. Once complete, pupils can use this as a revision tool as it will be fully self, and teacher assessed. A SOW with ideas on how to best present and run this series of lessons. All ready to download, print and go! Lessons included: • Lesson 1: Classification. What is MRS GREN? How do we classify animals and plants? What is a classification route? • Lesson 2: Linnaeus. Who was Linnaeus? How to follow the Linnaean system of classification. • Lesson 3: Keys. How to follow polyclave and dichontomnous keys and how to mae these. • Lesson 4: Single-celled organisms. What is a single-celled organism? How are these classified? • Lesson 5: Arthropods. What is an invertebrate? What are the characteristics of insects and arachnids and what are the important parts of these arthropods? • Lesson 6: Flowering plants. What characteristics do plants have? What are the functions of parts of the flower? Assessment: Flower dissection. Each lesson incorporates: • A starter task • A main task(s) • A plenary • A PIT STOP activity (where pupils can check their progress in the lesson so far) • Paper resources and practical activity ideas • Assessment opportunities (we use a purple pen to show progress throughout using self-assessment, this is what the purple pen icon represents throughout the presentations) • Feedback and self-reflection • Extension opportunities • Prep tasks (homework) I don't own any of the images in any document. Lesson 1. Classification is available for free from here if you'd like to try out the lesson and see the quality and quantity before purchasing the bundle. https://www.tes.com/teaching-resource/year-6-biology-living-things-and-their-habitats-lesson-1-classification-12348712

Year 6. C64. Properties of Matter/ Materials Six fully developed lessons for Year 6 Chemistry: Properties of Matter/ Materials. A workbook which runs alongside the presentation to give ease of marking and proof of assessment and feedback. Once complete, pupils can use this as a revision tool as it will be fully self, and teacher assessed. A SOW with ideas on how to best present and run this series of lessons. All ready to download, print and go! Lessons included: • Lesson 1: Acids and alkalis. What are hazard symbols? What are acids and alkalis? What is the pH scale? • Lesson 2: The pH scale. What is an indicator? Practical Assessment: Making an indicator. • Lesson 3: Neutralisation. What is neutralisation? How to neutralise an acid and an alkali? Testing wasp and bee stings. • Lesson 4: Indigestion Remedies. How to neutralise an acid and an alkali. What's the best remedy? • Lesson 5: Temperature. What is temperature? What is heat? Save the penguins from the cold challenge. • Lesson 6: Insulators and conductors. Define an insulator. Define a conductor. Which materials are fit for their purpose? Each lesson incorporates: • A starter task • A main task(s) • A plenary • A PIT STOP activity (where pupils can check their progress in the lesson so far) • Paper resources and practical activity ideas • Assessment opportunities (we use a purple pen to show progress throughout using self-assessment, this is what the purple pen icon represents throughout the presentations) • Feedback and self-reflection • Extension opportunities • Prep tasks (homework) I don't own any of the images in any document. If you'd like to have a look at the quality of the work then please check out: Lesson 1. Biology. Classification is avaliable for free from here if you'd like to try out the lesson and see the quality and quantity before purchasing the bundle. https://www.tes.com/teaching-resource/year-6-biology-living-things-and-their-habitats-lesson-1-classification-12348712