196Uploads
112k+Views
101k+Downloads Eight rounds: Where did Santa leave his presents? Christmas logos Country catchphrase Christmas food miles Where did Santa leave his hat? Flags of the World? Where do Santa's letters come from? Geography in the news 2019 Answers included at the end of the PowerPoint Included in each booket: Knowledge tests after each section of specification content A wide range of different exam questions Structure strips for the 9 mark questions Detailed case study sheets Various activities all linked to the specification to aid students revision Space for DIRT/FIT work Can be set as homework or in class revision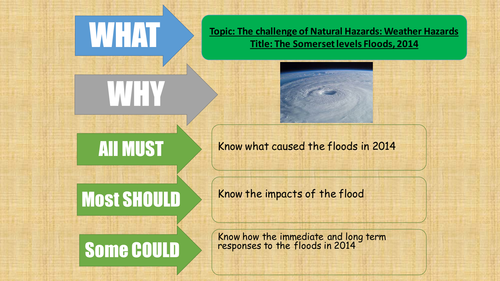 Somerset levels floods 2014 - fully resourced lesson - PowerPoint and case study sheet included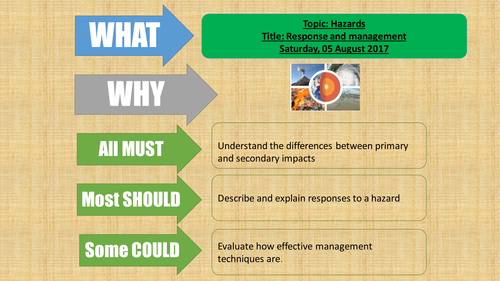 Complete set of lessons on hazards for teaching the new AQA A Level specification - Over 40 hours worth of lessons. A huge variety of resources. Exam questions and mark schemes included.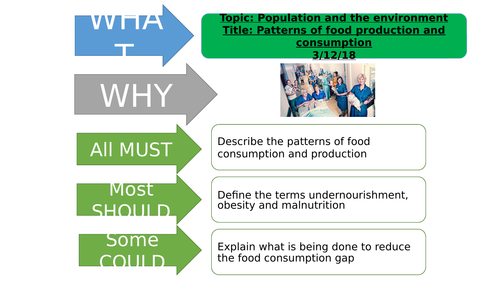 27 lessons covering the new Population and the Environment topic. Huge variety of resources included e.g. card sorts, news articles, videos, exam questions, case study sheets, group work tasks and lots more. Some lessons refer to the Oxford Textbook.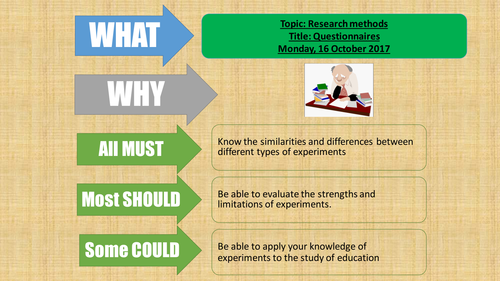 A complete set of lessons covering the new AQA Sociology research methods topic. Huge variety of tasks included. Some references to Webb et al book.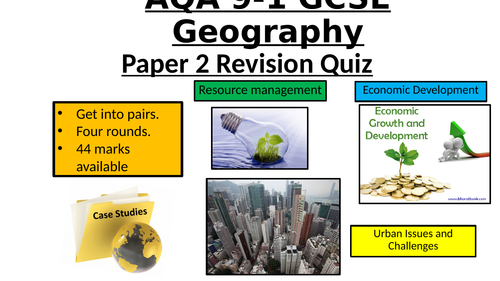 This is a quiz that I will be using with year 11 during their final revision session for paper 2. Questions for each section of the paper - each one linked well to the specification. Answers at the end of the quiz. Section 1 - Urban issues and challenges Section 2 - Economic development Section 3 - Resource management Section 4 - Case studies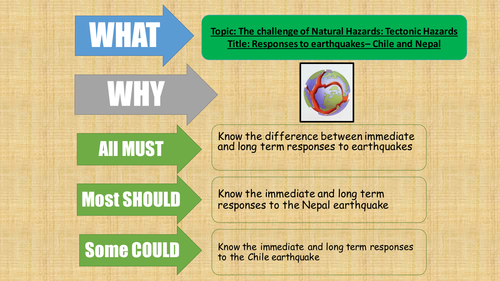 Two double lessons comparing the earthquake in Chile 2010 to the earthquake in Nepal 2015. Resources included: Case study sheet included PowerPoint's Venn diagrams Various videos Card sorts Information sheets True or false task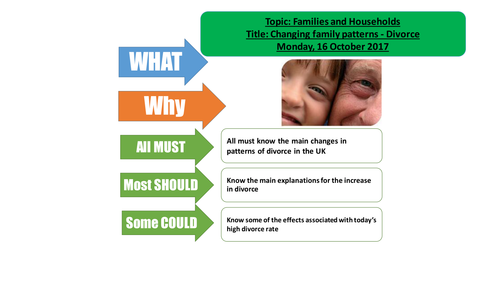 Lessons covering topic 5 - changing family patterns. Covering divorce, partnerships, child bearing and rearing and types of households Large variety of resources.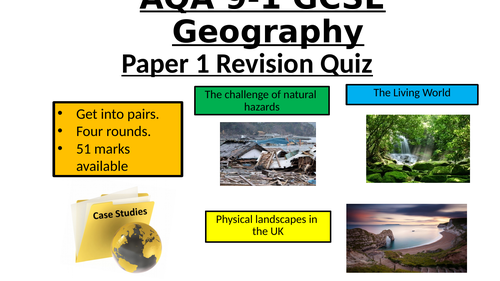 A thorough revision quiz for Paper 1 of the new AQA GCSE Geography specification (9-1) 4 rounds: a) The challenge of natural hazards b) The living world c) Physical landscapes in the UK d) Case studies and examples 51 marks available. ANSWERS INCLUDED AFTER EACH ROUND.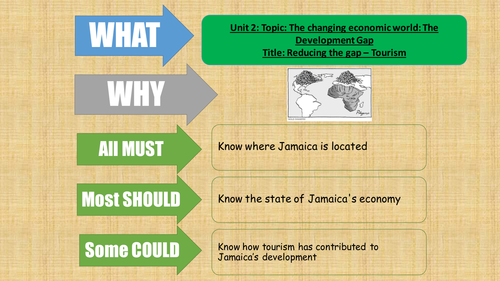 Fully resourced lesson looking at how the development gap can be reduced in Jamaica through tourism. Case study sheet included, various videos, exam questions, colour coding task, map analysis, resource analysis and lots more.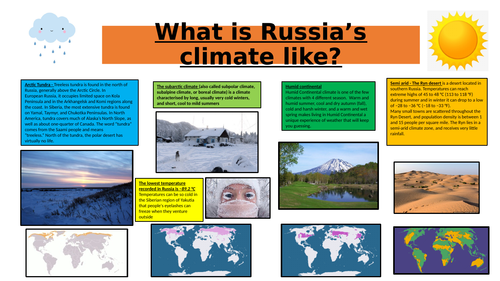 A 2 hour lesson looking at the features of Russia's climate. Students answer a series of questions about Russia's climate using the deskmat and then working in groups of four students create a climate chart for one of the different climate zones in Russia. Once students have completed the climate chart they work in groups to match up the climate chart to the correct climate zone. Resources included; desk mat, powerpoint, climate data for each location and blank climate chart.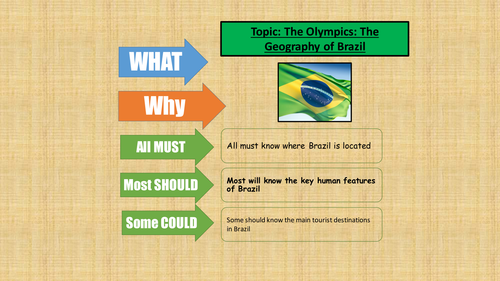 This is a collaboration of lessons about the Geography of Brazil linking it to the 2016 Olympics. The lessons are as follows: Lesson 1 and 2 - Brazils Geography Lesson 3 - Inequality in Brazil Lesson 4 - Brazils climate Lesson 5 - Brazilian culture and carnival Lesson 6 - Redevelopment for the 2016 Olympics Lesson 7 - Design an Olympic site Lesson 8 - The Amazon Rainforest Lesson 9 - Amazon adaptations Lesson 10 - The people of the Amazon Lessons 11-14 - Olympic country research project - could be used as an assessment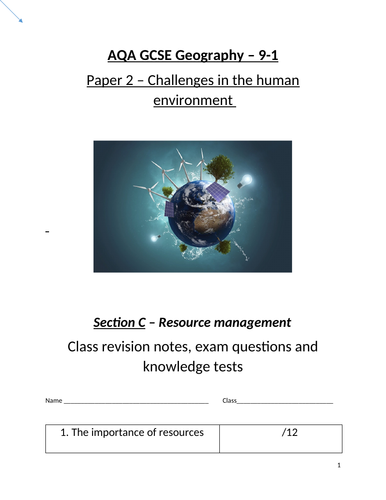 Student revision work booklet for the resource management topic and energy topic. These can be set as homework or in lessons. Included: Each section linked to the specification Knowledge tests Activities Case studies Revision notes Exam questions Mark schemes are attached on a seperate powerpoint. Revision booklets for each section of Paper 1 can be found in my shop.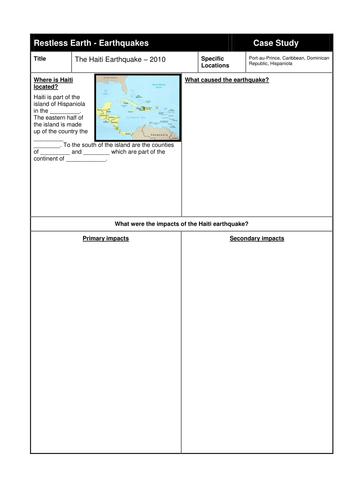 Case study sheet included, card sort, presentation work, mini-plenary and boggle task.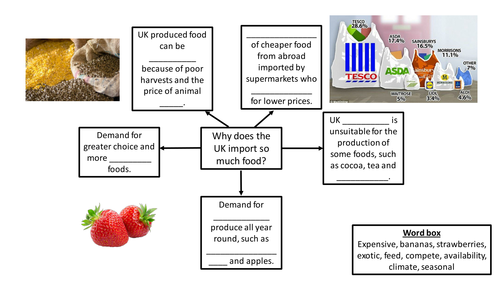 The first four lessons for the Resource Management topic of the new GCSE specification. Lesson 1 - The global distribution of resources Lesson 2 - Provision of food in the UK Lesson 3 - Provision of water in the UK Lesson 4 - Provision of energy in the UK Huge variety of resources included, exam questions each lesson.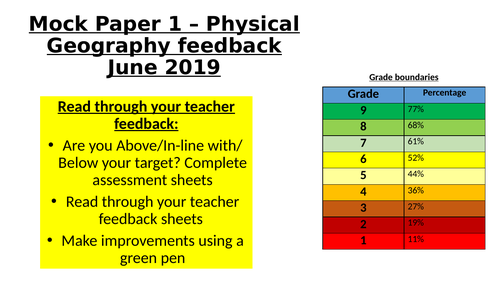 Feedback PowerPoint lesson for the Summer 2019 Paper 1 examination. Model answers included for some questions.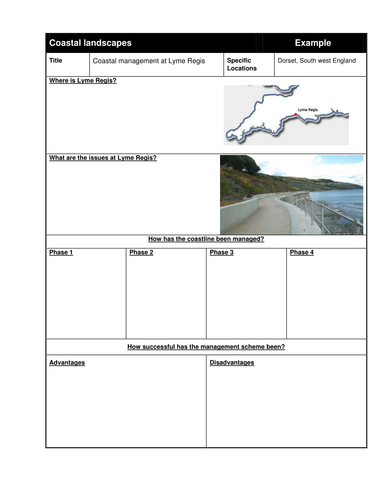 Fully resourced lesson - case study sheet for students to complete, exam question, video, map task, newspaper article and sorting task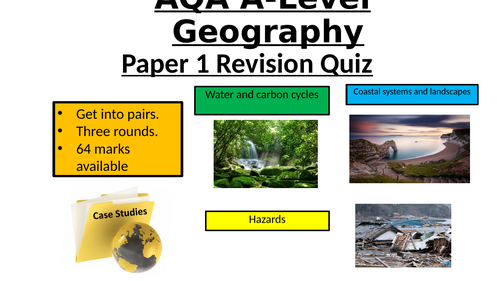 A thorough quiz for Paper 1 - Physical Geography. Answers included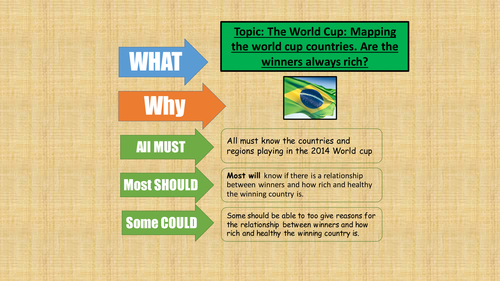 I have used a number of resources from the TES website and created powerpoints and activities using them. Thank you if you contributed some of the activities :)