Creative Language Resources
Creative & effective resources. Games, songs, poetry, and memes feature heavily.
13Uploads
4k+Views
884Downloads
Creative & effective resources. Games, songs, poetry, and memes feature heavily.
A ready-made 'outstanding' lesson teaching six key weather phrases and learning how to use them in extended sentences using the connective 'cuando'. This lesson has been proven to foster extremely high levels of engagement through its excellent visual and auditory resources. Powerpoint, card sort, gap-fill and lesson plan included. This could be used with a beginners' class in KS3 or even with a GCSE group as revision for the speaking/writing exam. *Link to the YouTube song is on the ppt.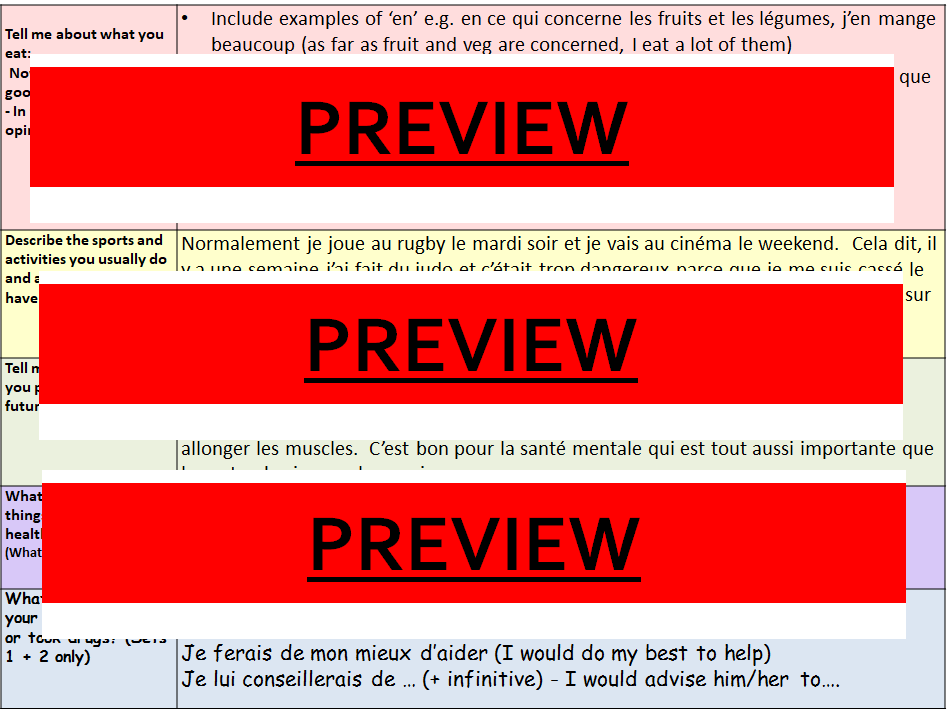 Model answers for 5 speaking questions/written piece on health / la santé. A free clouds / trapdoor speaking activity is also included.
Lesson Objectives - Understand reflexive verbs in the context of daily routine - Describe daily routine using reflexive verbs and time markers - Analyse and re-write an authentic Puerto Rican song! An excellent home-made resource to teach Daily Routine in an effective and fun way!
An excellent first lesson for a beginners' Spanish class. This resources relies upon critical thinking skills, an investigative approach and lots of fun! Includes listening, speaking, reading potential for a writing task at the end. Graded 'Outstanding' and gets all learners involved from the outset.
A writing mat / mindmap to help pupils produce a structured piece of writing/speaking about their town. Use after or whilst teaching 'town/ma ville' topic.
A simple, handy colourful list of Spanish target language phrases for use in the classroom to promote both teacher and pupil target language use. I used it for a full year and it definitely gave me the edge in observations. OFTED are really big are effective, timely and purposeful target language use rather than pupils merely reading phrases off a sheet. If trained well from the beginning using these phrases, pupils could have a level of fluency in the context of classroom instructions from the very beginning of their Spanish course. Not a Spanish expert? Print out a copy and keep it on your desk! **You can also purchase this as part of a bundle for new Spanish teachers**
This is a skills-based resource to begin to prepare pupils for the 'new' photocard/picture-based discussion. I have used it successfully with Y8-Y10 (Outstanding observation awarded) but I am sure it could also work with higher ability Y7s and lower ability Y11s. I have charged for this as it took an significant amount of time to ensure that all lesson parts link perfectly. There are also SMSC/cultural links and opportunities for individual, pair, group and class work without a second of class time wasted.
I wrote this text myself in French and accompanied it with the parallel English text. I use it to introduce and revise topic vocabulary (Where I used to live when I was younger / my childhood town). The line numbers are great for reading for gist and specific information and you can also play many games to introduce and consolidate vocabulary and structures. Amusez-vous bien! You could also use it as the basis for a comprehension activity, a translation
Outstanding resources based on the French poem DEBOUT. This resource can be used for reading, pronunciation, writing, speaking and listening practice. The main objective is to prepare pupils to understand and respond to unseen texts. Topics/vocab covered: family names some jobs connectives present tense
Heed advice from examiners, fellow teachers and industry professionals with this student-friendly tip-trick-and-cheat guide designed to save your students time, effort and stress. Start with this in September and give them all the tools they need to obtain a good GCSE pass. Don't leave it until the revision period! This guide will help both teachers and students to focus on linguistics strategies that are proven to help at GCSE level. Don't set useless or tokenistic homework. Make every lesson and piece of homework count. Bonne continuation! I have added comments throughout the powerpoint to give examples of how to explain trickier points throughly.
This handy bundle includes: - a list of target language expressions to use in the classroom (written by a native speaker) - Flashcards/display posters (27) to label classroom items or hang from the ceiling or even make smaller and put into pupil books - A guide to using Pinterest as an educator
Spanish flashcards or display posters (27 pages) Verb phrases and nouns included to aid target language use. They can be used as teaching resources, display posters or to label equipment in your classroom. Very nice, clear, easy-to-read pages.
Check out my boards below: https://www.pinterest.co.uk/conversewithchloe/clases-de-espa%C3%B1ol/