19Uploads
29k+Views
9k+Downloads
This generic template will allow your children to formally record some of the 'Design, Make & Evaluate' stages of their DT projects. Recommended Printing: as an A3 booklet (supplied as an A4 4-page Word Document) N.B. the template can be edited as needed. Features Spaces For: Project Title Pupil Name 6"x4" photograph of the finished product to be fixed on the cover Design Brief / Specification (see additional file if printed brief desired) Three designs Reflections during the design process Materials List Equipment List Method Reflections during the manufacturing process Evaluating what went well Evaluating what could be improved Evaluating new skills that have been learnt Evaluating whether the product meets the design brief
This download contains 500+ 'green' (decodable) words for Set 2 and 3 of the RWI programme. There is a larger version which can be used to display as well as sets of words organised by grapheme which can be sent home with pupils to practise. There are at least six words for each sound (usually many more - 'ay' for example has 24 words) and they are all ready to go so just print (on green paper perhaps?) and chop up. Set 2 and 3 are included in this download.
Tried and Tested (I am a primary school teacher) This download includes a PDF document with 88 pages. There are 8 words per set (4 real/nonsense) and 44 sets altogether. These include words from past phonics screenings as well as sets organised by grapheme. This can be used as a whole class activity / starter or with 1:1/group interventions. Children could be asked to independently identify the graphemes in a word and record the number in the box next to it. Or this box could be used to identify whether the child read the words correctly. There is also an empty box next to an alien at the bottom so children can have a bit of fun creating their own alien words (perhaps with a grapheme that you give them?) Great revision activity for the upcoming phonics screening. No preparation needed. Simply print and use. There is a large teacher version (a4) as well as pupil versions (9-per-page) for every set to support use in a classroom context. Please leave feedback if possible :) DS Primary
Resources for £5 (Save £2.50+). Highly popular resources, used across the UK. Perfect for teachers supporting pupils with the phonics screening. Also for parents and childminders etc supporting early reading development.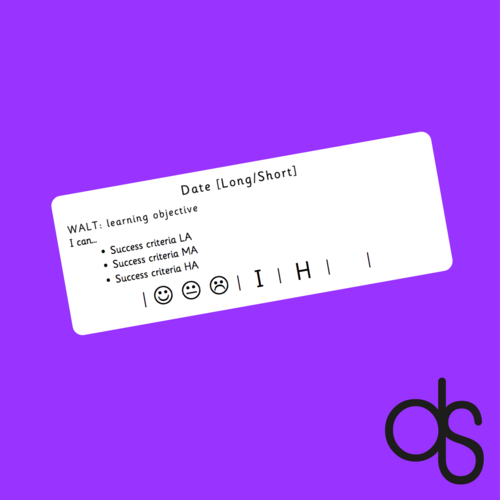 WALT / Objective Stickers (14 per page) For a consistent approach to learning objectives and marking in books. Simply type the first sticker and then copy and paste. The template is lined up so that you can print direct onto 14-per-page blank stickers (consortium, ebay etc.) Allows quick marking and identification of next steps. Option for children to self-assess (colour one of the faces). Teachers can then circle the face they feel the pupil has achieved. 'H' - help and 'I' - Independent (of course these can be changed to fit your school's policy) You will need Microsoft Word to open / edit the template to be able to print your own labels.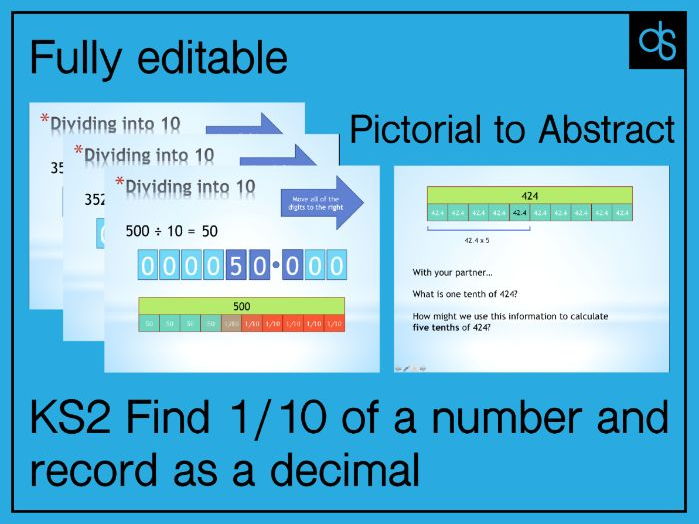 This lesson and associated resources have been designed to support teaching of the NC objective: recognise and write decimal equivalents of any number of tenths or hundredths. This lesson focuses on tenths. This resource includes a PowerPoint that can be used by a teacher to support the children's understanding. Clear references are made to bar modelling to ensure the children can visualise and understand the maths. Included: Lesson Presentation (editable, you can change the numbers if you wish) Bar model templates Pupil questions for fluency and problem solving
This resource can be used in many ways. Its main purpose is to serve as a prompt for year one writers. The visual prompts remind them what you are looking for as a Y1 teacher. The six illustrations represent six of the key objectives for writing in year 1, covering the four main domains: transcription, handwriting, composition and grammar etc. This download includes word documents that you can print and trim. Use these writing prompts in your day-to-day English lessons or for important writing tasks. You may ask the children to self-evaluate by colouring or ticking the things they feel they have done. Instead of putting these into the children's books, you could print them large and display them in your classroom. The illustrations are also included in this download and you are permitted to incorporate them into your own teaching resources. For example, you might put them into smart notebook. This toolkit is designed specifically to cover the key objectives of the Year One National Curriculum expectations, though it may be useful for children working below their expected age.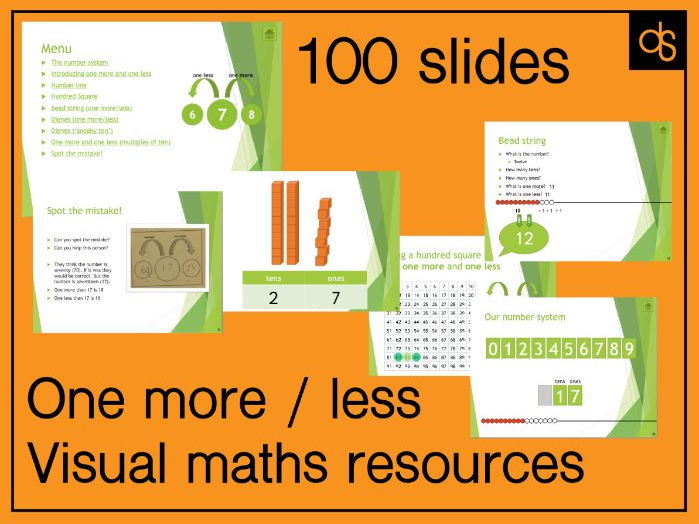 A powerpoint that I created with over 100 slides to support my teaching of one more / less to KS1 children. This powerpoint is very thorough and makes reference to: -number lines -bead strings -hundred square etc. These slides could be used as a series of starters, or as a main input. Adapt the resources and make worksheets for your class etc. Enjoy!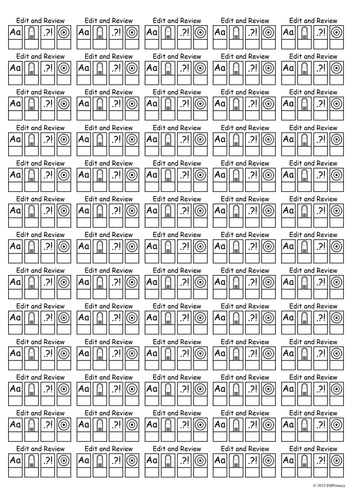 This set of 'Edit and Review' stickers are ideal for use with a KS1 or SEN group. The sticker is a prompt for children to check for : -capital letters -finger spaces -punctuation -their personal target e.g. use two adjectives I use these stickers after the children have done an extended piece of writing as a prompt when they are independently reviewing their own work. The children particularly enjoy ticking each box as they check. The artwork is set up to be able to print onto blank sticker sheets. These can be purchased from a wide range of retailers. These are a standard size (65 to an A4 page). You could, of course, choose to simply print them, chop them up and stick them in with PVA.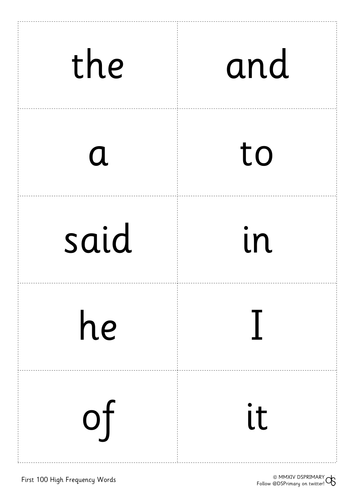 Download and print the first 100 high frequency words to support early reading in EYFS/KS1. These are words that appear frequently in the texts that children are reading, so practising these will help them greatly. The words are written in lowercase and in the Sassoon Primary Font (Used by Primary Schools) for easy reading. Let me know if you find these useful or would like any more.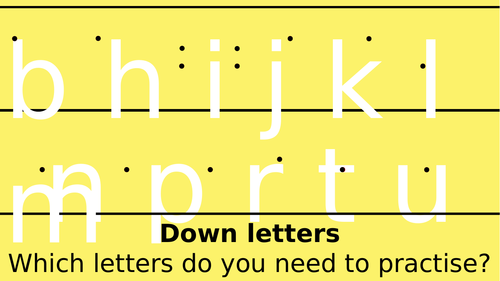 These powerpoints can be set up and left on a classroom computer or interactive white board. Each powerpoint automatically runs, modelling how to form different letters and numbers. Great for an EYFS or Year 1 classroom. You could copy the letters to make words of your choice and leave these on display for children to copy.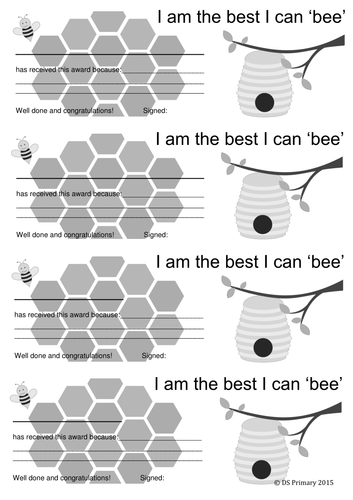 Bee-themed general classroom certificate. Best I can be. Prints 4 to an a4 page. Prints in black and white (cheaper). Looks great printed on yellow card. DS Primary on Facebook
This is an interactive whiteboard file which can be used to teach place value and exchange in mathematics. Use to present numbers in different ways under H T U as well as to bridge informal calculation to formal written methods.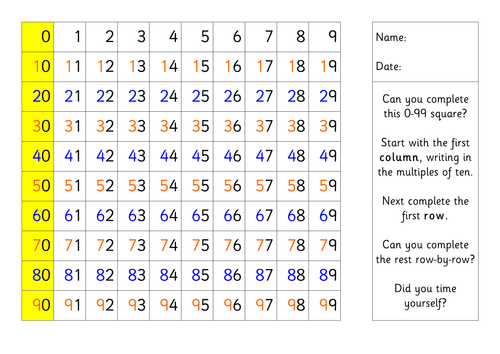 This is a very simple resource for supporting children in correctly writing numbers to 99. A teacher presentation is included to talk through and patterns are clearly shown with colours and the alignment of the digits. Perfect for supporting Year 1 NPV Objectives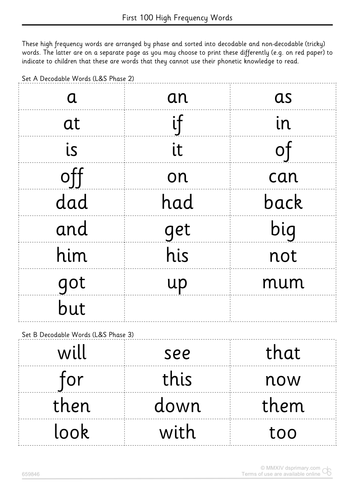 These high frequency words are arranged by phase and sorted into decodable and non-decodable (tricky) words. The latter are on a separate page as you may choose to print these differently (e.g. on red paper) to indicate to children that these are words that they cannot use their phonetic knowledge to read. DSPrimary - 659846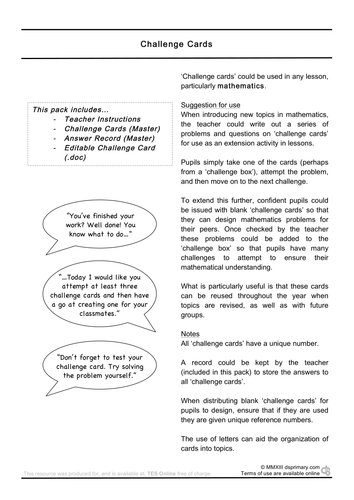 First contribution. Feedback gratefully received :) When introducing new topics in mathematics, the teacher could write out a series of problems and questions on 'challenge cards' for use as an extension activity in lessons. Pupils simply take one of the cards (perhaps from a 'challenge box'), attempt the problem, and then move on to the next challenge. To extend this further, confident pupils could be issued with blank 'challenge cards' so that they can design mathematics problems for their peers.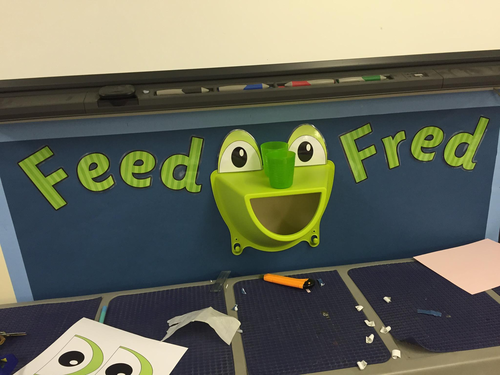 Create an interactive display for use in your KS1 classroom. Perfect for schools that teach through the RWI phonics scheme. Buy a 'KROKIG' wall storage unit from IKEA (currently £3) and add these eyes to make a frog. This could be used to sort sounds - e.g. only put words with certain sounds in the frogs mouth (Sound of the day?). 'DS Primary' on Facebook
This is a very simple activity to support NC2014 Maths objectives regarding 'direction'. The teacher can click through the powerpoint which is a plan view of a person navigating their way to different houses. Children could be asked to describe the movements to their partner. They could be asked to record in writing the directions before reviewing these together. Also included is a printable version so children can have a go at moving the person around. Again they could record the movements or verbally describe using key vocabulary such as clockwise, whole, half, quarter-turn etc. to their partner.