20Uploads
36k+Views
22k+Downloads
A set of natural number cards in A4 and A5 size. Perfect to add to maths areas, display boards, outdoor areas in EYFS and KS1. A mixture of natural materials have been used to make these cards in my garden!
A set of A4 or A5 number cards. Numerals made from natural materials found in my garden! Perfect for displaying in your early years or key stage 1 classroom and bringing the outdoors in!
This is a set of A4 or A5 number cards showing pine cone number representations. Great for display, subitising, counting, matching and much more!
These are a set of both the phase 2 and phase 3 tricky words with a pre-cursive handwriting font. First row with the most support and then structured to allow children to have a go independently at the bottom. Can be used on interactive whiteboards to demonstrate first before the children access independently. We have them in our continuous provision and the children love to play teachers with them - learning without even realising it!.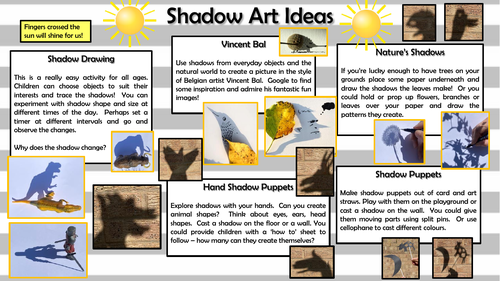 This is the first in a series of outdoor art ideas. Focusing on using light and shadows. Shadow puppets, shadow hand, drawing shadows. Perfect for a sunny day!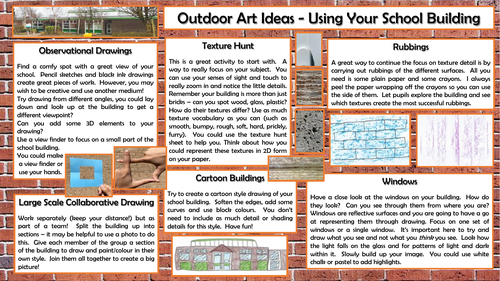 Lots of outdoor art ideas using your school building as a stimulus. Drawing ideas, texture rubbings and more!
An editable powerpoint label created to place on a paper bag for children to use to go on an autumn treasure hunt. Will they fill it with shiny conkers or crispy leaves?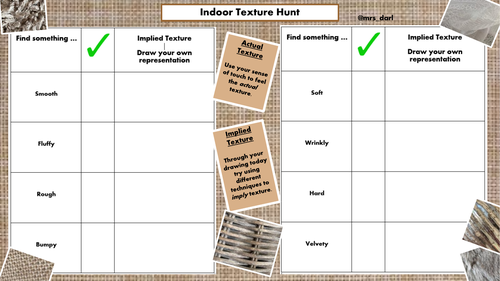 Sheets to accompany a hunt for texture. One for inside and one for outside. Space to tick that the actual texture has been found and a space to have a go at implying the texture through mark making.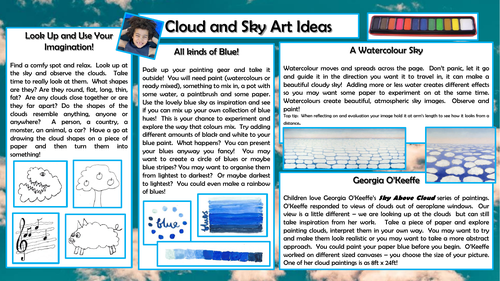 Look up and take inspiration from the clouds and the sky for these art activities. Cloud doodle, watercolour skies, hues of blue and a look at the amazing artist Georgia O'Keeffe.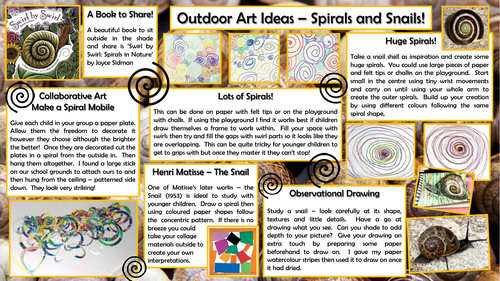 A selection of art activities linked to spirals and snails. Spiral mobile, large spirals, spiral doodles, drawing snails and a look at the Henri Matisse classic The Snail.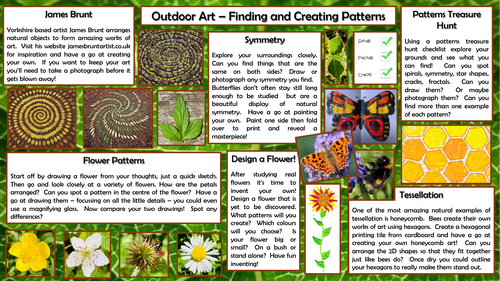 Lots of art ideas on the theme of patterns in nature - spirals, symmetry, tessellation. Featuring inspiration from James Brunt.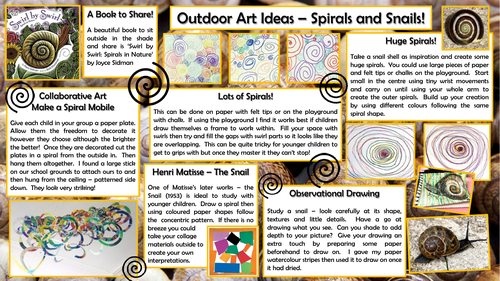 Outdoor art linked to spirals and snails - spiral mobile, spiral doodles, large spirals, observational drawings of snails and a look at one of the works of Henry Matisse.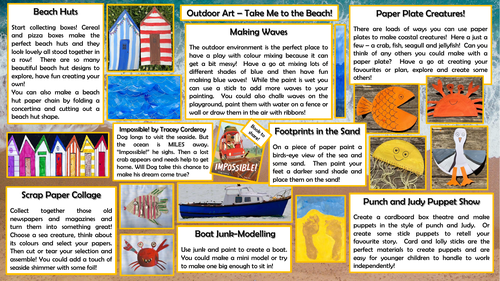 A selection of beach themed art and craft activities suitable across age groups.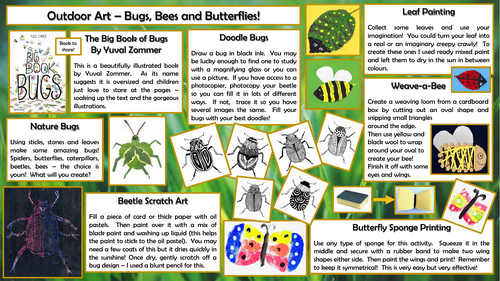 A selection of bug, bee and butterfly themed outdoor art activities to enjoy with all age ranges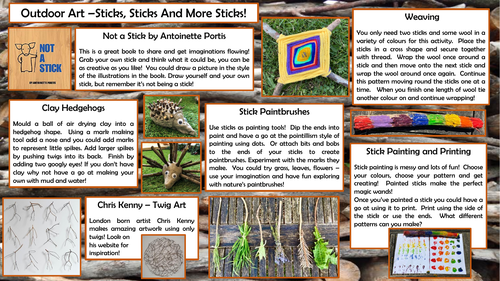 Lots of outdoor art activities to carry out using sticks as a base. Weaving, painting, printing, hedgehogs and twig art!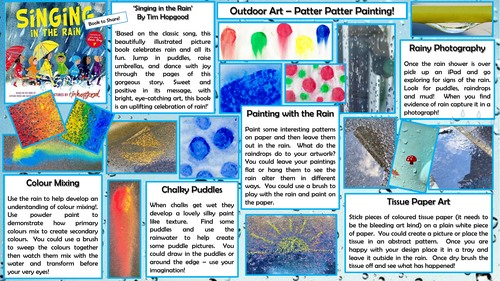 Don't let the rain put you off an outdoor outing! Here are a selection of art activities that require a bit of rain!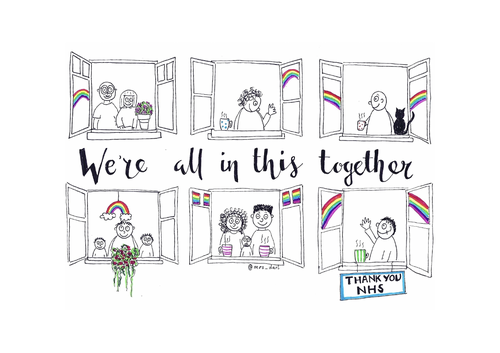 A doodle I created in response the current situation. Plus a blank version with windows for children to add their own characters and their own message across the middle.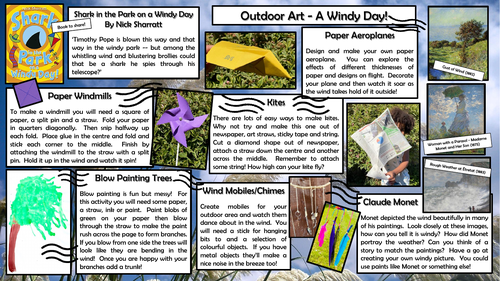 The perfect resource for windy weather! Art ideas that can be enjoyed in the wind - kites, windmills, paper planes. Also a Monet artist focus - looking at how he portrayed wind in some of his great masterpieces.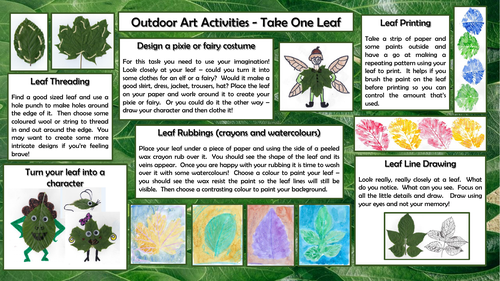 Lots of art ideas using just one leaf. Leaf threading, character making, line drawing and more!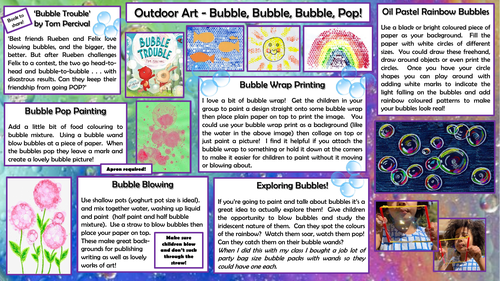 A series of outdoor art ideas linked to the theme of bubbles - bubble blowing, printing, drawing with oil pastels and more.