Dionne Dawson's Shop
Providing resources and complete schemes of work for Drama, English and Media.
66Uploads
25k+Views
3k+Downloads
Providing resources and complete schemes of work for Drama, English and Media.
6 Drama lessons detailed in this scheme of work. Designed as an introduction to Shakespeare using the play 'The Tempest'. Specific subject area's covered are; -Performing in role -Understanding Shakespeare -Reconstructing Act 1 Sc 1 -Exploration of the characters Caliban & Ariel Students are requires to share ideas, work in a variety of groups, perform and then review the performance(s) as a means to improve their speaking and listening, build their confidence and learn how to respectfully listen to others and speak with consideration. Each activity is designed specifically for students with a short attention span. Each lesson specifies; -Learning Objectives -Activities (which are in order and cover a warm up, main activities and plenary questions) -Success criteria -Differentiation/ SEN/ THORT Drama strategies used in the scheme are; -Games -Still Picture -Sound Collage/ Vocal Collage -Statue -Key Questions -Flashcards -Verbal Machine -Teacher in role -Gestalt -Banners/ Captions -Thought Tracking -Hot Seat -Role on the wall -In role writing -Meetings -Circle of relationships -Theatre design (mask/ costume/ make-up) -Alter-Ego (Good & Bad Angel)
A 2 minute, original script written by Dionne Dawson in today's city street slang so that today's 'yout' can relate. This script looks at the smaller child being bullied by older and bigger kids who think it is fun, with a horrific outcome...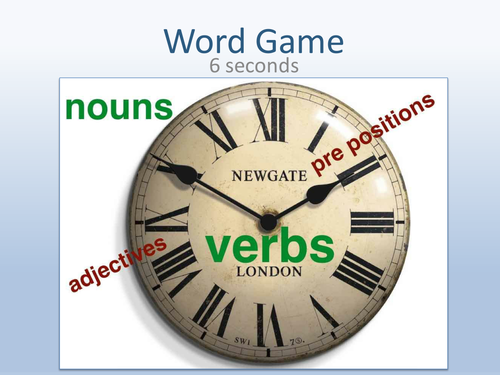 Each slide is shown for 6 seconds while your students think of each section of a sentence. Intended for students who find it difficult to motivate themselves this PowerPoint proves that a lot gan be achieved if tackled in small amounts... 'one brick at a time'. Can also be used just as a fun lesson starter.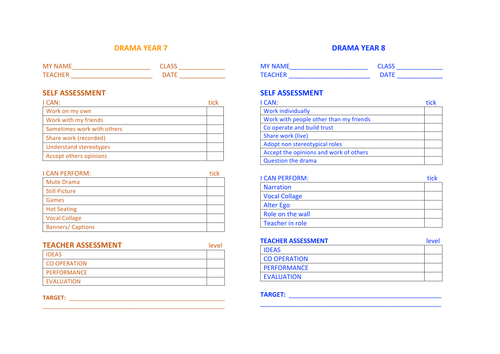 Being not part of the National Curriculum, drama does not have it's own mark scheme at KS3. I created my own assessment scheme, the levels linked to the English NC levels. I separated my drama assessments into three areas; 1. CO-OPERATION & IDEAS 2. PERFORMANCE 3. EVALUATION These assessment sheets are colour coded for each KS3 year and is set on an A5 size for ease when mounting in a standard exercise book.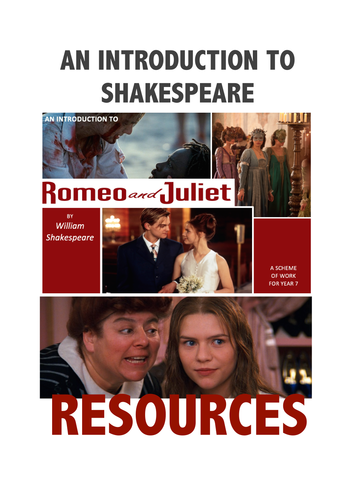 A complete resource pack designed for use with the scheme of work; An Introduction to Shakespeare.
3 short scripts lasting a couple of minutes long, look at various types of bullying and bullies. A workshop is included in the first script to assist your students to understand what they can do to help stop bullying; -Shaken & not stirred -The little you -Girl R skets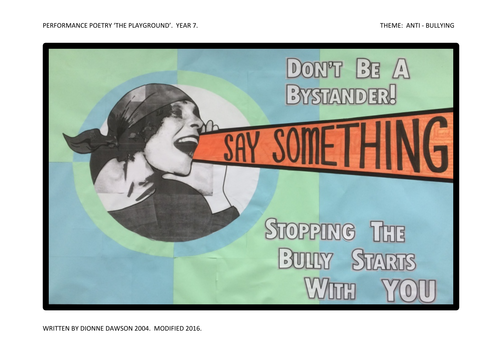 An 8 lesson detailed scheme of work for year 7. Scheme is based upon the performance poem; 'The Playground'. Drama activities bring the poem to life while plenary questions are aimed to expand children's minds to the issues surrounding bullying. All resources are included in this resource. The scheme includes lesson objectives, starters, introductory activities, main activities, plenaries and homework. The scheme of work is very detailed intended to be taught from without the need for additional lesson plans.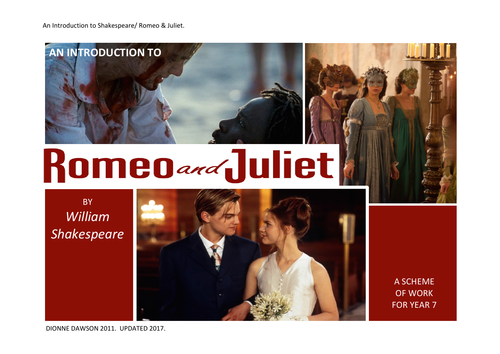 A detailed 28 lesson scheme of work (set out in 7 week sections, 4 lessons per week). This is designed as a fun and accessible scheme to introduce younger students to Shakespeare without creating fear and dread. Shakespeare plays; Romeo and Juliet and The Tempest are explored during this scheme. Due to the detail, additional lesson plans are not required. Scheme is set out to include the following; Lesson Objectives, Starters, Introduction activities, Development activities and Plenaries. A complete resource pack is available separately on TES.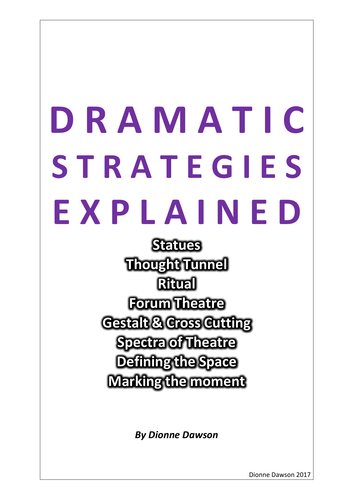 The final fourth booklet which explains many drama strategies, how to use them with examples and a list of learning opportunities. This booklet covers Statues, Thought Tunnel, Ritual, Forum Theatre, Gestalt & Cross Cutting, Spectra of Theatre, Defining the Space and Marking the Moment. A FREE classroom display is also available to download, listing all of the dramatic strategies.
Scheme of work - CONFLICT POETRY ANALYSIS Booklet - CONFLICT POETRY ANALYSIS Analysis worksheet - Checking Out Me History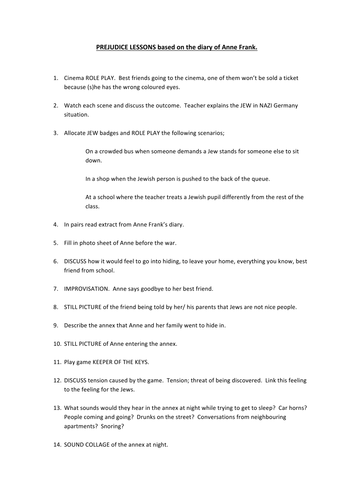 Just what it says it is... a list of drama activities to choose from when studying Anne Frank's Diary.
Six detailled lessons for year 5 or 6 using the musical score; Peter and the wolf. The scheme of work is set out in boxed sections to include, lesson objectives, starters, introductory activities, development activities, plenaries and a resource list. Key words are emphasised for the teacher using capital letters. Over all scheme looks at the musical instruments of the orchestra, rhythm and mood. It is essential to use this scheme along side the music Peter and the Wolf by Prokofiev. I have recently updated this scheme to include all resources.
A 2 minute original script written by Dionne Dawson looking at the negative treatment many females get in school from the boys, name calling and sexual harassment.
A work book for GCSE Literature students studying 'Dr Jekyll and Mr Hyde'.
14 lesson scheme of work for A level drama. Scheme includes lesson objectives, starters, introductory activities, development activities and plenaries. Explored through the practical use of drama strategies and the moralistic development through the use of key questions. Resources are included.
A second work book for GCSE Literature students studying 'Dr Jekyll and Mr Hyde'.
AS or A2 Drama scheme of work studying Caryl Churchill's VINEGAR TOM. The scheme covers 30 lessons over 6 weeks (based on 5 lessons per week). Each lesson sets out tasks; Preparation, Exploration of a scene or song, Dialogue, Character, Atmosphere, Politics, Gender. Issues explored are superstition, hysteria, witchcraft and women's punishment Brecht's alienation is explored with the song(s). The scheme of work concludes with students planning and delivering their own drama workshops.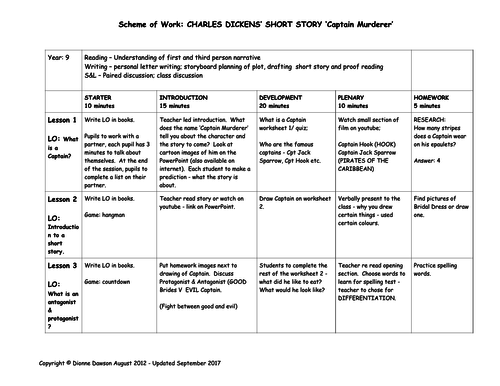 18 lesson scheme of work detailing everything you need for each lesson; -Learning Objectives -Introduction -Development -Plenary -Homework task Exploring one of Charles Dickens' short stories called 'Captain Murderer' - a horrific story aimed at the children in his day. Suitable for year 9 and above due to the cannibalistic nature of the protagonist. Victorian times are also explored in this detailed scheme. So detailed that you can teach directly from the scheme of work without the need of additional lesson plans. My resource booklet accompanying the scheme is also available to purchase from TES.
A beautifully colour coordinated poster showing the pathways; to whom allegations, complaints and concerns of child abuse should be reported. This poster has the blank spaces for you to fill in with your local authorities numbers. Also included is a bullet point list of when OFSTED should be contacted, a useful go to guide to save time looking things up.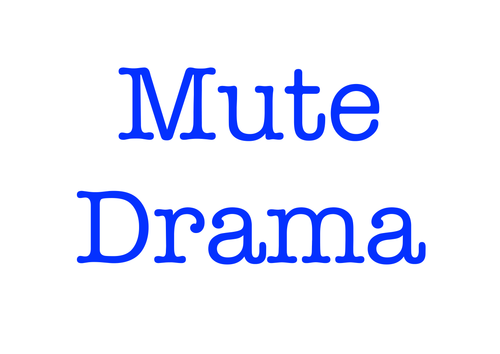 A list of key strategies to use in drama lessons. Large and colourful lettering ready to print and use in your displays. BLUE is colour coded for year 7, GREEN for year 8 pupils and PURPLE for year 9. I have 4 booklets available to purchase which explain each drama strategy in detail.