Dionne Dawson's Shop
Providing resources and complete schemes of work for Drama, English and Media.
66Uploads
22k+Views
2k+Downloads
Providing resources and complete schemes of work for Drama, English and Media.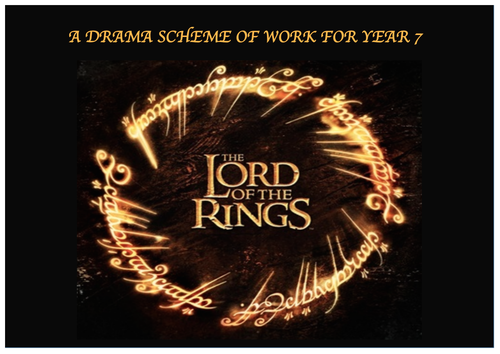 4 LESSONS for year 7 drama. Resources included. Scheme of work is set out in easy to read columns and covers lesson objectives, starters, introductory activities, development activities and plenaries.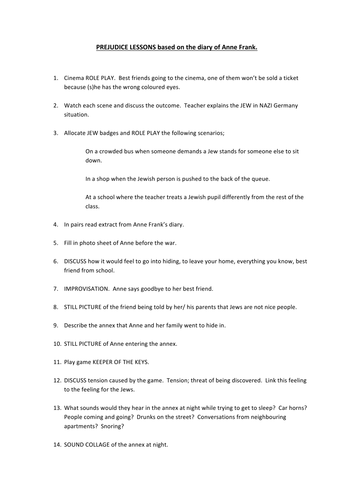 Just what it says it is... a list of drama activities to choose from when studying Anne Frank's Diary.
The first of two detailed schemes of work based on the study of Anne Frank's diary. Here, 6 lessons cover; Objectives, Starters, Introductions, Drama Development, Plenaries and homework. Indented to be taught from the scheme; no additional lesson plans are necessary. All resources are included (SCHEME 2 covers the next 6 lessons - also available on TES). The scheme allows for the study of sections of text from Anne Frank's diary. Students should develop empathy for Anne's situation at the same time building a knowledge of World War II and the horrific acts of genocide. Hopefully this scheme will address the issue of prejudice in a way which will allow all students to question their own behaviour and opinions in an attempt to minimise acts of prejudice in your classroom and your school. Drama Learning Outcomes: The students will concentrate on using space constraints and Spectra of Theatre (Light/Dark, Noise/Silence) in order to create dramatic atmosphere and represent the element of fear. Speaking & Listening Range. Group and class discussion, reporting back on small group work; • Exploration and hypothesis • Consideration of ideas • Debate and persuasion • Development of thought and analysis • Presentation of drama to audience(s) • Attentive listening • Groups participation, improvement of communication skills • Evaluation of language use (both verbal and non verbal) • Judge appropriate detail • Adapt speech and performance for the listener • Sift, summarise and use salient points • Consider different opinions • Use persuasive argument(s) • Negotiate consensus • Consider choice • Effectiveness of expression • Listen and respond Reading Range. Reading materials, researching the problem, prejudice, genocide, family support. Using library, internet and discussing issues and ideas in small groups and as a whole class; • Using language in a rich, diverse and imaginative way • Extending moral and emotional understanding • Build perspectives on society and community • Analysis and discussion • Extraction of salient points • Articulation of informed personal opinions (using drama and discussion) • Responding to the opinions of others • Distinguishing between opinions and attitudes • Selecting information Writing Range. A range of writing styles including collaborative note making, diary entries and developing and analysing character; • Informing others through description • Developing character understanding • Using emotive language • Development of thought through review and analysis • Analysis of own writing • Using own writing to inform drama • Expression of ideas (in a variety of ways) • Improving spelling, punctuation and grammar
6 Drama lessons detailed in this scheme of work. Designed as an introduction to Shakespeare using the play 'The Tempest'. Specific subject area's covered are; -Performing in role -Understanding Shakespeare -Reconstructing Act 1 Sc 1 -Exploration of the characters Caliban & Ariel Students are requires to share ideas, work in a variety of groups, perform and then review the performance(s) as a means to improve their speaking and listening, build their confidence and learn how to respectfully listen to others and speak with consideration. Each activity is designed specifically for students with a short attention span. Each lesson specifies; -Learning Objectives -Activities (which are in order and cover a warm up, main activities and plenary questions) -Success criteria -Differentiation/ SEN/ THORT Drama strategies used in the scheme are; -Games -Still Picture -Sound Collage/ Vocal Collage -Statue -Key Questions -Flashcards -Verbal Machine -Teacher in role -Gestalt -Banners/ Captions -Thought Tracking -Hot Seat -Role on the wall -In role writing -Meetings -Circle of relationships -Theatre design (mask/ costume/ make-up) -Alter-Ego (Good & Bad Angel)
A beautifully colour coordinated poster showing the pathways; to whom allegations, complaints and concerns of child abuse should be reported. This poster has the contact telephone numbers and emails listed for anyone working in the London borough of Camden (details and contact numbers correct as of April 2020) but can easily be adapted to suit your local authority. Also included is a bullet point list of when OFSTED should be contacted, a useful go to guide to save time looking things up.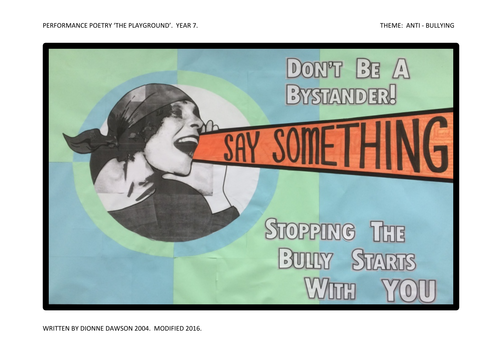 An 8 lesson detailed scheme of work for year 7. Scheme is based upon the performance poem; 'The Playground'. Drama activities bring the poem to life while plenary questions are aimed to expand children's minds to the issues surrounding bullying. All resources are included in this resource. The scheme includes lesson objectives, starters, introductory activities, main activities, plenaries and homework. The scheme of work is very detailed intended to be taught from without the need for additional lesson plans.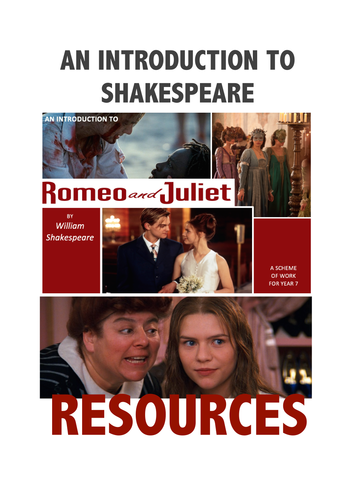 A complete resource pack designed for use with the scheme of work; An Introduction to Shakespeare.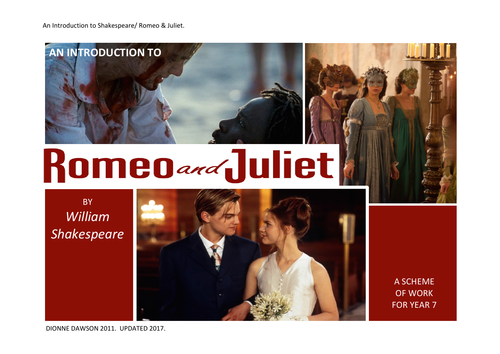 A detailed 28 lesson scheme of work (set out in 7 week sections, 4 lessons per week). This is designed as a fun and accessible scheme to introduce younger students to Shakespeare without creating fear and dread. Shakespeare plays; Romeo and Juliet and The Tempest are explored during this scheme. Due to the detail, additional lesson plans are not required. Scheme is set out to include the following; Lesson Objectives, Starters, Introduction activities, Development activities and Plenaries. A complete resource pack is available separately on TES.
Six detailled lessons for year 5 or 6 using the musical score; Peter and the wolf. The scheme of work is set out in boxed sections to include, lesson objectives, starters, introductory activities, development activities, plenaries and a resource list. Key words are emphasised for the teacher using capital letters. Over all scheme looks at the musical instruments of the orchestra, rhythm and mood. It is essential to use this scheme along side the music Peter and the Wolf by Prokofiev. I have recently updated this scheme to include all resources.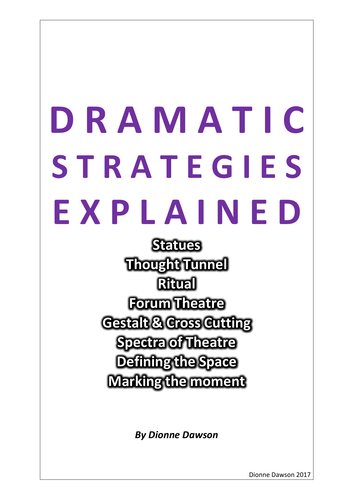 The final fourth booklet which explains many drama strategies, how to use them with examples and a list of learning opportunities. This booklet covers Statues, Thought Tunnel, Ritual, Forum Theatre, Gestalt & Cross Cutting, Spectra of Theatre, Defining the Space and Marking the Moment. A FREE classroom display is also available to download, listing all of the dramatic strategies.
Looking at history and politics, this HIGH FIVE poetry analysis has boxes and questions to help you plan your essay writing. HIGH FIVE© Dionne Dawson 2012
A PowerPoint presentation for assembly. With discussion the presentation can last 15minutes but could also be sped through in 5. Explains what Armistice is, the difference between Armistice and Rememberance Sunday, discusses the relevance of the poppy and intends to make students think about how we can learn from the past and so move into a brighter future. Colour coded slides; red, black and whie.
A resource to help with your essay planning. HIGH FIVE © Dionne Dawson 2012.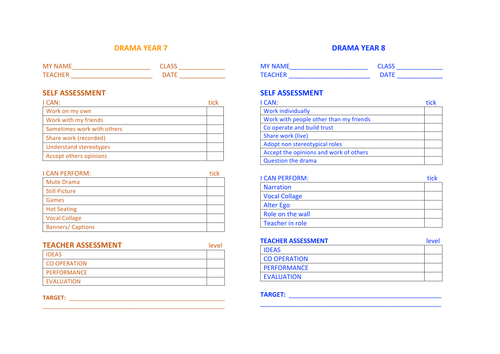 Being not part of the National Curriculum, drama does not have it's own mark scheme at KS3. I created my own assessment scheme, the levels linked to the English NC levels. I separated my drama assessments into three areas; 1. CO-OPERATION & IDEAS 2. PERFORMANCE 3. EVALUATION These assessment sheets are colour coded for each KS3 year and is set on an A5 size for ease when mounting in a standard exercise book.
AS level drama study of the GREEK TRAGEDY: The Bacchae by Euripides. 20 lessons over 4 weeks planned. Each lesson sets out a brief for you to plan your own lesson(s); Lesson 1 Themes Lesson 2 Performance Lesson 3 Character Lesson 4 Character Lesson 5 Duologue Lesson 6 Chorus Strophe 1...
A PowerPoint which explores the Lion's family using key learning words: PRIDE, explaining it as children understand - Daddy & Mummy and baby: CUB. We touch upon the job roles of the two genders as well as how to recognise a LION from a LIONESS. The PowerPoint was designed for and used with 2 year olds entitled 'Family' (EYFS - Communication & Language and Understanding the World) however it would also suit as a starter or revision activity for older children. Could also be used as a assembly.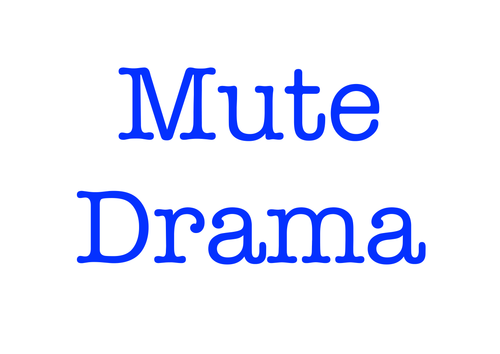 A list of key strategies to use in drama lessons. Large and colourful lettering ready to print and use in your displays. BLUE is colour coded for year 7, GREEN for year 8 pupils and PURPLE for year 9. I have 4 booklets available to purchase which explain each drama strategy in detail.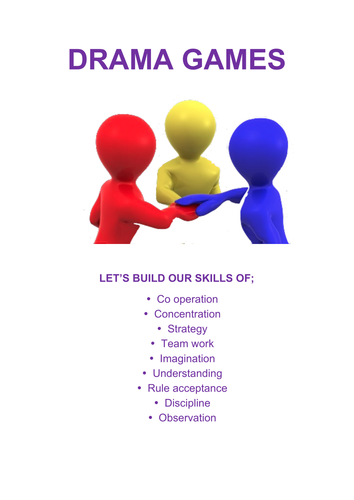 A booklet explaining the following games; FISHES, CHARADES, PRISONER, ZIP ZAP BOING, THE KEEPER OF THE KEYS, LUCKY DEAL, PENGUINS, MEMORY – I went to the shops…, ONE WORD STORY, HANDBAGS, MEMORY – In the room…., WHOSE LIE IS IT ANYWAY?
This booklet explains how to work with the following stylistic drama strategies; Mute, Still Picture, Banners & Captions, Games, Hot Seating. Descriptions of the strategies are given as well as an example. A bullet point list on every page covers the learning opportunities. Booklet 1 of 4.