8Uploads
1k+Views
4k+Downloads
This is an end of unit idea involving discussion of the poem, it's characters and how their actions would be viewed by modern standards; leading into persuasive writing - preparing statements for a trial of the three main characters. I then role-play the court case with a jury made up from another class.
Includes background information; three extracts describing ghosts; shared writing example; a grammar worksheet to generate figures of speech; a simple game using dice, multilink, forfeits cards (provided); recording sheet (provided).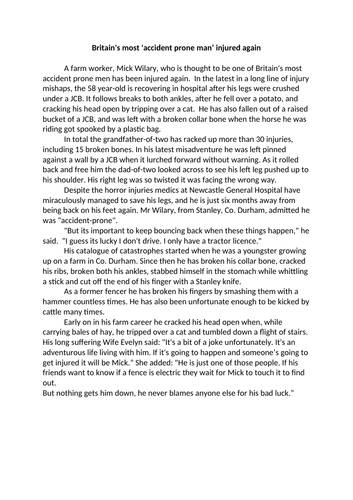 I used this as a resource for Y6 writing. It is set up in three parts so that more able writers can develop ideas in greater depth. The third element is at their discretion. The boys were fascinated by a story about an unlucky man from the US and most of them chose to work his misfortune into a diary account… I found this in a book and will add the story when I can find it… One greater depth writer used some web design skills we had practiced to produce a great resource with four biographical accounts of jinxed/lucky people including Violet Jessop. The two shared writes give ideas of how to develop stories based on true events .
A good creative writing activity that starts with a single button and ends in a complete story that includes a character description.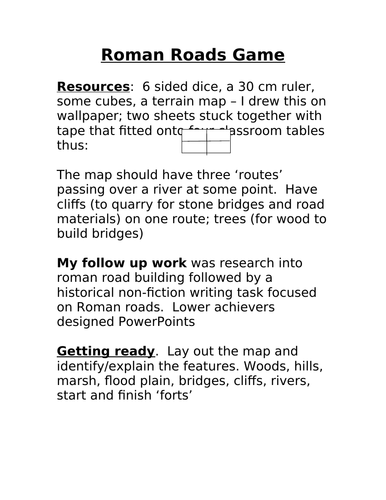 A game where children choose routes on a large map, using the terrain to help them travel from fort to fort. Forfeits and disasters lie in wait if choices are bad…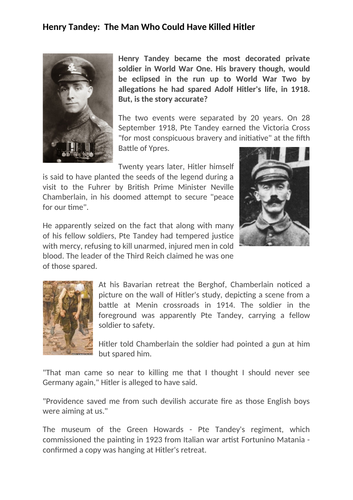 Writing task for Y6 - I focused on Greater Depth writers with it but feel free to adapt. Description is the key. Also different voice - hence the postcard home at the end.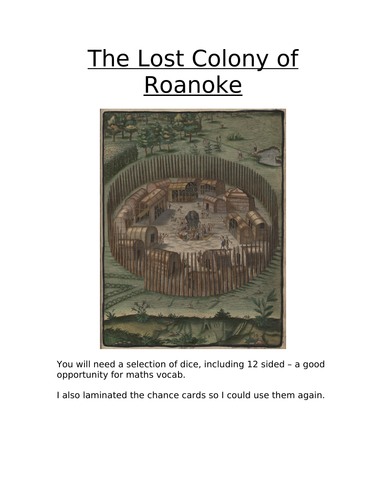 This was an interactive game where we had to make choices that the settlers were faced with in their everyday lives and in order to survive. We had to justify our reasons and explain our thinking. The idea was to survive in a hostile environment, befriend the natives and make a new home. We had to try and think like the settlers. We finished with a discussion on why the colony failed, what might have become of the settlers and what lessons were learned for future explorers. I would take a whole afternoon to play this. I created this to help children develop ideas for writing about Roanoke. Any diary writing etc can involve their good or bad equipment choices. For Greater Depth writers in Y6 we focused on the quality of the setting – contrasting the bust settlement that John White left to the same abandoned settlement her returned to. Adding a 21st Century archaeology report about the latest findings is a super way to add a different voice…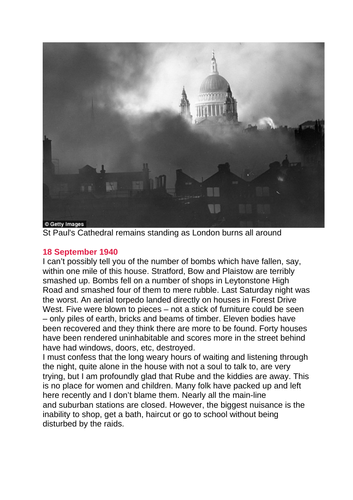 I used this a few times as a booster task for more able writers, but it can be adapted easily enough for all abilities. Be sure to have good descriptions of blitzed London and take the description of arriving at the lighthouse from the actiual story to contrast. Any GD writers should also really focus on developing the character of the narrator - i asked them to work on a theme eg home-sick, brave, protective of sibling and follow this throughout the story. One Greater Depth writer wrote a fantastic story called The Quest For Cows on this WW2 theme – the narrator (obsessive by nature) had never seen a real cow and was desperate to see one, to the point of obsession. The train leaves London at dusk and travels through the night and it is only as it arrives at the lighthouse that he sees his first cow.