Emma Jepson's Shop
Secondary science teacher with a specialism in chemistry.
20Uploads
4k+Views
4k+Downloads
Secondary science teacher with a specialism in chemistry.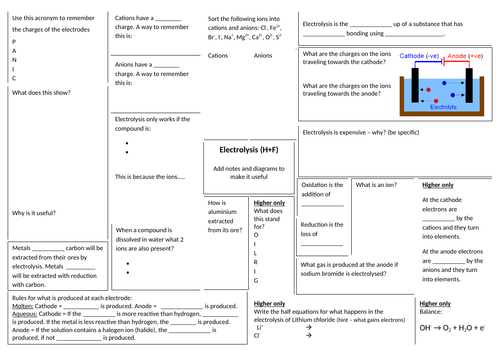 A handy revision broadsheet that can be used with mixed ability classes as it caters for higher and foundation students. It is made for the AQA exam board however it would also suit OCR and Edexcel.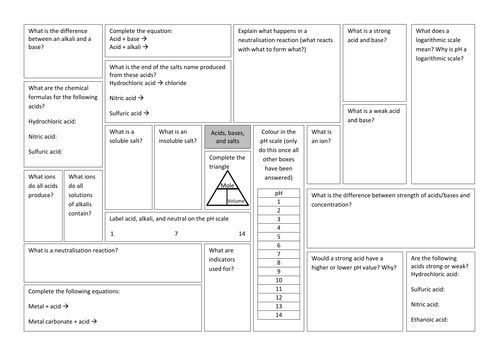 Broadsheet made for the AQA scheme but will work for OCR. Revision broadsheet that covers: Acids, bases, strong/weak acids, ions, neutralisation, equations, soluble salts, insoluble salts.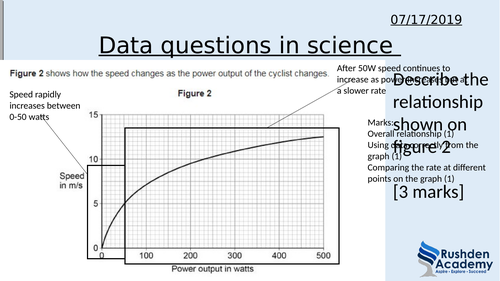 An intervention lesson based around data in science questions that students have struggled with. Lasts an hour. Questions taken from AQA spec and printed as a booklet.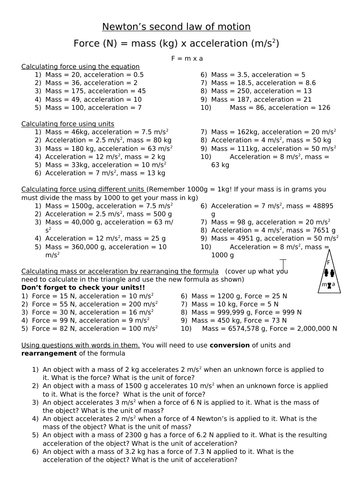 A worksheet based on how maths teach maths concepts. Built on low demand questions just using the equation and then building in units, conversions, rearranging the equation and then gcse exam questions. Can be used for any exam board as it is common content (AQA, OCR, Edexcel).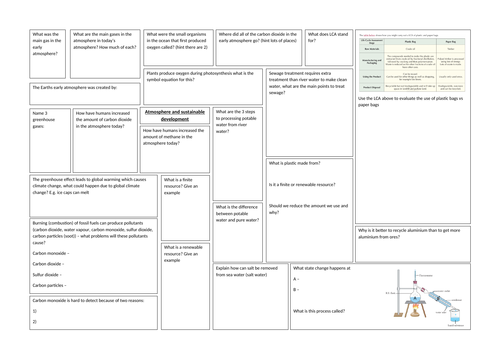 Used for trilogy foundation students but would work for a quick revision of main ideas for triple students. Covers both the atmosphere unit and the using resources unit in chemistry.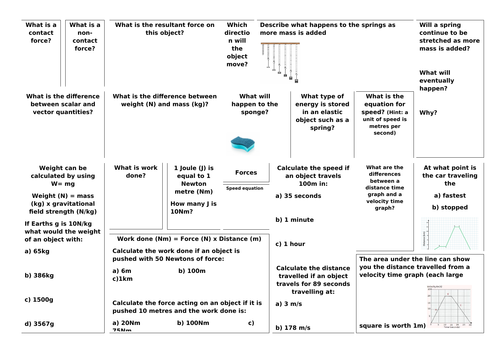 A revision resource that contains a re-cap of all of the forces topic. For AQA exam board but would be suitable for OCR and Edexcel.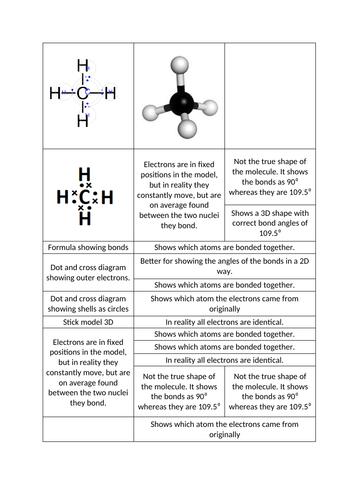 A card sort or cut and stick activity for students to compare advantages and disadvantages of the different 2D and 3D models of chemical structures. eleanorvickers has a worksheet that can be used along side if a card sort. However I have changed the 3D model to the models in the AQA specification.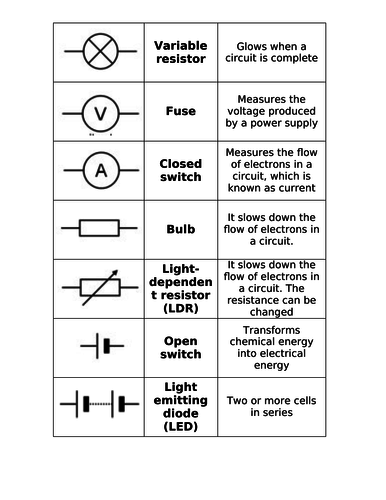 Includes the difference between series and parallel circuits and has an activity to match up the symbols with names and definitions. Can be used from high ability year 7s all the way to year 11 GCSE.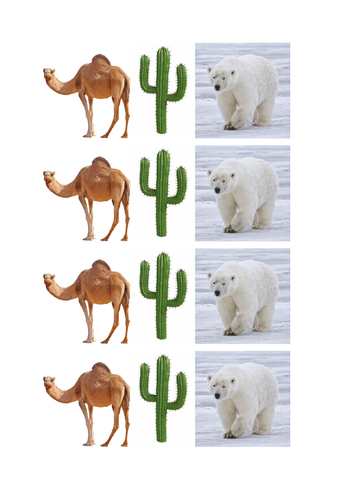 A lesson I created for year 7's but can be used throughout GCSE. The list of adaptations needs to be printed and cut out. There are two levels of demand for the list of adaptations - I printed these on 2 different colours of paper (pink and blue). The adaptations need to be placed around the room and students need to match them up to the polar bear, cactus, or camel.

The numbers match the AQA Alevel chemistry periodic table and are all to 1dp. If you print out each section onto different coloured paper and then cut out. Depending on the size of your display you can print 4 or 6 to a page, labels at the end should be printed onto A4 so that they can be read from the other side of the room.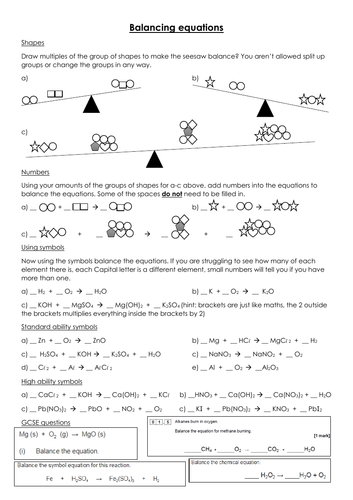 A resource that can be used from KS3 to KS4 to help with balancing equations. Scaffolded so that students work from low to high demand. Students often struggle with using symbols however find balancing legos/skittles/beads easy. A worksheet that steps up the demand from low to medium then to high. Can be used for all exam boards (AQA, OCR, Edexcel, iGCSE) as is common content and would suit combined or separate sciences.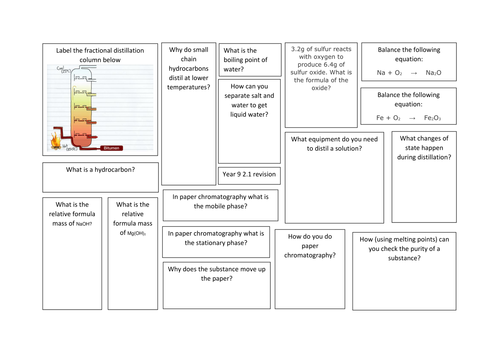 broadsheet including: fractional distillation, separating materials, chromatography and some quantitiative chemistry such as RFM.

Print out on a colour printer and you can make the pH scale like the display shown.

Can be used to teach first aid basics to students, you will need to make the card sorts (so you have enough for your group size), and you will need access to resuscitate Annies (can be sourced from the British heart foundation or purchased from St Johns Ambulance). A workbook for students to use and fill in matching the weekly powerpoints.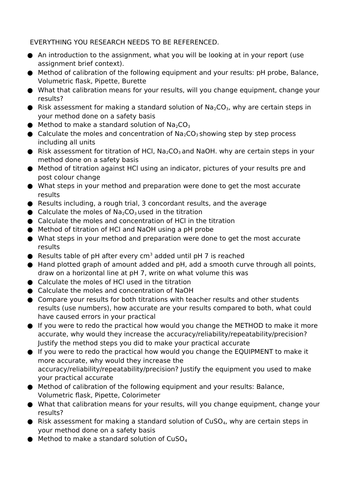 Sheets for unit 2 to help students when writing their unit 2 write up, made with comments from SVs in mind.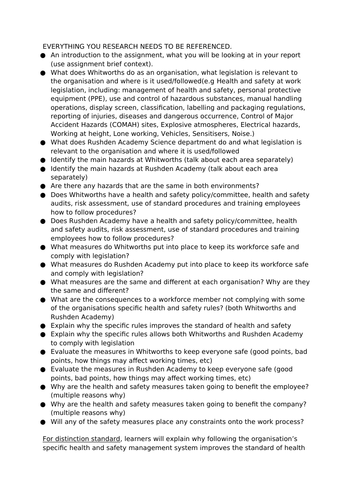 Help sheets created for students to help with assignments.