32Uploads
3k+Views
2k+Downloads
Preschool Printables

Preschool Maths: Subitizing Smart Cards for sorting and matching. Bright colorful palette with fun images. Also includes 2D shapes smart cards with matching shape names. Includes a four page PDF document. Cards can be cut and laminated for durable use.

Get to know each other with artsy "All About Me" collage posters. Fun class activity for creativity and self expression. Can be used as a template for mixed media collage. Decorate with colored pencils, stickers, magazine clippings, etc. Includes: 2 Page PDF document (US letter size) with All About Me printable poster and sample All About Me poster. Thank you for downloading! Please consider leaving a review if you found this resource helpful.

Happy Birthday Bunting Colorful, cheerful alphabet & birthday bunting. Perfect for parties and classroom decor. Chunky purple font on polka dot background. Includes each letter of the alphabet and additional letters that spell HAPPY BIRTHDAY! Also includes blank dotted bunting. There are four letters per page. Print on card stock and cut. PDF file includes 11 pages; Size 8.5 x 11

Numbers: Recognition, Vocabulary, Matching. Smart Cards help students take control of their studies, which leads to higher retention. This set includes numbers, number names, and quantity for numbers 1-20 with bright, engaging colors and design. Six pages total. Print cards on card stock and cut to size.

The Very Admirable Alphabet: A beautiful set of class or home posters featuring each letter of the alphabet and a matching vocabulary word. Gorgeous font paired with admirable qualities will inspire primary students to strive for their best! PDF document, 8.5 x 11, 28 pages Example: A is for Adventurous, B is for Brave, etc. For more resources like this, please visit me at: https://www.etsy.com/shop/EmmePrintsStudio?ref=profile_header

ABC Memory Game Flashcards Upper and Lower Case Flashcards that can be used as a memory game, matching game, etc. 1 PDF file includes 2 pages of small alphabet cards A-Z and a few common shapes. Chunky font for visual interest. For durable cards, print on card stock. Great for preschool, homeschool, primary, and the ESL classroom. If you find this resource helpful, please consider leaving a review. And for more products like this, visit my Etsy shop at https://www.etsy.com/shop/EmmePrintsStudio?ref=profile_header

The Antique Alphabet flash card set was created to add depth, beauty, and enhanced recall to your child's studies. These cards can be used for instruction, your child's personal collection, decor, etc. Includes front and back covers. Can be printed on card stock, cut to size, and corners rounded for ease of use.

This is a set of alphabet tags used to reinforce letter recognition. Letters A-Z included, as well as picture tags for each letter.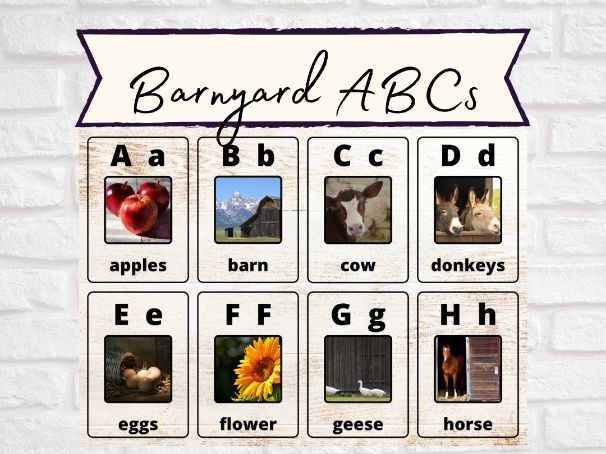 Barnyard ABCs Flashcards Fun ABC flashcards with a barnyard theme; A-Z. Upper and lower case letters with vibrant images. Can also be used as classroom decor, games, etc. *Combine with Emme Prints Barnyard Posters, also located in my shop. PDF document 4 pages

Vibrant Shapes Posters for classroom, homeschool, etc. This can be printed as a booklet or used as posters. Includes 16 shapes with their names on individual pages, plus a page each for angles, edges, and vertices. There's also a cover page for book format. Also included: A 1 page PDF Shapes Scavenger Hunt Find all the shapes on list and record where they are found. Early Maths

Geometry is cool and kids love to learn the names of shapes. Prepare early for primary with these modern Geometric Shapes flash cards. This set includes 20 different fun shapes that can be printed on card stock and cut to size for fun shape activities. Tip: Use a corner rounder on the edges to prepare cards for your preschoolers.

Comprehensive Study Guide and Worksheet set to build confidence and to reinforce rules for adding, subtracting, multiplying, and dividing with negative numbers. Also includes a section on Square Roots and Absolute Value. *PDF document containing 39 pages. *There are two main sections: A four page review of addition, subtraction, multiplication, and division rules/guidelines. One operation per page with follow along exercises. A worksheet bundle divided by each operation with answer keys. (Excellent value; comprehensive resource for struggling students)

Barnyard ABCs Big Book of Letters Posters features beautiful images depicting barn life. Each letter of the alphabet is represented with both upper and lower case letters and a vibrant high resolution print. (A: Apple, Z: Zipper, etc.) Page 1 Chart with Uppercase Letters Page 2 Chart with Lowercase Letters Page 3-28 Each Letter with Image Also comes with a cover file if you'd like to make a picture book; great for classrooms, homeschool, etc.

Space Exploration Travel Posters: Making space travel fun, exciting, and relevant… A collection of 17 Space Tourism posters featuring: Earth, Venus, Mars, Kepler-186f, Jupiter, Enceladus, 51 Pegasi B, Titan, Kepler-16b, Ceres, Europa, The Grand Tour, Trappist 1e, Valles Marineris, Olympus Mons, HD 40307g Super Earth, and PSO J318.5-22. This is a 17 page PDF document (8.5 x 11) with 17 unique posters. Great for science class decor, student center, home decor, notebook covers, etc. Each poster features interesting facts about space exploration. If you find these helpful, please shop my student journals with the same titles at: https://www.amazon.com/dp/B09D3XJDTG?binding=paperback&ref=dbs_dp_rwt_sb_tpbk

Subitizing Tiles: Numbers 1-12 Number Names 1-12 Dots: Quantities 1-12 Includes 3 pdfs. Can be printed on card stock, and cut around each card.

This resource is designed to bring fun into your Career Prep, Leadership Class, etc Students will take a brief assessment to find their holland code, which will provide them with a list of interesting career choices. They'll then choose a career based on the list and do a google search to find someone in that field who would make a great mentor. There's a short, prompted, paragraph page to tell about their mentor. Next, they'll create a business card featuring their mentor. This brings an expressive art element into the assignment, which the students love! This is a great resource that allows students to get creative and share their interests with the class, teachers, and parents. PDF document includes 6 pages, three of which are printed for each student.