Grant_Bailey's Shop
Secondary English resources.
1Uploads
759Views
369Downloads
Secondary English resources.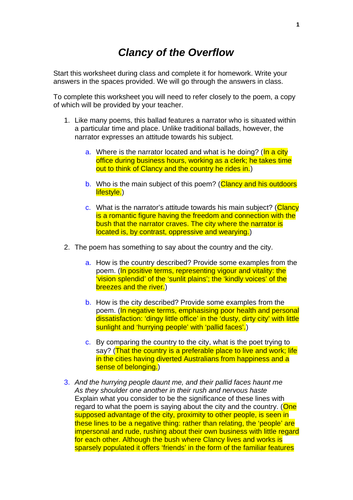 A worksheet on A B Paterson's classic Australian poem 'Clancy of the Overflow' suitable for Year 8 students. A second sheet with suggested answers is included. The poem is widely available online, suggested links: Australian Poetry Library e-Books@Adelaide (Adelaide University) You may want to decorate the worksheet. Some artwork depicting the period would be suitable. Subject to copyright the images at the following sites would work well: National Library of Australia Australia Post Culture Victoria Suggested curriculum relevance Australian Curriculum — English, Year 8 Literature ACELT1630: Identify and evaluate devices that create tone, for example humour, wordplay, innuendo and parody in poetry, humorous prose, drama or visual texts Literacy ACELY1733: Apply increasing knowledge of vocabulary, text structures and language features to understand the content of texts National Curriculum in England — English, Key Stage 3 Reading: Pupils should be taught to read critically through knowing how language, including figurative language, vocabulary choice, grammar, text structure and organisational features, presents meaning recognising a range of poetic conventions and understanding how these have been used Please provide a review of the resource. Comments, feedback or questions are welcome.