Grefintec's Shop
Resources made by me and shared for free.
68Uploads
91k+Views
79k+Downloads
Resources made by me and shared for free.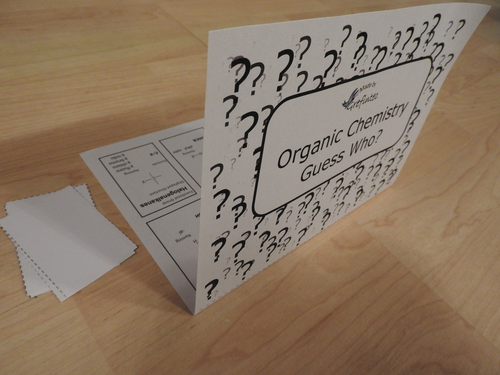 A Guess Who game designed for pupils revising Organic Chemistry functional groups. Inspired by the childhood game 'Guess Who?' and played in a similar way. Print out pages two copies of page 1 and print on the reverse page 2 so that when folded in half (as in the picture) the title page obscures the view of the functional groups. Print out two copies of page 3 and cut out the rectangles. Players face each other. Each player chooses a functional group and keeps it a secret. Players take it in turns to guess the identity of the other player's chosen group using clues associated with the different groups. Players use the white rectangles to cover the functional groups eliminated from the game. First player to guess the other player's functional group wins! Keywords: organic chemistry, functional groups, alkanes, alkenes, alcohols, aldehydes, ketones, carboxylic acids, esters, halogenalkanes, game. Guess Who?

Revision mat created for use with a unit delivered at my school entitled 'Materials and Everyday Chemistry'. It is a rather composite course including elements of 'How Science works' in addition to ks3 chemistry Material covered includes: Definitions, diffusion, hydrocarbon, pH, graphing and tabling skills, calculating percentage increase and decrease, fuel triangle, experimental accuracy and uncertainties.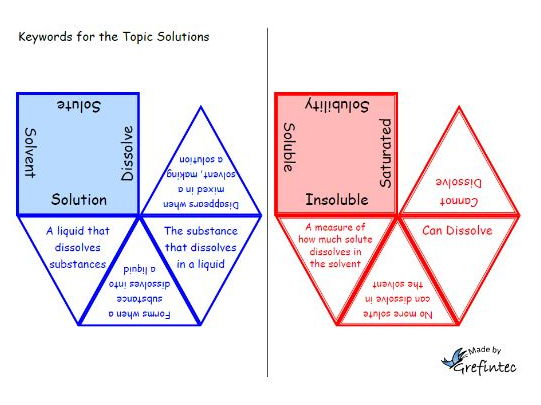 Keystage 3 Resource A card sort where pupils are asked to match keywords with their definitions. Each central square has four keywords printed on each side. The definitions are on triangles which match up to the appropriate keyword. There are two sets of keywords, one in red and one in blue. They are also single or double bordered which means that the sets can still be identified when printed in greyscale. The card sort has been designed so that minimum cutting is required! Keywords: Solution, soluble, insoluble, saturated, dissolve, solubility, solvent, solute

In celebration of Science Week and in conjunction with our current theme of 'Down on the Farm' I have created a series of ten experiments which can be done in nursery school as an adult led activity.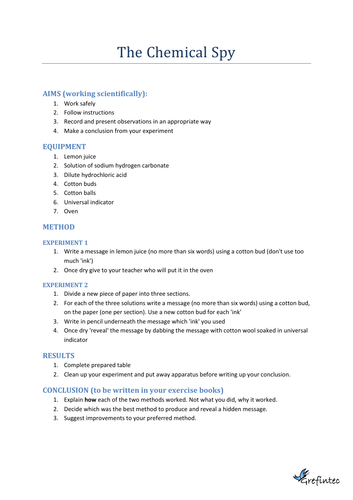 A practical delivered as part of a KS3 topic entitle 'Materials and Everyday Chemistry'. Students carry out two experiments investigating heat triggered invisible ink and pH triggered invisible ink.