Hashtag_Teached's Shop
"Education is the most powerful weapon which you can use to change the world" - Nelson Mandela
331Uploads
32k+Views
1k+Downloads
"Education is the most powerful weapon which you can use to change the world" - Nelson Mandela

Looking to decorate your room and make it more of a welcoming environment that your students are a part of? Well check out this pennant which is meant to be cut out, strung together, and hung around a room. This highly structured template allows students to talk a bit about themselves, introduce themselves, and talk about their favorites. You can also check out my Pennant Variety Pack if you want a bit more flexibility with the design!

In a spirit of promoting positive behavior intervention support systems (PBIS), this template is a great ay to change the way students get attention. In addition to or in replacement of negative referrals to the office, this form allows for students to receive extra positive attention when caught doing great things. Just like the normal form, this alternative praises students based on their behavior or characteristics such as flexibility, accountability, optimism, respect, grit, perseverance and more. It is set up to have the student's name, the date, teacher, location, details and more. It also includes additional details and signature lines for the teacher, parents, and administrators. Please leave some feedback for how it work for you and how you implemented it in your school/classroom!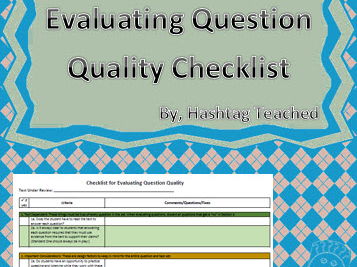 Administrators, this simple and user-friendly guide serves as a tool to evaluate the quality of the questions that teachers are asking. This can be used to serve as documentation, professional development, feedback, coaching, mentoring and evaluation. The document is color coded, and easily infused with your pre-existing toolkit.