Hashtag_Teached's Shop
"Education is the most powerful weapon which you can use to change the world" - Nelson Mandela
331Uploads
32k+Views
1k+Downloads
"Education is the most powerful weapon which you can use to change the world" - Nelson Mandela
Pedagogy and professional development

Check out this awesome student-friendly inventory to gain insight into the culture in your classroom. This assessment of culture includes 20 questions that students respond with a smiling emojiy, straight faced emoji or a frowning emoji based on how much they agree or disagree with the statements. There are then seven short answer questions. These 27 questions will allow the teacher to understand what the students are feeling and how they erceive themselves in the grand scheme of the classroom as well as their relationship with the teacher. It can be implemented as regularly as possible in order to reflect and adapt based on student responses.

Looking to decorate your room and make it more of a welcoming environment that your students are a part of? Well check out this pennant which is meant to be cut out, strung together, and hung around a room. This highly structured template allows students to talk a bit about themselves, introduce themselves, and talk about their favorites. You can also check out my Pennant Variety Pack if you want a bit more flexibility with the design!

In a spirit of promoting positive behavior intervention support systems (PBIS), this template is a great ay to change the way students get attention. In addition to or in replacement of negative referrals to the office, this form allows for students to receive extra positive attention when caught doing great things. Just like the normal form, this alternative praises students based on their behavior or characteristics such as flexibility, accountability, optimism, respect, grit, perseverance and more. It is set up to have the student's name, the date, teacher, location, details and more. It also includes additional details and signature lines for the teacher, parents, and administrators. Please leave some feedback for how it work for you and how you implemented it in your school/classroom!

Check out this simple, but effective tracking form for teachers to use to track their various evaluations and observations. When reflecting on each year and the various evaluations aligned to the Danielson framework, this tracker can be a great resource. Included in this zip file is the framework tracking form in both pdf format to be printed as well as a Microsoft Word document if you would like to keep an editable soft copy. Administrators, be sure to share this with your entire faculty to transfer investment and ownership over progress, through the additional license opportunity. Be sure to check out my Danielson Evaluation Framework Reference Guide with quick key reference points and reminders!

Wondering how you can reward and incentive your kiddos without hurting your wallet? Check out this invaluable list of 50 ideas that you should be able to do for free, or at the very least, call on some favors from colleagues to help you out! The same 50 ideas are also presented in ticket form, which can be cut and then picked at random, or given to students. Whatever fits best with your pre-existing classroom reward system! These rewards can be adapted for any grade and will leave students on the edge of their seats to earn them!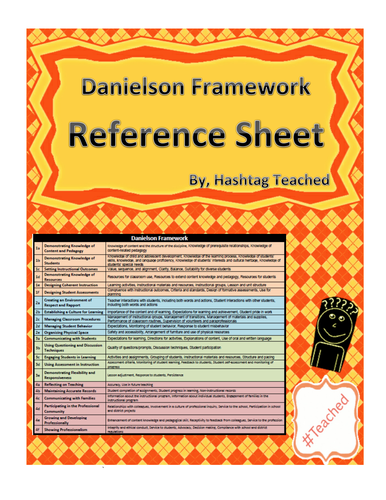 Check out this Danielson Evaluation Framework reference sheet. This simple one page guide identify, labels, and elaborates on each of the 4 domains. Each domain is color coded and list a few key components for teachers and administrators to reference while holding PLCs, while looking at observations and evaluations and simply to keep beside a desk to keep the focus consistent. Administrators, be sure to share this simple and quick guide with your staff through the additional license option! Be sure to check out my Danielson Framework tracking guide as well where teachers and administrators can track progress easily through the year.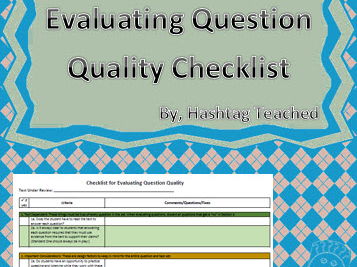 Administrators, this simple and user-friendly guide serves as a tool to evaluate the quality of the questions that teachers are asking. This can be used to serve as documentation, professional development, feedback, coaching, mentoring and evaluation. The document is color coded, and easily infused with your pre-existing toolkit.

Looking for specific vocabulary tied to Bloom's Taxonomy to use in your classroom? Well look no further! Check out this simple and color-coded reference guide with tons of question stems that can easily be infused in any lesson. Push your students and their depth of knowledge as well as critical thinking skills as your questions get an instant upgrade with these question stems!