Hashtag_Teached's Shop
"Education is the most powerful weapon which you can use to change the world" - Nelson Mandela
331Uploads
32k+Views
1k+Downloads
"Education is the most powerful weapon which you can use to change the world" - Nelson Mandela

Check out this awesome form that students can use to self-reflect about classroom rules that they have broken. The infused questions will prompt the students to redirect their thinking as they are able to construct a better alternative to their situation and identify how they are feeling which is aligned with the Conscious Discipline behavior management program. Students will be able to reset and redirect their behaviors in a positive way. This also serves as great documentation of incidents!

Wondering how you can reward and incentive your kiddos without hurting your wallet? Check out this invaluable list of 50 ideas that you should be able to do for free, or at the very least, call on some favors from colleagues to help you out! The same 50 ideas are also presented in ticket form, which can be cut and then picked at random, or given to students. Whatever fits best with your pre-existing classroom reward system! These rewards can be adapted for any grade and will leave students on the edge of their seats to earn them!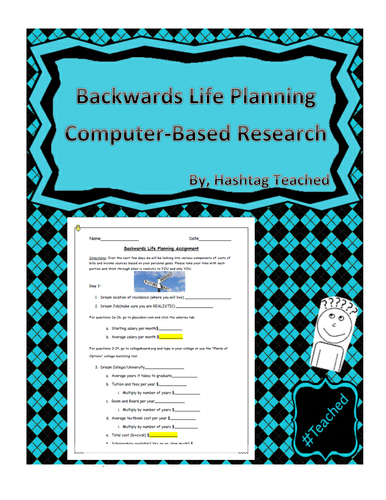 This backwards life planning research is great for students of all ages. I have found it most useful as an end of the year project for students to apply what they have learned. Students will have to begin with the end goal in mind and think about their goals and what they will have to do to get there. Students will research the job they want, the college they want to go to and the costs associated with them. Students will research costs such as utilities, automobile prices, college tuition, and then will figure out how much money they will make from their dream job. Students will apply math concepts such as finding an average, estimating, addition, subtraction, multiplication and division. This fun research project allows students to think through their career goals and identify the steps they will have to take to be successful. Please know that this 3-day activity will require technology in the classroom since it is very research-based. There are ample websites that provide salary estimates, price quotes, etc. which are embedded in the guided worksheets. Best of luck and I hope this helps your students think about where they are going and what they will have to do to get there! :)

Looking for specific vocabulary tied to Bloom's Taxonomy to use in your classroom? Well look no further! Check out this simple and color-coded reference guide with tons of question stems that can easily be infused in any lesson. Push your students and their depth of knowledge as well as critical thinking skills as your questions get an instant upgrade with these question stems!

Check out this fun and interactive way to support your students and promote their study skills. This cut-out is meant to be cut and either glued or taped together after students are able to record six main ideas on their cubes. This can easily be differentiated for reading comprehension of identifying the six big ideas of a text or for six key characters in a book or movie. It can also be used to facilitate a Frayer Model as students learn various vocabulary words. Students will love the interactive and hands on component of this and will have something physical to walk away with.